Last Updated on September 3, 2022 by Sarah Jaffe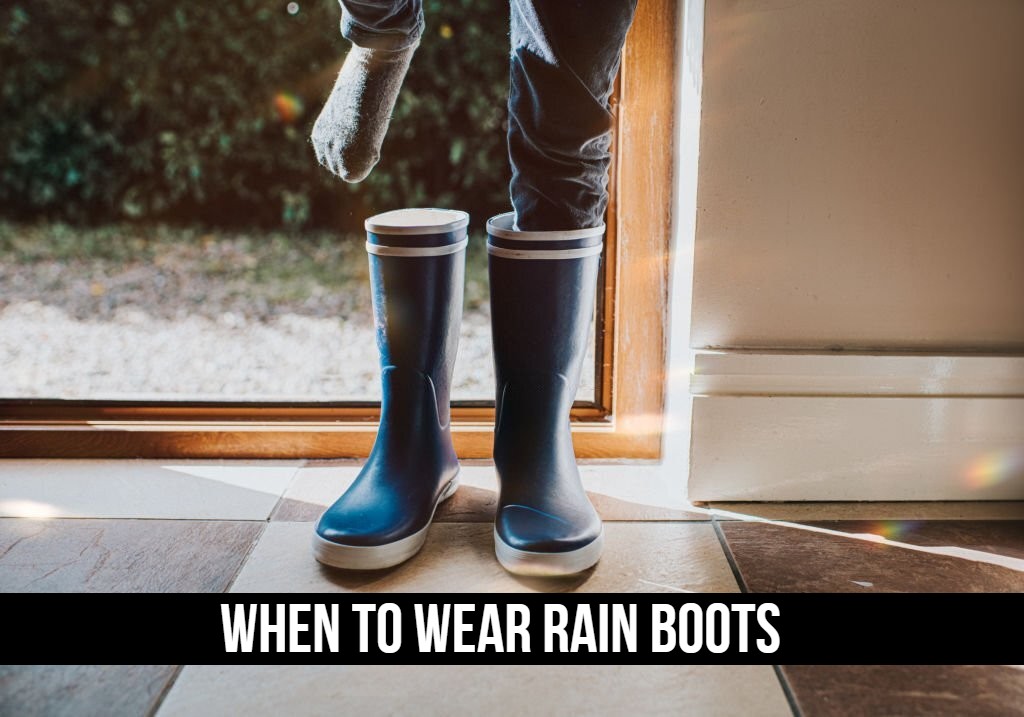 Rain boots are excellent for keeping your feet dry and warm, but determining when the best time to use them might be difficult.
Most people only wear their rain boots during the rainy season, but that's a mistake. If you know when and how to wear them, rain boots can keep your feet warm and dry all winter long.
In this article, we will discuss when to wear rain boots to get the most out of them. We'll also cover a few style tips to keep in mind. So, let's get started.
When Is the Best Time to Wear Rain Boots?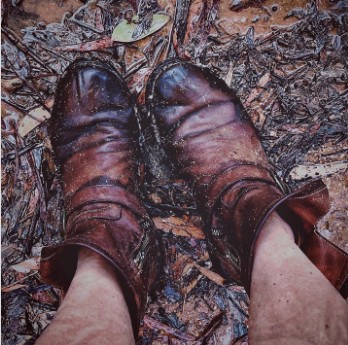 The answer to this question really depends on the weather and your personal style.  For example, if it's raining outside and you're going to be walking around in puddles, then rain boots are a must. 
However, if it's just drizzling and you're not planning on getting your feet wet, you may be able to get away with wearing regular shoes. 
It's also important to consider the temperature when deciding whether or not to wear rain boots.  If it's cold outside, you'll want to make sure your feet are warm and dry by wearing rain boots. 
On the other hand, rain boots may not be the best choice if it's hot and humid, as they can make your feet sweat.
What Type of Clothes Goes Well with Rain Boots?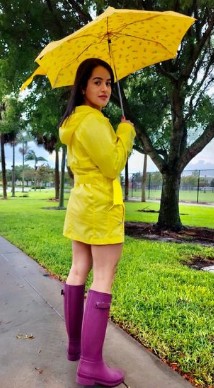 Just about any type of clothing goes well with rain boots. No matter what you choose to wear with your rain boots, just make sure that you're comfortable and that your outfit reflects your personal style. However, if you're trying to achieve a certain look, there are a few combinations that work well together. 
For a casual and fun look, try pairing rain boots with skinny jeans and a cute top. 

Dresses and skirts look great with rain boots.

And, if you want to be extra prepared for rainy weather, you can always wear rain boots with rain pants.

Rain boots can also be worn to work, just make sure you wear the right outfit with them, such as a tailored blazer or a chic trench coat.
Etiquette For Wearing Rain Boots in Public
Although rain boots are perfectly acceptable to wear in public, there are a few things you should keep in mind when wearing them out and about.  
Avoid wearing rain boots in places where they're not appropriate
Rain boots worn in inappropriate places, such as a formal event or the office, can be seen as disrespectful or childish. Because of this, it's important to be aware of your surroundings and dress accordingly.
Remove your rain boots when you enter someone's home.
When you enter someone's home, it's polite to remove your shoes. This rule also applies to rain boots. So, be sure to take them off before you enter someone else's home.
Don't wear rain boots that are too loud.
Wearing rain boots that are too loud, such as those with floppy rubber raindrops or brightly colored rain boots, can be disruptive and annoying to others. If you're going to be in a quiet environment, such as a library or place of worship, it's best to avoid wearing these types of rain boots.
Be considerate of those around you.
In general, you should always be considerate of those around you when deciding what to wear in public. This means that you shouldn't wear anything that's too revealing, offensive, or disruptive. 
Tips for Taking Care of Your Rain Boots
If you already know the right time and place to wear rain boots, it's important to know how to take care of them. Rain boots can be taken care of in a few ways.
Clean your rain boots regularly.
Be sure to clean your rain boots on a regular basis. This will help to extend their lifespan and keep them looking their best. 
Use a weatherproofing spray.
To help protect your rain boots from the elements, be sure to use a weatherproofing spray. It will keep your boots in good condition and prevent them from getting ruined by the rain.
Store your boots in a cool, dry place.
When you're not wearing your rain boots, be sure to store them in a cool, dry place. This will help to prevent them from getting damaged or ruined. 
Conclusion
Rain boots are a great way to keep your feet dry and protected from the elements. It's important to be aware of how to wear boots in public and to take care of them properly. Otherwise, you risk offending others or damaging your boots. With a little bit of care, you can enjoy your rain boots for many years to come. 
In the guide, we have mentioned all the things that you should remember while wearing rain boots. We have also given a few tips on how you can take care of your rain boots. If you still have any questions, please feel free to ask us. We will try our best to help you out in a better way.
We hope that this guide was helpful to you and that you will be able to confidently wear your rain boots in public without any problems. Thank you for reading!
FAQs
Can I wear rain boots in the snow?
In the snow, rain boots will work. However, it's important to note that they won't provide the same level of protection as snow boots.
Which type of dress is best to wear with rain boots?
A casual dress or skirt is best to wear with rain boots. You can really wear any type of dress with rain boots, as long as it's comfortable for you and looks good on you.
How do I clean my rain boots?
To clean your rain boots, simply wipe them down with a damp cloth. If they're particularly dirty, you can use mild soap and water. Be sure to avoid using harsh chemicals or abrasives, as this can damage the boots.
Will the style of rain boots affect my personality?
No, your personality won't be affected by the style of your rain boots. In public, rain boots should be worn with caution.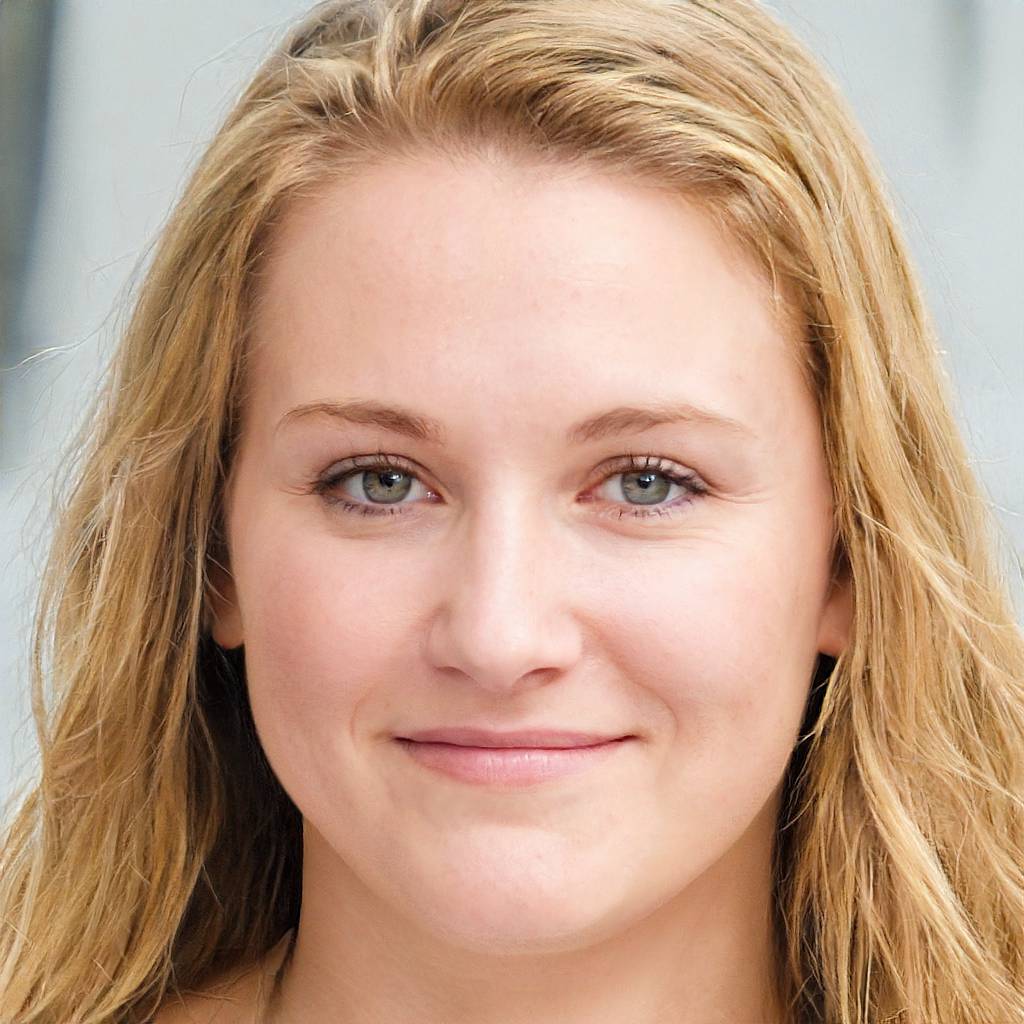 Sarah is the brains behind BootsNerd. Sarah Jaffe is a writer, editor, and boots lover based in Brooklyn, New York. She has done BA (Hons) in Footwear Design from De Montfort University, UK. She loves to write about boots and has a particular interest in vintage and sustainable fashion.