Last Updated on August 17, 2023 by Sarah Jaffe
Are you tired of walking on your feet all day long, only to feel aches and pains at the end of the day? Do you suffer from supination, where the weight of your body is unevenly distributed on your feet?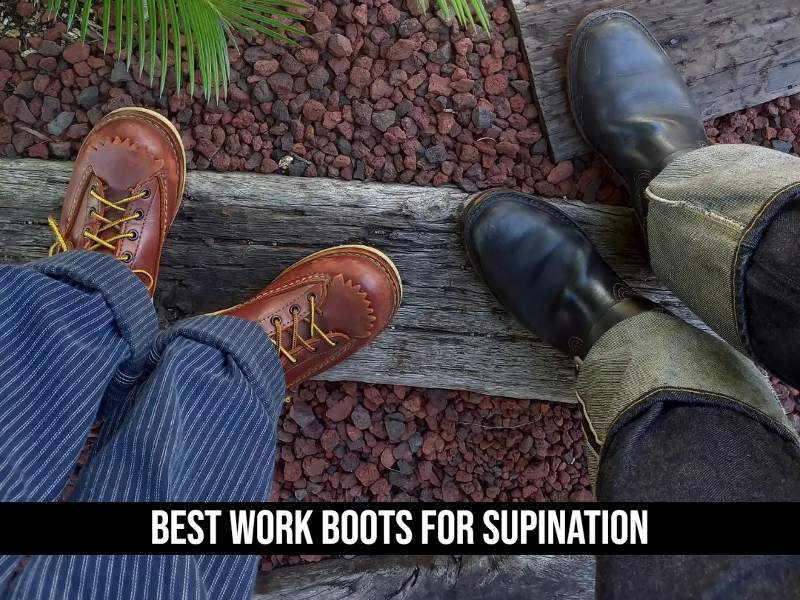 Supination is the tendency for the foot to roll outward when walking or running, which can lead to uneven weight distribution and improper shock absorption. People who supinate too much are at greater risk of developing certain conditions and symptoms, including ankle pain, plantar fasciitis, and even knee and hip pain.
This is why it is crucial to find work boots that support your feet and prevent excessive supination, allowing you to work comfortably and safely. But fear not, because we've compiled a list of the best work boots for supination to help ease your discomfort and keep you comfortable on the job.
How Supination affects feet?
Supination is a natural movement of the foot that occurs during walking and running. It is the outward movement of the foot at the ankle joint, where the foot rolls onto its outer edge. However, excessive supination can cause problems with the body's alignment and lead to pain in the feet, knees, hips, and back.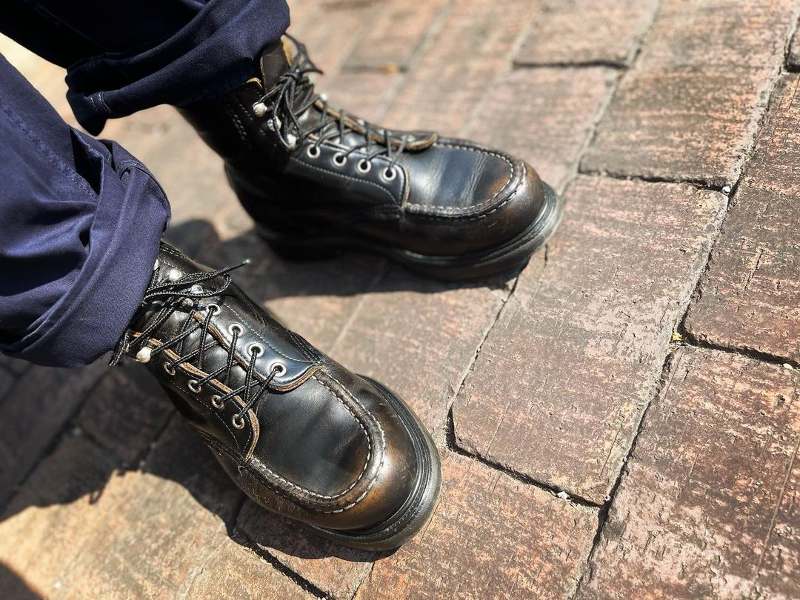 When a person supinates excessively, the weight of the body is placed on the outer edge of the foot, which can cause the foot to roll outward. This can lead to an unstable gait, as the body is not properly cushioned and supported during movement. In order to compensate for this instability, the body may overuse certain muscles and joints, which can be painful and uncomfortable.
It is also possible to develop conditions such as plantar fasciitis or ankle sprains as a result of excessive supination. Exercises to strengthen feet and ankle muscles can help treat excessive supination. Treatment options include physical therapy and customized orthotics.
Top 5 Work Boots for Supination
Our team has done extensive research and testing to bring you the best work boots for supination. These boots provide ample support and stability to keep your feet and ankles in the correct position, reducing discomfort and the risk of injuries. They are designed with special features such as arch support, shock absorption, and cushioning to provide the utmost comfort while working. Let's have a look at them.
1. Skechers Men's Industrial Shoe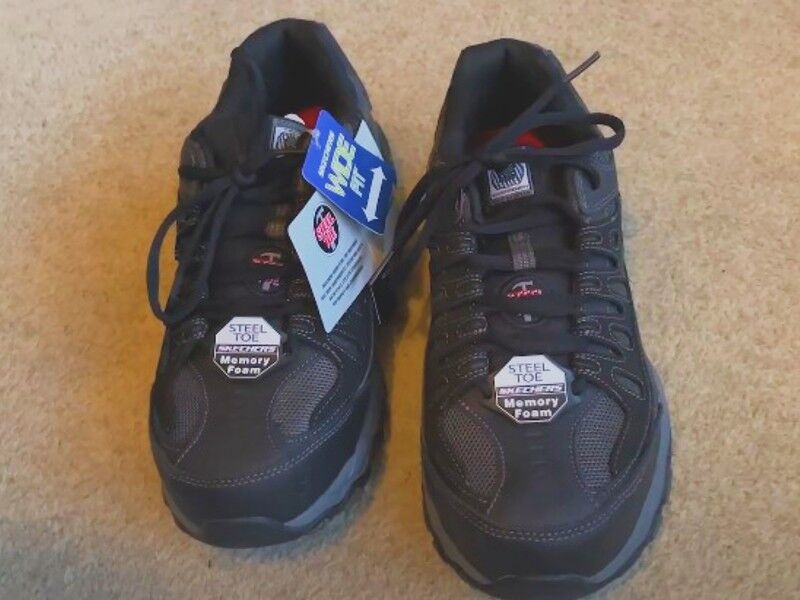 Key Specifications:
| | |
| --- | --- |
| Material | leather, synthetic, and mesh fabric |
| Closure | Lace-up |
| Weight | 2 pounds |
| Safety Standards | ASTM F2412-2011 I/75 C/75 protection |
The Skechers Men's shoe stands out from other work boots in its category due to its unique features and superior quality. We've tested and used these boots, and we can confidently say that they are the best work boots for supination in the market.
Designed to provide maximum support to your feet, these boots have a calm and fit artificial sole. They are ideal for workers who have to stand for long periods of time. As a result, you can wear them in any environment without worrying about slipping and falling.
The memory foam footbeds of these shoes offer superior cushioning and comfort to the soles of your feet. It reduces the impact on your feet when walking or standing, which is especially important for those with supination. The padded collars and tongues also provide additional comfort, making them perfect for long work shifts.
Abrasion-resistant leather and nubuck overlays are used to make the Skechers Men's Shoe. By combining these materials, the shoes are durable, long-lasting, and able to withstand daily wear and tear. The steel toes provide superior toe protection, making them ideal for workers in hazardous environments.
In addition to this, these boots also provide protection from electrical hazards. This feature is crucial for people working in industries where electrical hazards are common. The panels made of permeable mesh whisk moisture away, keeping your feet dry and comfortable at all times.
It is the safety steel toes on these boots that make them so memorable. Those who work in hazardous environments require superior toe protection. With their abrasion-resistant leather and nubuck overlays, the boots are durable and long-lasting.
2. Timberland PRO Men's Safety Toe Shoe
Key Specifications:
| | |
| --- | --- |
| Material | polyurethane |
| Closure | Lace-up |
| Weight | 1 pounds |
| Safety Standards | ASTM F2412-05, F2413-05, I/75 and C/75 |
As a work-ready boot with light performance, Timberland work boots are designed to withstand the demands of the workplace while providing maximum comfort.
One of the standout features of these work boots is their slip- and oil-resistant soles. We tested them in various slippery conditions, and they passed with flying colors. This is particularly important for those working in industries where accidents can happen due to wet or oily surfaces. The electrical hazard protection also provides an added layer of safety for those working with electricity.
But safety isn't the only thing these boots have going for them. The Timberland PRO craftsmanship styling is top-notch, with a design that is both rugged and stylish. For those with supination problems and long hours on their feet, the 6-inch height of these boots provides ample ankle support.
We were particularly impressed with the shock absorption provided by the molded EVA midsoles. This feature ensures that your feet are protected from impact, no matter how hard the surface you're walking on is. And the open-cell PU footbeds offer excellent cushioning, making these boots comfortable to wear all day long.
For those who need extra structural support, the nylon shanks are a game-changer. These shanks provide additional stability and support to the wearer's arches, preventing unnecessary strain and fatigue. And of course, the steel toe caps offer the ultimate in safety, providing protection against falling objects and other hazards.
3. Cat Footwear Women's Waterproof Work Boot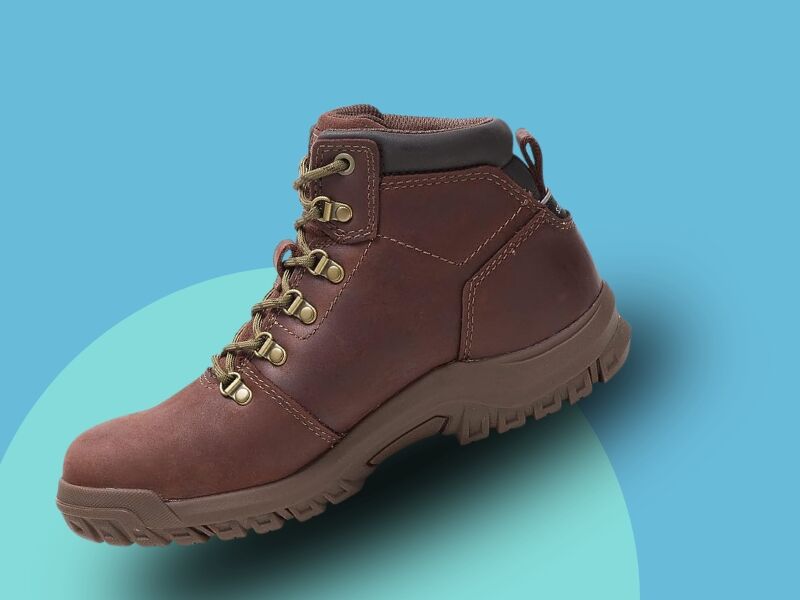 Key Specifications:
| | |
| --- | --- |
| Material | Full-grain leathers and rubber |
| Closure | Lace-up |
| Weight | 1.38 pounds |
| Safety Standards | ASTM F2413-18 |
| Waterproof | Yes |
The Cat Women's Work Boot is designed to provide the best support and protection for your feet, especially if you have supination.
One of the most important features of this work boot is the ASTM F2413-18 Steel Toe which provides impact and compression protection. This means that your feet are protected against heavy objects falling on them. The steel toe ensures that your toes are safe and secure, even in a hazardous work environment.
The slip-resistant sole of this work boot also reduces the possibility of falls on surfaces with little traction. Even on slippery surfaces, you remain safe and stable thanks to this feature. Falling and slipping are not a problem while you work.
The quality full-grain leather used in making this work boot is waterproof, which keeps your feet dry and protected. When working in wet or damp conditions, this is particularly important. Your feet remain dry, which reduces the risk of developing foot infections.
According to ASTM F2413-18, electrical hazard protection is qualified to prevent open circuits up to 600 volts in dry conditions. This is an essential safety feature for those who work in an environment with electrical hazards. You can be sure that your feet are well-protected.
The supination cement construction used in making this work boot adds to its durability. You are assured of a long-lasting work boot that can withstand the rigors of your work environment.
Comfort and breathability are enhanced by the sock lining and nylon mesh lining of this work boot. Long hours of wearing these shoes will not affect the comfort and coolness of your feet.
Your feet will benefit from the extra shock absorption provided by the molded EVA footbed. A well-cushioned foot is especially important for those with supination.
The shaft of this work boot is roughly 4.75″ from the arch, which provides excellent ankle support. You can be sure that your feet are well-supported and protected.
4. Reebok Men's Zprint Work Shoe
Key Specifications:
| | |
| --- | --- |
| Material | seamless textile and mesh |
| Closure | Lace-up |
| Weight | 3 pounds |
| Safety Standards | ASTM F2413 |
Reebok Zprint Work Shoe is a good choice for those with supination issues. It's the best work boot for supination, and we have the data to back it up.
First and foremost, the seamless, lightweight cloth upper of this shoe provides exceptional comfort and support. This is a huge advantage for anyone who spends long hours on their feet, as it helps prevent fatigue and discomfort.
Additionally, the low-cut design of the shoe promotes maximum ankle mobility and rapid stride transitions. As a result, many work environments require quick and efficient movement.
A multi-density cushioned platform is another key feature of the Reebok Men's Shoe. These shoes are great for people who need to be on their feet all day since they offer quick reaction times and stride management. Even during long shifts, your feet remain comfortable and well-supported.
The deep flex grooves in the foot-mapped 3D foam midsole provide durable cushioning, flexibility, and a natural feel. As a result, the shoe will get even more comfortable and supportive over time. Moreover, the natural feel of the shoe helps maintain good posture and balance, which can reduce the risk of injuries.
For strong support and abrasion resistance, the Reebok Work Shoe uses a dense outer rim compound. This is especially useful for anyone who works in tough environments, where the shoe may be subjected to a lot of wear and tear. With this feature, you can be confident that your shoes will last a long time and provide the support you need.
Finally, it's worth noting that the Zprint Work Shoe meets several important safety standards. It's ASTM F2413 certified, has a steel toe, offers electrical hazard protection, and is slip-resistant. Additionally, there is no exposed metal on the upper, which can help prevent injuries and ensure that the shoe stays in good condition for longer.
5. SUADEX Steel Toe Work Boots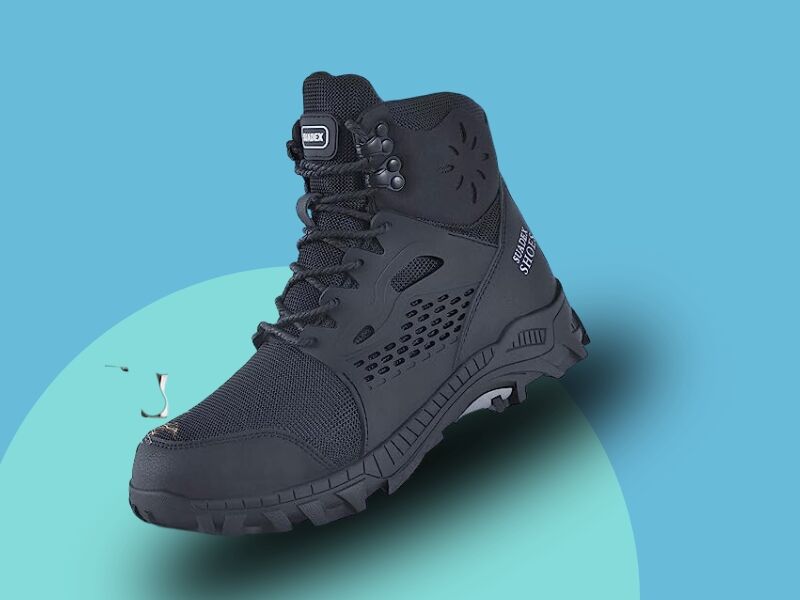 Key Specifications:
| | |
| --- | --- |
| Material | Synthetic material |
| Closure | Lace-up |
| Weight | 2.84 pounds |
| Safety Standards | EU EN-12568, ASTM F2413-18 |
SUADEX Steel Work Boots have a rubber sole and shaft that spans from arch to ankle, providing excellent durability and support. But what sets these boots apart is the steel-toe cap design. Made with European standard material, it offers >200J protection, making it perfect for protecting your feet from rolling or falling objects. The safety toes are a must-have feature for anyone working in environments where hazards are present.
But it's not just about protection. Comfort is essential when wearing work boots for long hours. The interior of these composite toe boots is lined with wicking mesh, which keeps your feet dry and comfortable. The high-top design provides a strong wrapping sensation, giving your ankle the support it needs. The result is a comfortable fit that reduces fatigue and allows you to focus on your work.
Kevlar midsoles are one of the most impressive features of these boots. A common hazard in many workplaces is nails and other sharp objects puncturing your feet. In addition to providing extra protection, the Kevlar midsoles make these boots stand out from the crowd.
But what good is protection if you can't stay on your feet? The non-slip rubber soles are reliable for preventing falls while working and offer superior shock absorption. We tested these boots on both wet and dry surfaces, and the results were impressive. The grip is excellent, providing the confidence you need to work safely in any condition.
Finally, let's talk about versatility. These SUADEX construction boots can be worn for a variety of jobs, from construction sites to warehouses. They are built to last and can withstand even the toughest work conditions. And with their stylish design, you won't look out of place wearing them outside of work either.
How To Choose The Best Work Boots for Supination|Buying Guide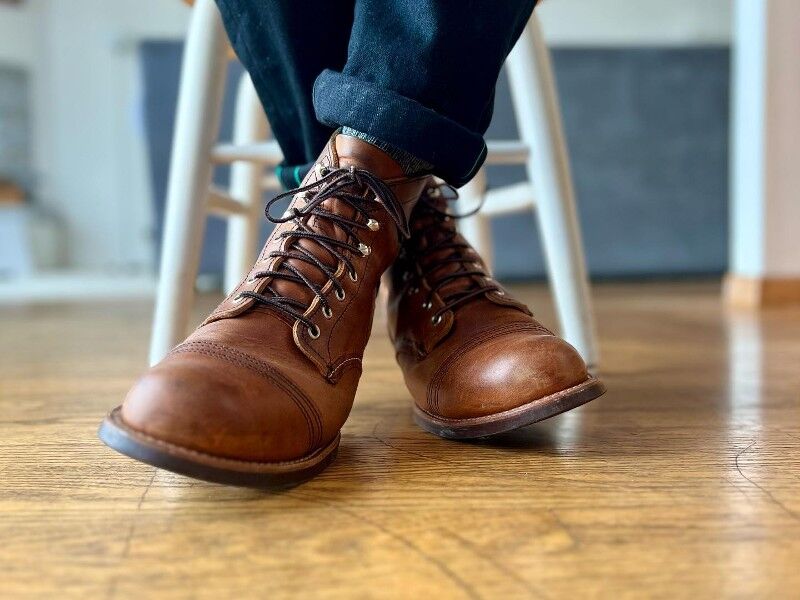 If you suffer from supination, finding the right work boots can be a challenge. Supination can cause pain, discomfort, and even injury if you don't have the proper footwear.
Fortunately, there are work boots available that are designed specifically for those with supination. In this buying guide, we will go over the key features to look for when searching for the best work boots for supination.
1. Cushioned Footbeds
When purchasing work boots for supination, the inclusion of cushioned footbeds holds paramount importance. Supination refers to the outward rolling motion of the foot, leading to uneven weight distribution and increased pressure on the outer edges.
To counteract this, cushioned footbeds provide crucial support and shock absorption. In these footbeds, foam, gel, or air pockets distribute forces evenly, alleviating stress on sensitive areas. These shoes reduce discomfort, prevent ankle sprains and stress fractures, and boost overall stability by cushioning the foot.
Furthermore, cushioned footbeds reduce the strain on joints by absorbing shock, thus preventing conditions such as plantar fasciitis and shin splints. Therefore, cushioned footbeds are essential for optimal comfort, support, and injury prevention when selecting work boots for supination.
2. Arch Support
When considering work boots for those with supination, it is crucial to look for shoes that offer adequate arch support. It helps distribute the body's weight evenly across the foot, thus reducing pressure on the outer edge. Boots with proper arch support will also help prevent the foot from rolling outward excessively. This helps to maintain proper alignment and reduces the likelihood of injuries.
Work boots with contoured footbeds support the foot's arch when supinating. Additionally, boots with a firm midsole offer added support and stability to the foot. Avoid shoes with flat insoles or soft midsoles, as these do not provide adequate support for those with supination.
3. Slip Resistant Outsoles
Slip-resistant outsoles, equipped with specialized tread patterns and materials, offer enhanced grip and traction on various surfaces, including wet, oily, or uneven ones. These outsoles are typically made from high-quality rubber compounds that provide excellent slip resistance.
By preventing slippage, they help maintain stability during movement, reducing the risk of accidents and injuries. Moreover, slip-resistant outsoles contribute to better foot alignment, as they assist in preventing excessive rolling and enable a more balanced gait.
4. Safety Toe Caps
Toe caps are designed to protect the toe area from impact, compression, and other hazards that may be present in the work environment. They are made from different materials such as steel, composite, and aluminum. Steel toe caps are the most durable and provide the highest level of protection, while composite and aluminum toe caps are lightweight and more comfortable.
It is important to choose the right type of safety toe cap based on the job requirements and personal comfort. Wearing the wrong type of toe cap can lead to discomfort, pain, or even injuries. Additionally, safety toe caps should be tested and certified to meet industry standards such as ASTM or EN.
5. Durability and Flexibility
When shopping for work boots, individuals with supination should consider durability and flexibility. Supination can exert additional strain on the outer edges of the feet, requiring boots that can withstand prolonged wear and tear.
Durable construction techniques, high-quality materials, and reinforced stitching enhance the boots' longevity. The boots should also be flexible to accommodate natural foot movement and prevent discomfort.
Conclusion
In conclusion, choosing the best work boots for supination is crucial for individuals who work long hours on their feet. Work boots can prevent further injury to feet, ankles, and legs caused by supination, as well as alleviate pain and discomfort. A work boot's arch support, cushioning, and stability are all important factors to consider.
For individuals with supination, the Skechers Men's Industrial Shoe is the best choice based on its unique features and price point. A memory foam cushioned insole reinforced stitching, and slip-resistant outsole make this shoe ideal for people with supination.
Flexibility allows for proper foot articulation during the gait cycle, reducing the risk of injuries and enhancing overall comfort. Additionally, the boots should be designed to keep a balance between durability and flexibility for individuals with supination.
FAQs
How do I know if I have a supination?
The best way to determine if you have a supination is to see a podiatrist or other medical professional. But here are some signs that you may be experiencing supination:
1. There is more breakdown on the outer side of your running shoes, so they wear out quickly and unevenly.
2. When you place your shoes on a flat surface, they tilt outward.
3. Your foot hits the ground on the outside of the heel first when running.
Are steel-toe work boots suitable for people with supination?
Yes, supinated people can wear steel-toe work boots as long as they meet the necessary requirements for support and comfort. Look for boots with a wide base, good arch support, and cushioned soles.
Can I wear custom orthotics with my work boots for supination?
Yes, you can integrate custom orthotics into your work boots to correct supination. In fact, many people with supination benefit from custom orthotics as they provide additional support and cushioning.
Can I wear work boots for supination even if I don't have supination?
Yes, you can wear work boots if you do not supinate. These boots provide added support and comfort for your feet, reducing the risk of foot injuries and discomfort.
Can I wear work boots for supination for everyday use?
Yes, work boots for supination can be worn for everyday use as long as they are comfortable and fit well. Many people find that work boots provide better support and comfort than regular shoes, especially if they spend a lot of time on their feet. Just make sure to choose a pair that is suitable for your needs and preferences.
How often should I replace my work boots for supination?
It is recommended to replace work boots for supination every 6-12 months or as soon as signs of wear and tear become apparent. In order to prevent further injury or discomfort, it is important to regularly check the condition of your work boots. Work boots may need to be replaced if they are causing you pain or discomfort while you wear them.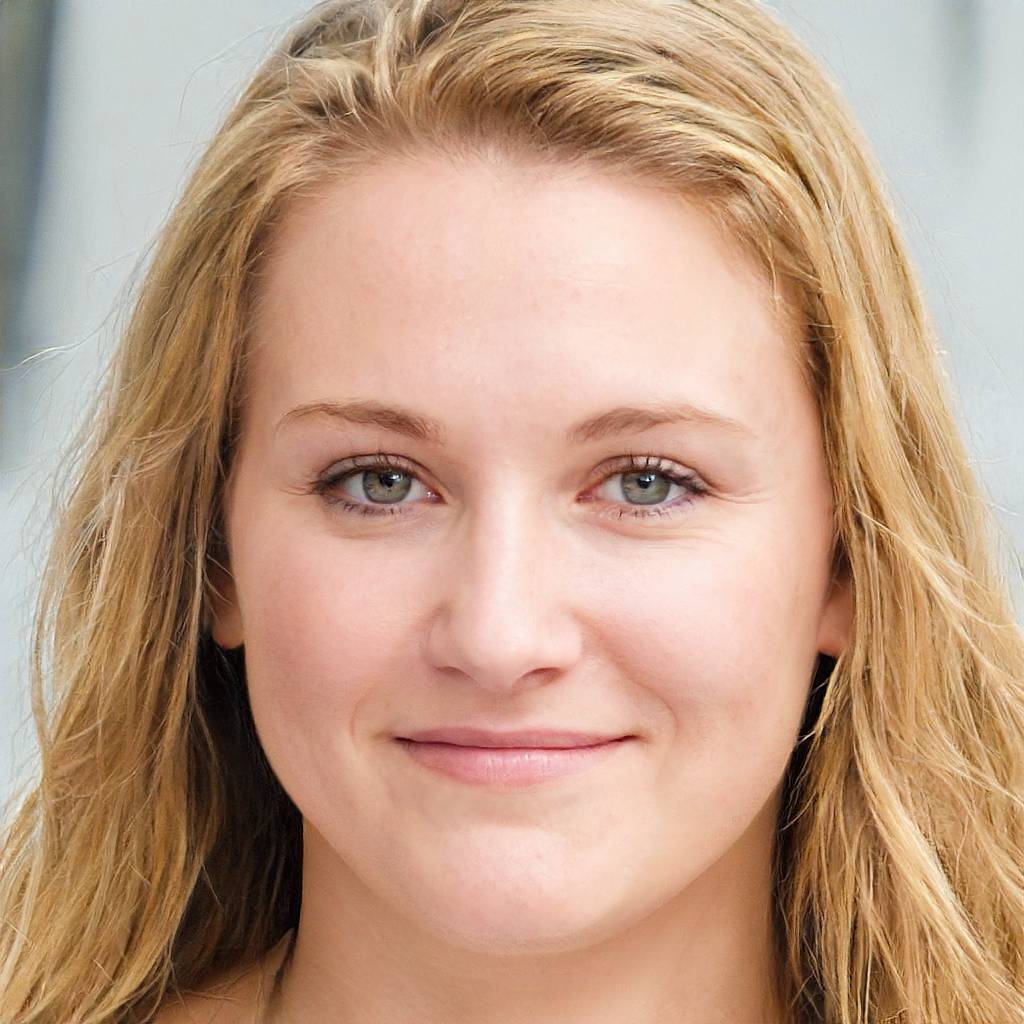 Sarah is the brains behind BootsNerd. Sarah Jaffe is a writer, editor, and boots lover based in Brooklyn, New York. She has done BA (Hons) in Footwear Design from De Montfort University, UK. She loves to write about boots and has a particular interest in vintage and sustainable fashion.