Last Updated on June 18, 2023 by Sarah Jaffe
When it comes to choosing hiking boots, two key features that should not be overlooked are ankle support and arch support. Ankle support serves to prevent ankle injuries, while arch support helps maintain proper foot alignment and reduce foot fatigue.
Research has shown that inadequate ankle support is one of the most common causes of ankle injuries among hikers. In fact, a study published in the National Library of Medicine found that ankle sprains accounted for 16%-40% of all sports-related or outdoor injuries.
Furthermore, another research done by the National Library of Medicine revealed that arch support can help reduce foot pain and prevent foot problems such as plantar fasciitis and flat feet.
Therefore, it is important to invest in hiking boots that provide both proper ankle support and arch support.
How Important Is Ankle Support in Hiking Boots
Ankle support in hiking boots is generally considered to be important, especially for more challenging hikes and terrain. It aids to stabilize your ankle joint and prevents ankle sprains, twists, and other injuries that can occur when hiking on uneven surfaces, rocky terrain, or steep inclines.
Plus, it can assist to distribute the weight of your body and backpack more evenly, reducing the amount of stress on your ankles and lower legs. This can make it easier and more comfortable to hike for longer distances and over longer periods of time.
Are Ankle Boots Better for Hiking?
Yes, ankle boots can be a good option for hiking, particularly on less challenging terrains or for short to moderate-distance hikes. They provide better support and protection than regular sneakers or shoes and can help prevent ankle injuries or dislocations.
Additionally, these shoes are often designed with waterproof materials and durable soles that offer good traction, making them suitable for hiking in various weather conditions and on different types of terrain.
However, for more demanding or technical hikes, such as those that involve steep inclines or rugged trails, specialized hiking boots with higher ankle support may be a better option.
List of the Best Hiking Boots With Ankle Support & Arch Support
1. Columbia Women's Newton Ridge Plus – Best lightweight hiking shoes with ankle support
2. KEEN Utility Targhee 2 Mid – Best women's hiking boots for ankle support
3. Salomon X Ultra 3 Wide Mid GTX – Hiking boot with the best arch support
4. XPETI Women's Thermador Mid High-Top – Best Budget Hiking Boots With Ankle Support
5. Timberland Men's Flume Mid – Best Waterproof Leather Hiking Boots With Ankle Support
Best Hiking Boots With Ankle Support & Arch Support – Our Top Picks
The following are our top recommendations for hiking boots that offer ankle and arch support, based on the advice of our shoe experts and podiatrists.
So, what are you waiting for? Let's get started!
1. Salomon X Ultra 3 Boots With Ankle Support (Editor's Choice)
Salomon X Ultra 3 is outfitted with a rubber sole, which is known for its high slip resistance and toughness. Whether you're trekking through mud, rocks, or loose gravel, this outsole will keep you stable and secure. Plus, it's non-marking, so you won't leave any unsightly scuffs on your hardwood floors when you take your boots off after a long hike.
Another characteristic worth mentioning is the Advanced Chassis technology. This is part of the shoe that sits between the outsole and the midsole, and it helps to control your motion and energy. It's kind of like having a suspension system for your feet. The result? You get more stability and support, so you can hike longer and with less fatigue.
But let's talk about the real star of the show here: the Sensifit system. This is a game-changer when it comes to hiking boots. The Sensifit hugs your foot from the midsole to the laces, giving you a secure and customized fit. With this secure fit, there's no slipping or rubbing, which is a huge relief when you're out on the trail for hours on end.
Salomon X Ultra 3 has a True Gore-Tex membrane that keeps your feet protected from the elements such as rain and snow. This not only helps to avoid blisters and chafing, but it also ensures that your feet stay dry and comfortable in wet conditions.
2. Columbia Newton Ridge Plus Hiking Boot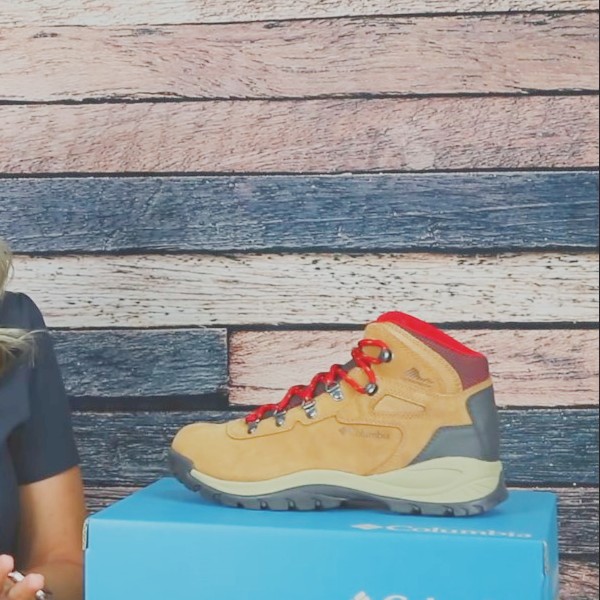 Columbia Newton Ridge Plus is well-equipped with a leather and suede upper, which serves as a reliable companion for your hiking trips. The leather component of the upper imparts robustness to the boot, shielding your feet from unforgiving terrain and inclement weather. This helps you to remain confident and comfortable during extended hikes.
While the suede element, on the other hand, provides a plush and cozy sensation that molds to the contours of your feet, thereby minimizing the risk of blisters and soreness.
One thing that really stands out about these shoes is the grip. They feature Omni-Grip technology on the sole, which is a fancy way of saying that it has some serious traction. The treads on the bottom of it are designed to mimic the grip of a tire, so you can feel confident that you won't slip and slide on any surface.
Furthermore, the lace-up closure ensures a more dialed-in and secure fit, which is essential when you're out exploring. You don't want your footwear to be sliding around or rubbing against your skin, especially when you're miles away from civilization. Plus you can choose to lace up tightly for a secure fit or leave them a bit looser for more breathability.
Columbia Newton Ridge Plus has a Techlite midsole that is designed to absorb impact and provide energy return with every step, reducing the strain on the foot and preventing fatigue. It is also incredibly lightweight, ensuring that your boots remain agile and portable, allowing you to hike for longer without feeling weighed down.
3. KEEN Women Utility Targhee 2 Mid-Height Hiking Boots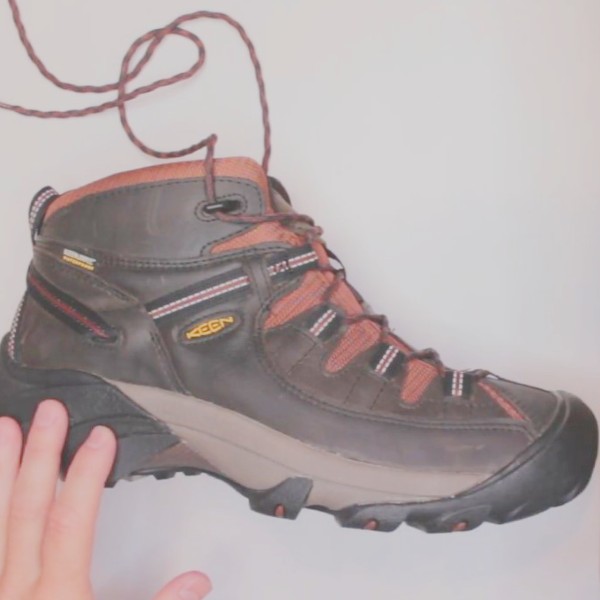 KEEN Womens Utility Targhee 2 has a high-quality upper that is made of nubuck leather, which is a type of top-grain cowhide that's been buffed to create a velvet-like surface. Nubuck leather is known for its durability and water resistance, making it an ideal material for hiking boots.
We love that this unit has KEEN's patented waterproof and breathable membrane called KEEN.DRY. It is made up of microscopic pores that are small enough to keep water droplets from getting in, but large enough to permit moisture and sweat to escape from the inside of the boot. Now you can put an end to soggy socks and blisters caused by sweaty feet.
Moreover, its outsole is made of non-marking rubber with 4mm multi-directional lugs. This means that you'll have excellent traction on a variety of surfaces, including wet and slippery ones. Plus, the sole is designed to be flexible, which allows for natural foot movement and helps prevent foot fatigue.
KEEN Utility Targhee 2 boasts a metatomical footbed design that offers remarkable arch support. Notably, the arch support provided by the footbed empowers hikers to remain stable and balanced on rough surfaces, significantly reducing the likelihood of injuries. The footbed is also removable, so you can replace it with your own custom orthotics if needed.
4. XPETI Thermator Mid-High-Top Hiking Boot (Best in the low budget)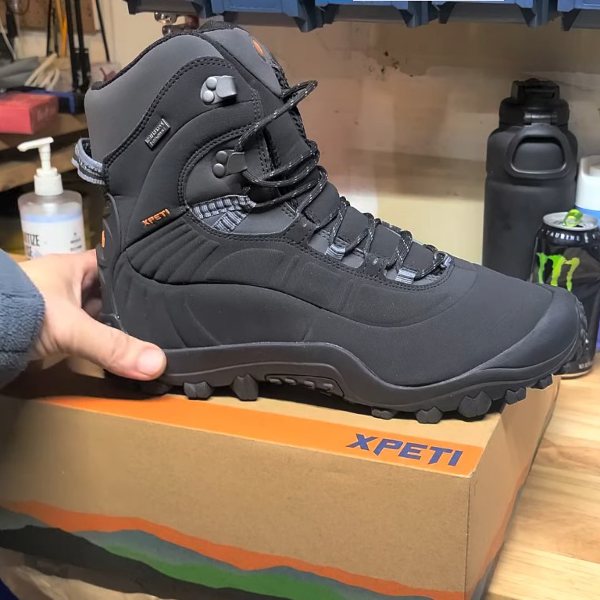 XPETI Thermator's rubber outsole is designed to tackle any outdoor landscape with ease. It provides unparalleled traction that ensures you never lose your footing, even on the most challenging surfaces.
Plus, no matter what you're hiking, trekking, or mountaineering, its 7mm multi-directional lugs pattern will give you the stability you need to conquer any mountain. With its superior grip, you can confidently take on slippery or uneven grounds without worrying about slipping or falling.
You will like that it is specially crafted with 200 Grams of Thinsulate Insulation to withstand temperatures as low as -13°F, ensuring that your feet stay warm and cozy even in the harshest weather conditions.
With its unique insulating properties, Thinsulate fiber technology provides a lightweight and efficient solution to combat heat loss. The shoes provide ample cover to your feet as they trap air molecules between their fibers, creating a barrier that helps retain warmth.
Besides that, this model is equipped with an innovative EVA midsole that makes every step feel effortless and cushioned. The midsole is made of lightweight foam that is both strong and flexible, promoting a natural range of motion and keeping feet feeling fresh during strenuous hiking.
5. Timberland Men's Flume Mid-Hiking Boot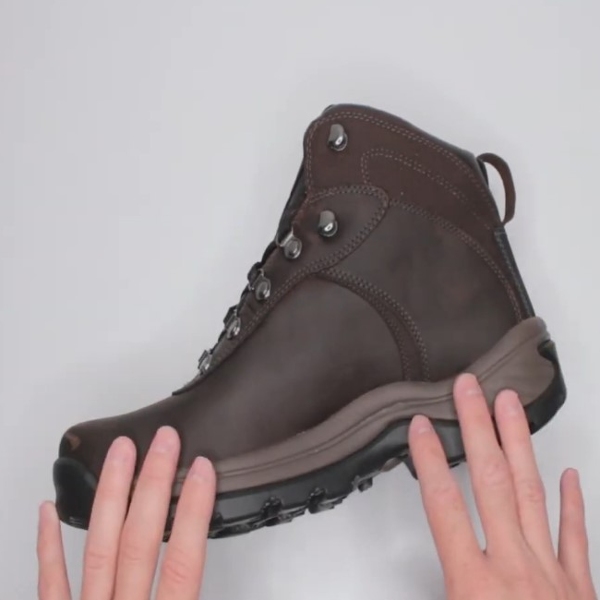 Timberland Men's Flume is equipped with premium 100% full-grain waterproof leather uppers that can withstand all sorts of climate scenarios and surface types. Now, no matter if you're hiking through rocky mountains or trekking through muddy trails, your feet will stay protected and dry. In addition, the full-grain leather material looks sleek and stylish, so you'll feel confident and fashionable on the trails.
Now, let's move on to the waterproof seam-sealed construction. This feature is essential for keeping your feet arid during those inevitable rainy days. Water can't penetrate the seams, which means your feet will stay cozy and clammy even in the toughest of conditions. And let's face it, there's nothing worse than soggy socks and shoes, so this thing is a game-changer.
But these shoes don't just excel in wet conditions. They also have a durable rubber outsole with multi-directional lugs that provide excellent footing on all kinds of ground. Whether you're climbing steep hills, traversing rocky paths, or walking on loose gravel, you can be confident that they will keep you sure-footed and stable.
Of course, no hiking boot review would be complete without mentioning their fit. The Timberland Flume is available in a variety of sizes and widths (from 7 to 15 inches) to ensure the perfect fit for every foot. Additionally, they have a traditional lace-up closure with rustproof speed lace hardware for a secure and customizable fitting.
Conclusion
In a nutshell, after meticulously weighing in on every aspect, the article's top pick is none other than Salomon Men's X Ultra 3 GTX Hiking Boots.
They feature cutting-edge Advanced Chassis technology, a Sensifit system, and a Gore-Tex membrane to keep your feet safe from the wrath of nature, including rain and snow. 
However, if you're on a tight budget and still want quality, then the XPETI Thermator Mid-High-Top is your go-to.
With an impressive rubber outsole sporting a unique 7mm multi-directional lugs pattern, an X-DRY water-resistant membrane, and 200 Grams of Thinsulate Insulation, this footwear can bear temperatures as low as -13°F.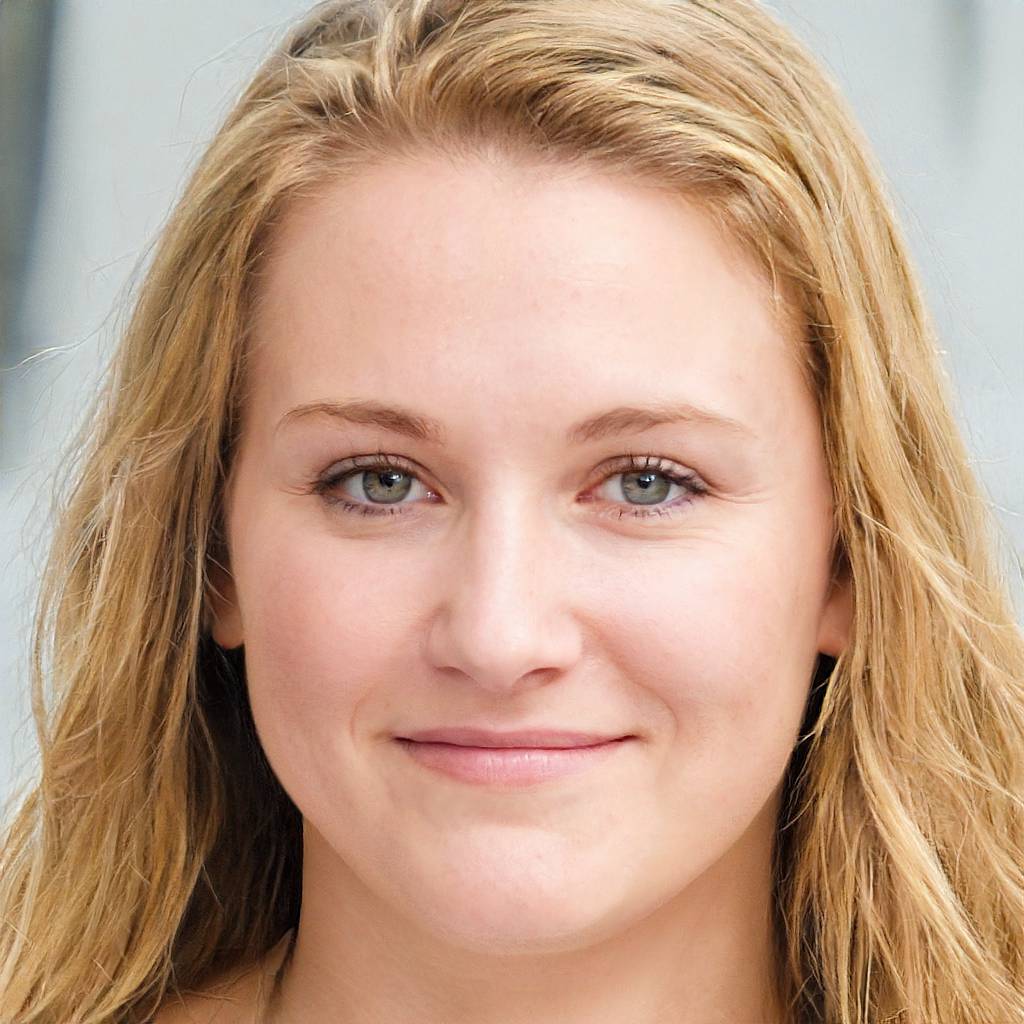 Sarah is the brains behind BootsNerd. Sarah Jaffe is a writer, editor, and boots lover based in Brooklyn, New York. She has done BA (Hons) in Footwear Design from De Montfort University, UK. She loves to write about boots and has a particular interest in vintage and sustainable fashion.