Last Updated on July 16, 2023 by Sarah Jaffe
Hiking in the rain is something that many people enjoy. It makes a long hike even more enjoyable when you can avoid getting wet. But it's not always possible. So, if you're hiking in the rain, you'll need to wear waterproof boots to prevent your feet from getting wet.
It might seem like a small thing, but it's vital to remember that you need to keep your feet dry. You shouldn't have to worry about wet socks and soggy feet when you're out for a hike.
During hiking, you'll be exposed to all sorts of different weather conditions, so it's important that you've got the right rain boots for your needs. So, make sure you're choosing the best rain boots for hiking to ensure you don't get soaked when you're out for a long hike.
If you're going on a hiking trip, and you're worried about your feet getting wet, it's a good idea to invest in waterproof rain boots. But not all rain boots are created equal. It's important that you pick the right kind for your situation so that you get the protection and comfort that you need to hike in all kinds of weather.
Therefore, we've put together this guide to help you choose the best rain boots for hiking that will suit your needs. We've gone through the market, looking at all the different models, types, materials, and more to give you a full list of what we feel is the best for each type of hiking that you may want to do.
Our Testing Process And Selection Criteria
We tested these rain boots for:
Ruggedness

Durability

Quality

Comfort

Sizing

Ease of putting on and off

Waterproofness
We tested these boots on a hiking trail, running along a river, and walking around a lake, so you can see how well they performed in real-world conditions. 
We also looked at the materials and construction of the boots to determine whether or not they are well-built, and whether they'll last for a long time. For this purpose, we looked at their stitching, the quality of the lining, and if they were able to keep your feet dry for a long period of time.
We used these boots during rain for several hours, and we checked them every few minutes to make sure that we weren't getting soaked. Moreover, we also tested the boots when it rained heavily, and we checked again to make sure that they kept our feet dry throughout. We found that they did well in every case, keeping us dry and comfortable for a long period of time.
Best Rain Boots For Hiking – Our Top 7 Picks!
There are a number of different styles of rain boots for hiking out there. Some are designed for hiking on flat terrain, while others are designed for hiking through dense forests. We've chosen seven of the best of these so that you can choose the type of rain boot that you prefer. Here is the list:
1. KEEN Men's Targhee 2 Mid Height Waterproof Boots
These KEEN Men's Targhee is great for hiking rain boots as they have a secure, comfortable fit. They feature a breathable membrane that will keep your feet dry and comfortable while hiking in the rain.
There are some attractive patterns on the leather uppers of these shoes that will help you stand out in a crowd while hiking. The boot opening measures a generous 5 inches around which gives you enough room to move comfortably.
You don't need to worry about slipping and sliding when you are hiking through muddy paths. These boots will keep you steady on rough terrain. The rubber sole of these shoes provides a good grip when you need it most. 
The toe and heel of these boots are made from a rubber material for better traction. So that you don't slip when you are wearing them. Hence, they can be used in a wide range of conditions. 
Laces style and hook-and-loop closures provide more convenience for tying these shoes securely. They can withstand a lot of wear and tear without giving up their original look. 
An upper with a low profile for a secure fit, a padded tongue and collar, and a contoured heel for added stability gives you a comfortable experience.
For those who are looking for a rugged pair of rain boots, then the KEEN Men's Targhee Rain Boots might just be what you're looking for.
2. Columbia Women's Newton Ridge Plus Hiking Shoe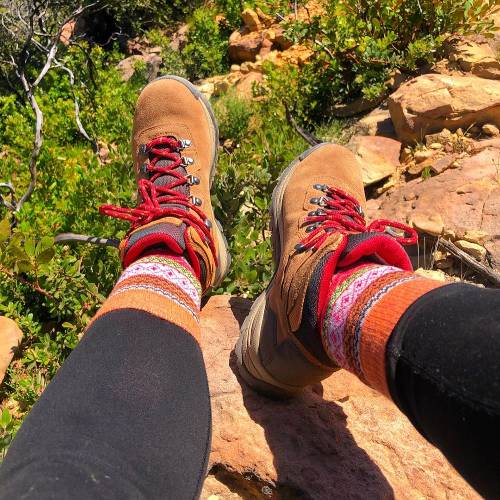 The Columbia Women's Newton Ridge is the perfect choice for women looking for a durable and functional pair of shoes that provide long-lasting comfort.
It has been crafted using only the highest quality materials. The midsole is made of synthetic and rubber materials that provide enough shock absorption to give you the support and protection you need while hiking.
The outsole of these shoes is made up of rubber, and it provides high-quality traction on all types of surfaces. It also features a waterproof membrane that ensures moisture does not get inside the shoe, which will keep your feet dry.
This shoe also features a soft and cushioned insole that is ideal for cushioning your feet. So that you get the utmost comfort, it has been made using foam padding. 
Furthermore, the inner lining of these shoes is made up of a soft and breathable lining to keep your feet dry and fresh throughout the day.
They come in multiple sizes and colors, and they are suitable for both men and women. Hence, no matter your age or size, you can pick a pair that will perfectly match your style and personality.
As a result of Columbia's signature technology, we ensure high-quality protection and prevention. Its advanced traction outsole prevents slipping in any environment so that you can move freely without getting stuck.
3. Skechers USA Men's Hiking Boot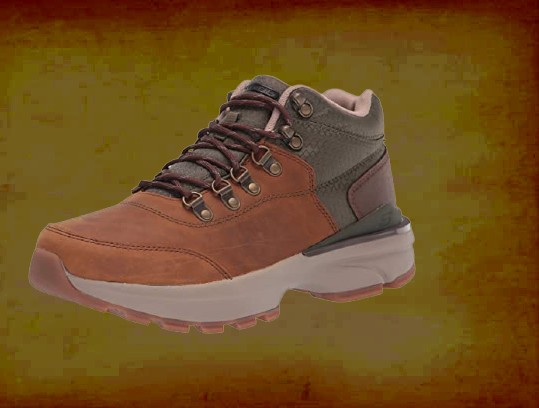 Our Review:
The Skechers USA Men's Hiking Boot is made of a durable material that is made to withstand rugged outdoor use. They are super comfortable and fit, which is great because it is one of the most important characteristics of a rain boot.
This pair of shoes have a rubber sole which provides enough traction while you're on a rugged outdoor trail. It also has an air-cooled memory foam cushioning system that provides ample support while you're hiking.
You can easily wear this rain boot with your jeans or casual shorts, so don't worry about having to dress up for a day in the rain. This shoe also has an easy-to-adjust lacing system that provides a snug fit and helps keep out excess moisture.
Its Goga Mat Arch will help keep your foot aligned properly throughout your hiking day. In these shoes, you are capable of hiking for hours and miles, and they will keep you comfortable at all times.
Moreover, its boot opening measures 12″ means that you'll be able to quickly slip them on when it starts raining. In addition to all this, these pairs of shoes are easy to wash and maintain.
It grips the ground easily with the non-slip rubber sole, so you won't have any trouble while you're hiking in the rain. And you can use them during hunting because they offer enough protection for your feet, so we can say that these are the best hunter rain boots for hiking.
So don't wait any longer, order your new pair of shoes online now, and make sure you get them before the weather takes its toll on your feet.
4. BOGS Men's Classic High-M Waterproof
BOGS Men's Classic High-M is a must-have rain boot for winter hiking and backpacking. This boot is designed to withstand a lot of abuse and harsh weather conditions.
This boot is 100% waterproof, so it will protect your feet from getting wet. The neoprene is extremely durable and can last for years, even through rough use.
Hiking is a great use for this boot as the shaft of these boots measures approximately 12 inches from the arch. Because of this shaft measurement, they are perfect for short trips as well.
The boot is lightweight and provides lots of ventilation so you can breathe easily and get rid of any moisture from your feet. So that means you can hike in the rain with these boots for hours without having to take them off.
These boots come with sturdy construction and strong stitching, offering the user a secure fit and a durable outer shell. Hence, you don't have to worry about breaking or tearing up these boots during the journey.
It features Contour fit for maximum support and movement, which means it will give you great support and comfort. They are designed for optimal breathability to keep your feet cool and dry. 
You can wear these shoes all day long without experiencing any discomfort. Since they are hiking rain boots for men. Moreover, you can also wear them while walking through puddles or muddy areas.
5. Skechers Men's Waterproof Boot Hiking
Our Review:
The Skechers Men's are Xtra Tuf rain boots for hiking because they have rubber soles that give you extra grip on wet or slippery surfaces.
This comfortable boot is crafted with a waterproof lining to keep your feet dry and cozy during the rainy season. So you may use it for hiking through the woods and trails where you need to stay dry. 
The upper of this boot is made from a synthetic and mesh fabric material that provides comfort and breathability. Hence, you may enjoy wearing them while you're on the trail without feeling too warm or sweaty.
Also, it is equipped with air-cooled memory foam that helps provide cushioning and shock absorption. So you will have a nice and comfortable experience when wearing these boots. 
Putting on the boots is easy and convenient thanks to the lace-up closure system. It looks also more stylish than other hiking boots you might find, you will not be bored wearing them.
It's also enjoyable enough to wear all day long without causing any kind of blisters or other discomfort. As they are manufactured using quality materials, you may wear them all year round and they will remain durable even when soaked with water.
You can use them during outdoor activities like running, walking, and biking as well. Furthermore, you will be impressed by how stylish these hiking boots are. Hence, they will look good on your feet and will complement your outfit.
6. Sperry Women's Saltwater Core Boots
The Sperry Women's Saltwater Core Boots are an excellent pair of hiking boots that can help keep you dry and comfortable. These boots are built using a waterproof rubber soled material that keeps water and dirt away from your feet.
These shoes have an easy-to-use lace-up system that makes it easier to put on and remove your feet from these boots. These shoes also feature a duck-inspired water-resistant outsole that will keep your feet dry and warm while walking in the rain so the best rain boots for women.
You won't feel any discomfort while walking in these boots because they offer enough support and comfort. They have a sturdy and comfortable insole that is made up of a rubber compound.
The Nylon upper helps keep your feet dry even if you end up hiking through the woods or water. These boots also come with a sturdy toe box to provide protection against any sharp rocks or debris.
Moreover, the micro-fleece lining is sure to keep your feet warm while wearing these boots as it will keep your feet dry in the cold and damp weather. And the side zipper closure ensures that you can easily slip them on and off. 
It can be used for many outdoor activities including camping, backpacking, fishing, and canoeing. So if you are a woman who loves to do outdoor sports then this could be your best choice.
7. Skechers Women's Pond-Lil Puddles Hiking Boots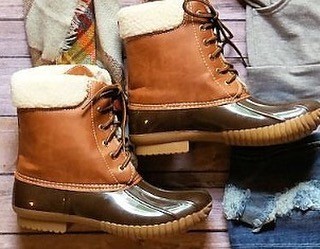 The Skechers Women's Pond-Lil Puddles Hiking Boots are high-quality boots designed for rainy days. They have no match in style and durability as they are man-made shoes.
The upper is made of 100% nylon and the synthetic and leather soles are waterproof and odorless. So it's a shoe that you won't have to worry about the mud getting in and ruining your day.
And, the memory foam footbed cushions your feet and prevents them from feeling any pressure. It also absorbs perspiration and keeps your feet dry so that you don't get wet feet, so you feel fresh the whole day.
In case it rains really hard, the sole is designed to give you a grip, so you can walk safely even if it's slippery outside. In addition, it also features a 3M Scotchgard(TM) finish that protects your shoes from moisture and safe you from itching.
With its comfortable fit design, you can walk on all kinds of terrains. The women feel great on every step, and it's so versatile that you can wear it for every occasion.
Furthermore, It has a non-marking outsole and is suitable for indoor or outdoor use. They are easy to clean and can be machine washed as well. They are also very lightweight, so you won't feel any weight on your feet when wearing these shoes.
These boots are available in various colors, so you'll easily be able to match them with any outfit. So don't wait any longer! Grab these attractive, comfortable, waterproof, and slip-resistant shoes and have a great time outdoors.
More Read: best men's rain boots
How to Choose Rain Boots For Hiking – Buying Guide
If you will be doing mostly easy hikes on well-maintained trails, any good-quality rain boots will do. However, if you will be doing more difficult hikes or off-trail hiking, you will need a tougher and more durable rain boot.
You know how frustrating it is to choose the right gear for a hike, only to find out it's the wrong gear once you're on the trail. To help you make the best decision, we've put together this quick and easy guide on how to choose rain boots for hiking.
Consider the following factors when choosing rain boots for hiking:
Waterproofing: The first and most important factor to consider when choosing rain boots for hiking is waterproofing. You want a boot that will keep your feet dry in wet conditions.
Breathability: The second factor to consider is breathability. You want a boot that will allow your feet to breathe and not get too sweaty.
Traction: When you are on a hike, you will encounter different terrain. You want a boot with good traction that can handle mud, wet rocks, and slippery surfaces.
Weight: You also want to consider the weight of the boot. A heavier boot will be more durable but a lighter boot will be easier to hike in.
Fit: Finally, you want to make sure the boot fits well. A good fit is important for comfort and performance.
Final Verdict!
Hiking is a pleasant and fun activity that offers health benefits. So, if you want to enjoy some fresh air in the great outdoors in the rain. But there is always a chance that your hike will end up being canceled due to weather conditions. So, make sure that you are prepared for all types of weather. For this purpose, you need a pair of waterproof boots.
You may want to choose a hiking boot that has a waterproof upper. This guide was made with hikers in mind, and with our testing and research, we have selected a list of the 7 best hiking rain boots and given a detailed review of each of them with pros and cons. We also provided a complete buying guide for you to make your decision more effective and favorable.
All the products are good and reliable, we recommend Sperry Women's Saltwater Core Boots and KEEN Men's Targhee 2 Mid Height Boots because they are waterproof, easy to wear, comfortable, and have lots of positive reviews.
We hope you will find the information useful and will help you when choosing a great hiking rain boot for you. If you have any questions about the hiking rain boots, feel free to write us in the comment section below.
Thanks for reading!
FAQs
Do rain boots for hiking cost a lot of money?
No, rain boots for hiking do not have to cost a lot of money. You can find many affordable options for less than 100$ that will work well for your needs. However, if you want a higher-quality boot that will last longer, you may have to spend a bit more. 
Is there a difference between hiking boots and rain boots?
Hiking boots are usually made of tough, waterproof materials like leather or synthetic fabric, and have a higher ankle to provide support when walking on rough terrain.
Rain boots, on the other hand, are typically made of rubber or PVC and have a lower ankle. They are also usually longer in order to keep your feet and legs dry when walking in wet conditions.
A hiker's boot is typically more expensive than a rain boot, due to the higher quality materials and construction.
Is it possible to hike in rain boots?
It is entirely possible to hike in rain boots. You'll need to make sure that your rain boots have good traction and a rubber sole. You'll also want to make sure that you have enough space between your feet and the bottom of the boots. That way, your feet can move easily and don't become stuck in the boot.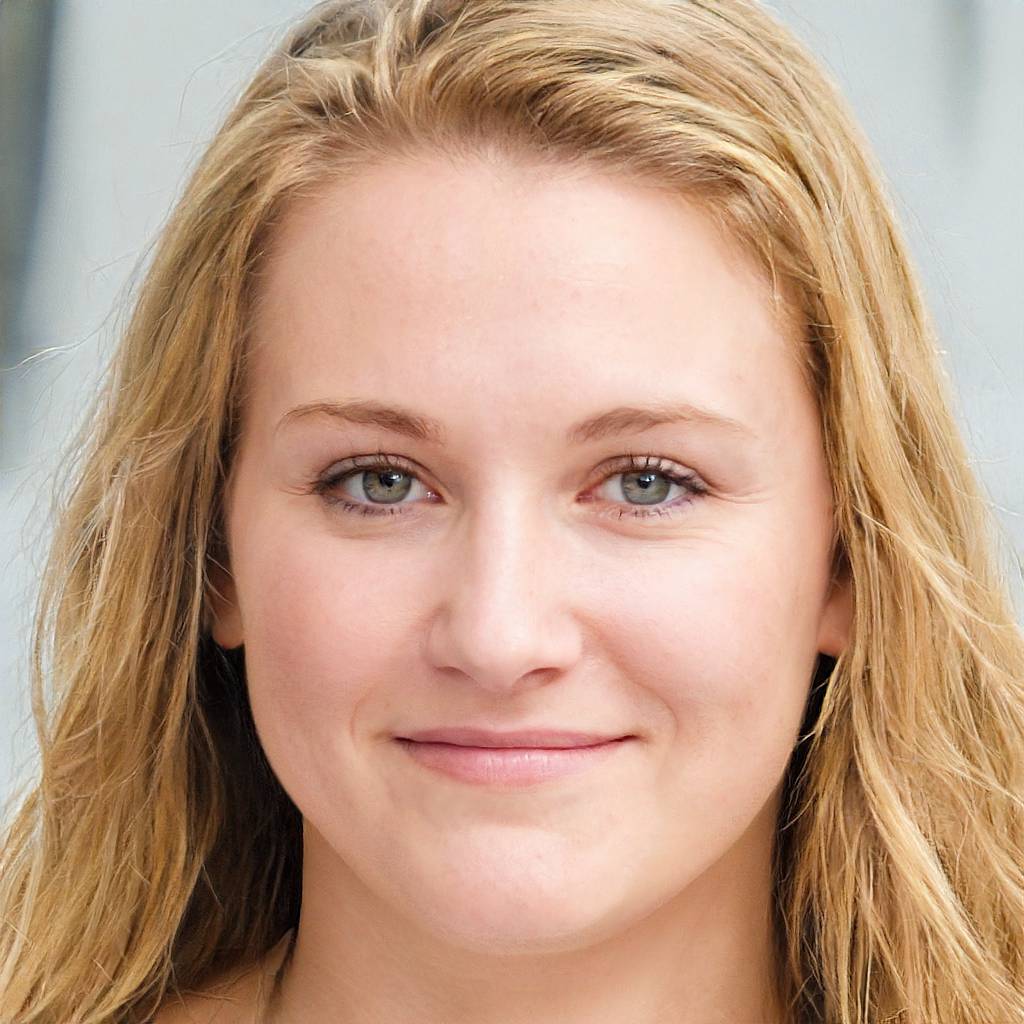 Sarah is the brains behind BootsNerd. Sarah Jaffe is a writer, editor, and boots lover based in Brooklyn, New York. She has done BA (Hons) in Footwear Design from De Montfort University, UK. She loves to write about boots and has a particular interest in vintage and sustainable fashion.