Last Updated on February 16, 2023 by Sarah Jaffe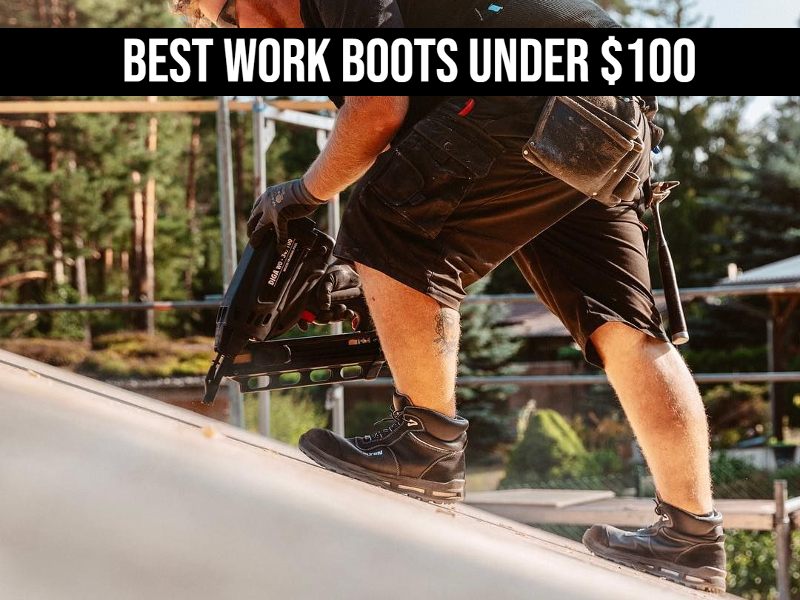 Welcome to the world of work boots, where comfort, durability, and style are as important as water is to fish! If you're on a budget but still need a pair of work boots that can withstand the harsh conditions of your job site, you're in luck! Because we've got you covered with our review of the best work boots under $100.
Let me tell you, I've had my fair share of terrible work boots. One time, I bought a pair that was so uncomfortable, I felt like I was walking on hot coals all day. And don't even get me started on the time I bought a pair of "waterproof" boots that leaked like a sieve in a rainstorm. But after some extensive research, we've found the cream of the crop in affordable work boots.
Not only will these boots keep your feet dry and comfy, but they won't break the bank either. You can finally have a few extra bucks to spend on important things, like a fancy coffee or a new cat toy (if you're a cat person, that is).
So kick off your old, raggedy boots (please, not at your computer screen), sit back and dive into the world of affordable work boots.
And, just a heads up, we'll be discussing the pros and cons of each boot, so you don't end up with a pair that falls apart after a week, leaving you with cold, wet feet and a sad bank account.
Best Work Boots Under $100 – Protect Your Feet and Your Wallet
When you're looking for a great pair of work boots, you want to make sure you're getting the most for your investment. Luckily, it doesn't always have to cost an arm and a leg to get a pair of shoes that are hard-wearing, comfortable and stylish. In this section, we'll be taking a look at some of the best work footwear under $100, giving you maximum bang for your buck.
1. Terra 305204DW Industrial Boots (Editor's Choice)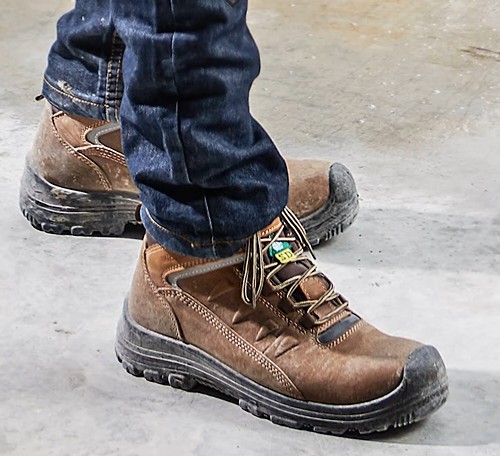 Key Specifications
| | |
| --- | --- |
| Sole Material | Rubber |
| Shaft Height | Ankle-high (measures approximately 6″ from the arch) |
| Toe Type | Composite Toe |
| Traction | Slip-resistant, high-grip design for stability on slick surfaces |
| Odor Control | CLEANFEET odor-control treatment on moisture-wicking |
| Insole | Premium single-density PU FOOTBED |
Terra Findlay 305204DW is outfitted with a CSA Grade 1 Composite Toe that is made from a combination of Kevlar and carbon fiber to create a lightweight yet incredibly strong toe guard. This guard offers superior compression and impact protection, all while meeting the highest standards of the Canadian Standards Association.
One of the best things about this item is that its moisture-wicking and abrasion-resistant lining keeps feet dry and comfortable while protecting the shoe from wear and tear. The fabric draws moisture away from the skin and prevents pooling, shielding against any damage from rough surfaces.
Moreover, it has a polyurethane (PU) midsole that grants cushioning, energy return, and shock absorption to help safeguard the feet and legs from exhaustion. Its impact absorption capabilities provide comfort and relief from the strain usually experienced from standing and walking, minimizing the chances of foot and leg pain and injuries.
Terra Findlay 305204DW is a beacon of safety in darkness, with its 3M Scotchlite reflective material embedded into the fabric. This innovative illuminating detail is composed of tiny glass beads that are designed to both reflect and refract light, providing maximum visibility and security in low-light conditions.
2. Dr. Scholl's E8177M1 Workboot
Key Specifications
| | |
| --- | --- |
| Sole | Synthetic |
| Fit | Men slip on shoes for easy on/off |
| Feels | Insole Technology with anatomical cushioning |
| Insole | Molded Memory Foam Cool Fit anti-compression insole |
| Midsole | Reduces foot pressure absorbs shock and moves with your foot |
Dr. Scholl's E8177M1 is manufactured with an oil-resistant, slip-resistant Lock Step Outsole that meets the SATRA TM63 and TM144 standards, meaning it has been tested for coefficient of friction on wet and oily surfaces, providing maximum grip even in the most slippery of conditions.
You will be glad to know that it is outfitted with Dri-Lex moisture-wicking lining, which is an innovative breathable fabric that helps keep feet dry and comfortable. This advanced lining helps regulate temperature, so feet stay cool in summer and warm in winter. It also keeps sweat at bay, preventing blisters and chafing and ensuring feet stay cozy all day long.
Furthermore, this footwear is now fortified with Aegis Microbe Shield, a revolutionary antimicrobial technology that provides a powerful layer of defense against bacteria, fungi, and other microbes. This mechanism creates a protective coating that prohibits the spread of these unwanted microbes on the surface of the shoes, reducing odors and stains in the process.
Dr. Scholl's E8177M1 is constructed with a composite toe box which is made from a lightweight and flexible material such as Kevlar and carbon fiber, allowing your feet to move and bend naturally. Plus, they provide protection against electrical hazards and compression, reducing the risk of foot injury and shock.
3. Skechers SKC-77183W Construction Shoes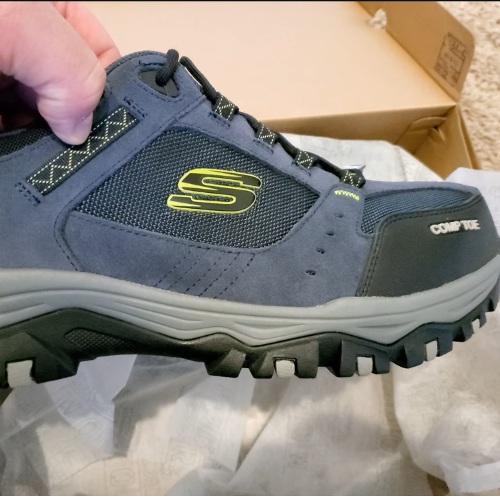 Key Specifications
| | |
| --- | --- |
| Sole | Rubber |
| Upper Material | Suede with synthetic overlays and ripstop textured panels |
| Closure | Traditional lace-up |
| Insole | Removable memory foam technology for long-term cushioning |
| Collar | Padded fabric collar with quilt stitched detailing |
Skechers SKC-77183W is designed with soft, pliant suede uppers that provide luxurious cushioning, while the highly efficient synthetic overlays provide extra stability and durability. This unique combination of materials keeps your feet in place and guards against any potential impacts you may come across on the job.
You will like that it has a ripstop textured fabric that makes it highly resistant to abrasions and durable for daily wear. This fabric also allows for increased breathability and cooling, allowing air to pass freely through it and keeping feet cool and comfortable throughout the day.
Additionally, it features a water-resistant seam-sealed design, offering superior protection against moisture. This innovative layout works to keep feet dry in even the wettest conditions, shielding them from potential discomfort and keeping them comfortable.
Skechers SKC-77183W brings forth an innovative memory foam insole. This insole ensures superior cushioning and shock absorption, as well as excellent arch support; reducing the pressure on the heel and forefoot. Plus, the memory foam contours to your individual shape, giving you a personalized fit and unparalleled comfort.
4. Reebok Men's Rb4041 Industrial Shoe (Best Steel toe boots)
Key Specifications
| | |
| --- | --- |
| Sole Material | Rubber |
| Insole | MemoryTech Massage footbed adapts |
| Midsole | Sublite foam midsole |
| Toe | Alloy toe reduces weight while maintaining impact protection |
| Safety Standards | Slip Resistant, Electrical Hazard Protection |
Reebok Men's RB4041 is fortified with ASTM F2413-11 certified Steel Toe, delivering superior safeguarding from compression and impact injuries resulting from falling objects, sharp objects, and hazardous workplace conditions. The steel toe is constructed with a steel cap that covers the entire toe area, creating a resilient shield against potential danger.
We love that this product employs full-foot flex grooves that aid in providing enhanced flexibility. Strategically placed in the midsole of the shoe, these grooves enable the shoe to move and flex in various directions with each step for added support and comfort on the job.
In addition to that, it has a MemoryTech footbed that is made from multiple layers of foam and alleviation material to form a footbed that conforms to the shape of your foot, absorbing shock, reducing pressure, and providing adequate arch support.
Reebok Men's RB4041 is outfitted with nylon mesh insoles whose open cell structure allows air to circulate, permitting sweat to evaporate quickly and ensuring your feet stay dry and cozy for extended periods.
5. Cat P91004 Men's Work Boots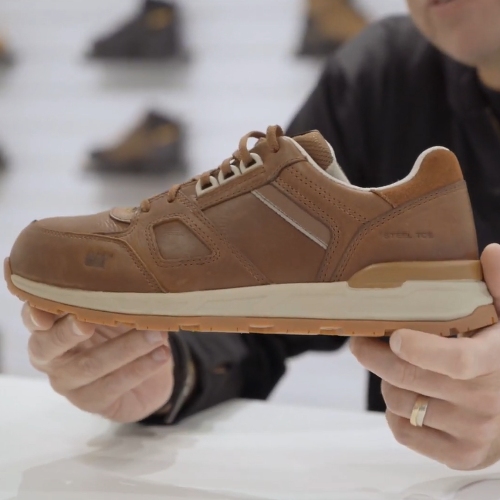 Key Specifications
| | |
| --- | --- |
| Rubber Sole | Slip-Resistant rubber |
| Steel Toe | Protects against impact and compression |
| Antimicrobial Sock Liner | Helps to prevent odor |
| Sculpted EASE Engineered | Offers extra shock absorption |
| Tanneries | Made at a Gold Rated Tanneries (LWG) |
Cat P91004 Men's work boots boast a nylon mesh lining, a lightweight fabric that encourages a free flow of air. This keeps the foot feeling fresh and dry, ensuring comfort and preventing moisture and heat buildup. The breathability of the material helps to create a pleasant environment for the wearer's feet.
Another great thing about this footwear is that it is made of a revolutionary Sculpted foam footbed for the utmost softness and support. This contoured footbed is crafted with a flimsy foam that cradles the foot's shape for a personalized fit. It also absorbs shock and provides the perfect amount of arch support to reduce fatigue and provide superior foot health.
Furthermore, this footwear is constructed with an antimicrobial sock liner that eliminates bacteria and fungi on contact, ensuring that your boots are odor-free and hygienic for maximum coziness and you can feel fresh and hygienic all day long.
Cat P91004 Men's work boots deliver premier traction, grip, and stability on wet and slippery surfaces with the help of their slip-resistant rubber outsoles. The special tread pattern of the rubber material permits excellent gripping, meaning you won't have to worry about any slipping or sliding.
Final Verdict
In the end, we would say that always keep in mind that there are certain types of boots and features that are not suitable for everyone. For example, steel-toe shoes are intended for heavy-duty work, so if you don't need extra protection, it's best to avoid them. Additionally, waterproof footwear can be a great choice, but if you don't frequently work outdoors, they may not be worth the extra cost. Ultimately, evaluate your needs carefully before making your decision.
For individuals seeking a top-notch product, the Terra 305204DW are supreme choice. It features a 100% metal-free design, full-grain waterproof nubuck leather, composite safety toe, and 3M Scotchlite reflective detail to guarantee the highest visibility, even when the night shift rolls around.
However, if steel-toe shoes are more your style, the Reebok Men's Rb4041 Industrial Boot is the perfect pick. This footwear is equipped with Full-foot flex grooves, a MemoryTech Massage footbed, ASTM F2413 Electrical Hazard Protection, and Nylon Mesh Insole allowing air to circulate for maximum comfort.
Thank you for reading!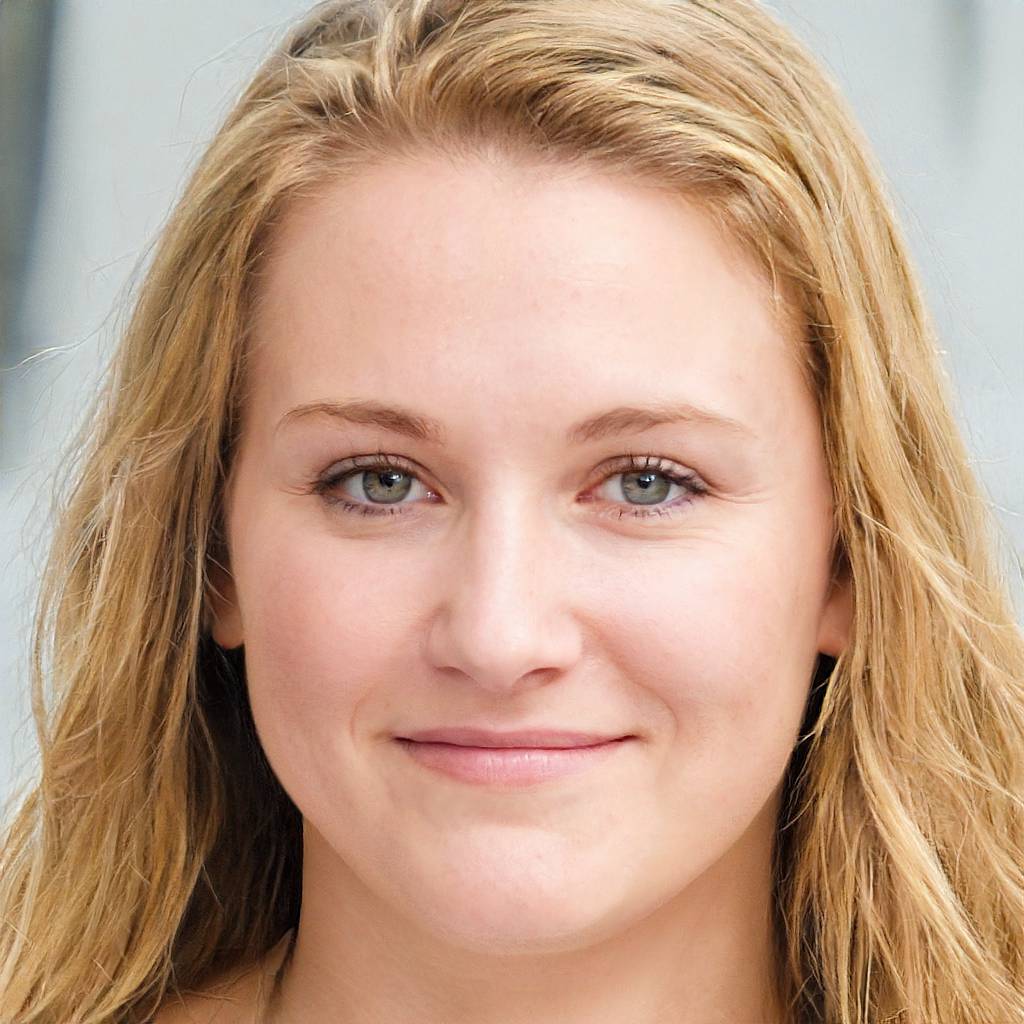 Sarah is the brains behind BootsNerd. Sarah Jaffe is a writer, editor, and boots lover based in Brooklyn, New York. She has done BA (Hons) in Footwear Design from De Montfort University, UK. She loves to write about boots and has a particular interest in vintage and sustainable fashion.