Last Updated on June 24, 2023 by Sarah Jaffe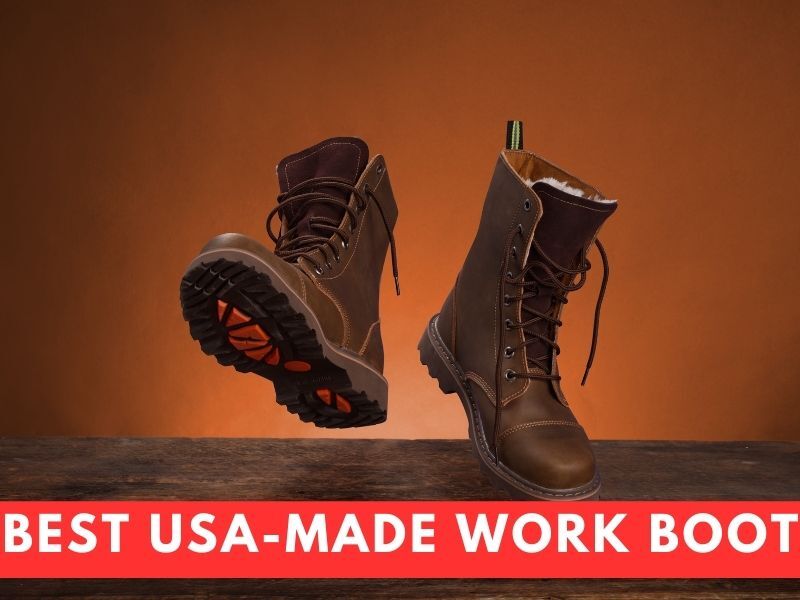 American-made work boots symbolize not just superior quality and durability, but also a proud tradition of supporting local manufacturers and workers. When you choose USA-made, you're investing in the welfare of American industry, ensuring that jobs stay local and your hard-earned money goes back into your community.
As a footwear expert, I've spent years testing, examining, and reviewing countless pairs of boots, and I understand just how critical it is to find the right balance of comfort, durability, safety, and American craftsmanship. Let me assure you, you're in good hands. In this post, I'll guide you through the best USA-made work boots available on the market. Stick around, and together, we'll find the perfect boot that's not just "made" but rather "crafted" right here in the USA.
Remember, an ideal work boot isn't a luxury—it's a necessity. So let's dive in, and help you make an informed decision. Buckle up, because it's time to give your feet the respect they deserve.
List of the Best USA-Made Work Boot
Thorogood 814-420170D – Best Overall USA-Made Work Boot
KEEN Utility Chicago 1024182 – Best Budget USA-Made Work Boot
Irish Setter 83605-M – Best Men's USA-Made Work Boot
Carhartt CWP1150 – Best Women's USA-Made Work Boot
Thorogood American Heritage 804-4375 – Best Steel Toe USA-Made Work Boot
Best USA-Made Work Boot – American's Choice!
Here are reviews of our top recommended products:
1. Thorogood 814-420170D Work Boot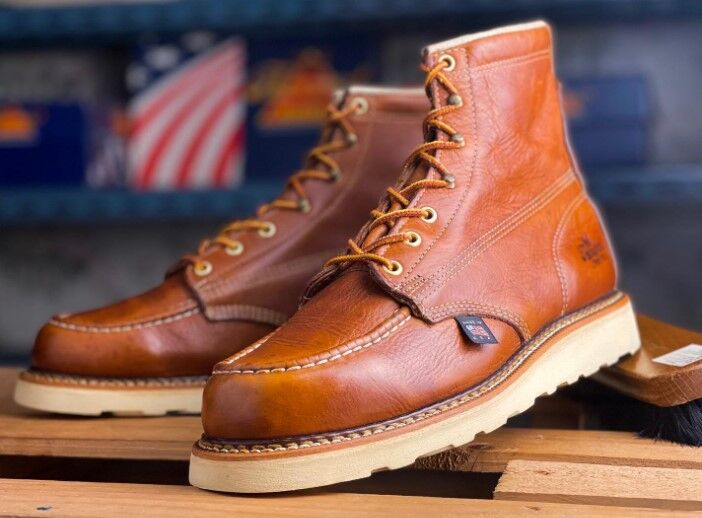 Thorogood 814-420170D is equipped with the mighty MAXWear outsole. This rugged rubber compound delivers unparalleled traction and stability on any terrain, no matter how treacherous. With the MAXWear outsole, you can easily navigate slippery surfaces, wade through mud, or traverse rocky terrain.
Now, let's talk leather quality. They are made from attractive tobacco leather, which is robust oil tan leather. It's two millimeters thick, so you know it's built to last. This leather is packed with oils and waxes, making it resistant to scratches and repelling water like a champ.
Moreover, inside these shoes, you'll find a little surprise, a removable Poron Insole. The insoles are designed to contour to the shape of the foot, reducing pressure points and preventing foot fatigue. Poron insoles are also breathable, keeping the feet cool and dry throughout the workday. This is particularly important for those who work in hot and humid environments.
Thorogood shoes are a true hero in the world of electrical hazards, thanks to their heels that can withstand up to 18,000 volts of power. Workers can rest assured that their feet are protected from potentially life-threatening electrical accidents with these heels. Additionally, these heels add a layer of toughness and resilience to the footwear, making them a reliable and long-lasting choice for workers.
2. Irish Setter Men's 83605-M Work Boot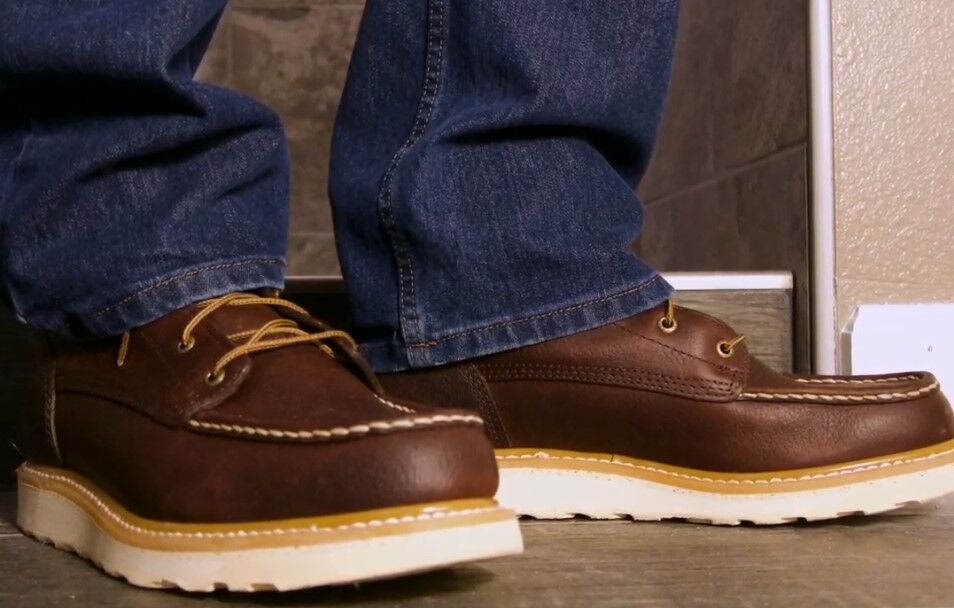 This Irish Setter boot has a polyurethane footbed that provides excellent cushioning and support. It is especially beneficial for individuals with orthopedic needs who may require additional arch support or prefer custom implants. This footbed can easily be replaced with orthotics or other covers to meet your personal preferences.
You'll love that it's a non-slip-resistant outsole made of durable EVA rubber. The rear floor is designed for reliability and traction, reducing the risk of slipping and falling in slippery or oily conditions. The outsole is carefully designed to deflect water and debris. It further enhances traction and prevents debris buildup from compromising grip.
Furthermore, its upper is made of fine-grain leather. Not only is this leather durable, but it offers water resistance and breathability just as well. The full-grain leather construction ensures long-lasting performance and protection against the elements, making them suitable for both indoor and outdoor work environments.
Irish Setter Men's 83605-M is designed from Non-Woven Nylon lining that provides excellent moisture-wicking properties. This can help keep your feet dry and comfortable even in wet or humid conditions. Additionally, it is lightweight and breathable, which helps regulate the temperature inside the footwear. Thus it prevents your feet from getting too hot or too cold.
3. Carhartt Women's CWP1150 Work Boot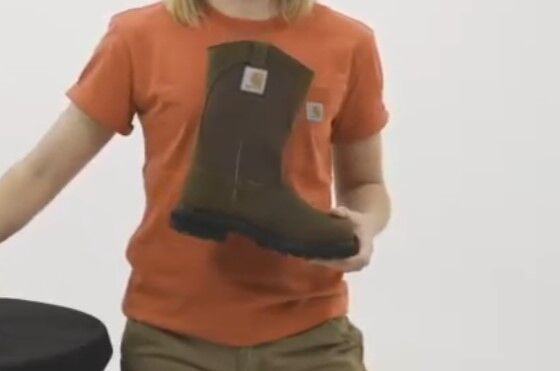 Carhartt CWP1150 boasts a formidable blend of oil-tanned leather and Cordura nylon, forming an indomitable shield that safeguards your feet. The oil-tanned leather expertly repels water, rendering it an impeccable ally for individuals toiling in damp or moist environments.
Simultaneously, the Cordura nylon confers an additional layer of robustness to the footwear without burdening it with unnecessary weight.
One of the key features that set it apart is its storm defender waterproof breathable membrane. This ingenious membrane proficiently thwarts water infiltration, ensuring that no moisture seeps into the boot. Meanwhile, it diligently caters to breathability, guaranteeing dryness and comfort for the feet throughout the entirety of the day.
Besides that, this product features a fast-dry lining to effectively manage moisture. By swiftly wicking away sweat from the feet, it aids in maintaining dryness and comfort. Moreover, it diligently combats the unsavory odors stemming from bacteria, thus ensuring a perpetually fresh and pleasant environment within the shoe.
To ensure reliable grip, traction, and flexibility, Carhartt has equipped the CWP1150 with its signature rubber outsole. This outsole is specifically designed to offer excellent traction on various surfaces, reducing the risk of slips and falls and providing stability during work activities.
4. Thorogood 804-4375 Work Boots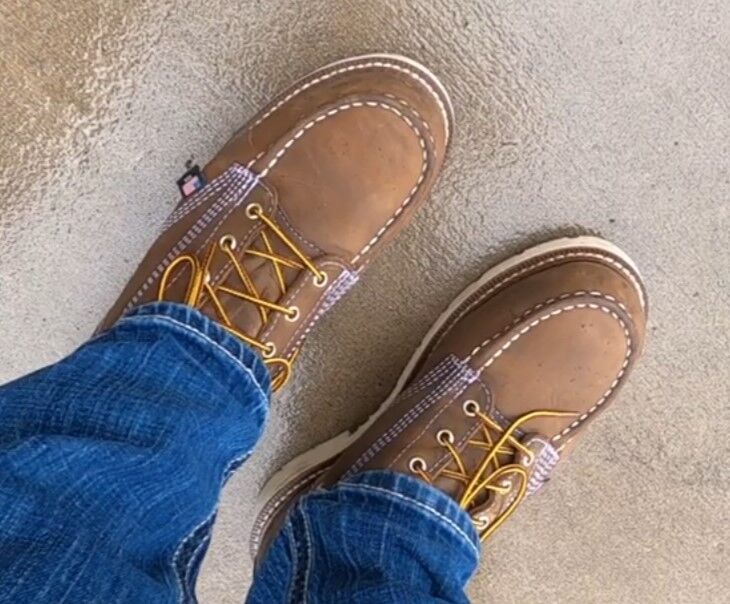 Thorogood 804-4375 boasts a single-density Polyurethane MAXwear 90 outsole, a true exemplar of longevity and traction. Employing MAXwear 90 technology, this work shoe amplifies the sole's durability, rendering it resilient to demanding usage. Its remarkable slip-resistant attributes guarantee steadfast stability across a multitude of surfaces.
Furthermore, this footwear incorporates a steel toe cap, an indispensable safeguard against impact and compression hazards prevalent in perilous work settings. Compliant with industry safety standards, the steel toe ensures that the wearer's feet remain shielded from potential injuries inflicted by weighty objects or descending debris.
Another notable thing about this footwear is its electrical hazard (EH) protection (meets ASTM F2413-18 safety standards). It means that the shoes provide a high level of insulation against electrical shocks, minimizing the risk of electrical accidents. It is of paramount significance for workers operating within environments where direct contact with live electrical circuits is a plausible occurrence.
Durability is a key consideration in work boots, and the Thorogood 804-4375 excels in this regard. The Goodyear welt construction enhances its strength and longevity. This construction method involves stitching the upper, insole, and outsole together, creating a highly durable bond. As a result, it is less prone to separation or sole delamination, ensuring that it can withstand the toughest work conditions.
5. KEEN Utility 1024182 Work Boot
The outsole of the KEEN Utility 1024182 is designed for superior traction and stability. Its non-slip rubber outsole is oil-resistant, providing a reliable grip on various surfaces and reducing the risk of falls. As a result of the outsole's tread pattern, the shoe is stable and safe on both dry and wet surfaces.
One of the best things about this unit is its removable metatomical PU footbed. A footbed like this will reduce fatigue during long shifts thanks to excellent cushioning and arch support. It is also designed to contour to the shape of the foot, enhancing overall comfort and reducing the likelihood of discomfort or blisters.
Furthermore, this shoe is equipped with a lace-up closure system that incorporates metal hooks and eyelets for a secure fit. The well-designed closure system allows for effortless adjustments and keeps the shoe securely in place throughout the entire workday. These laces are made with top-notch materials that glide easily through hooks and eyelets without fraying or breaking.
In the realm of upper construction, the KEEN Utility 1024182 showcases the usage of premium full-grain leather. In demanding work environments, this leather's exceptional durability and resilience act as a formidable shield, protecting the feet from injury.
Final Verdict
Our thorough analysis of various products has led us to discover a shining star – the Thorogood 814-420170D. With its MAXWear outsole and removable poron insole, this product stands out from the crowd. Additionally, it has an unbreakable Goodyear Storm Welt construction that resists water, dirt, and other environmental hazards.
For those on a budget, we recommend the KEEN Utility Chicago 1024182. This shoe has a polyurethane footbed, EVA rubber sole, and a non-woven nylon lining that is moisture-wicking.
If you still have not found your ideal work boots check out the guide on: Work Boots For Walking All Day!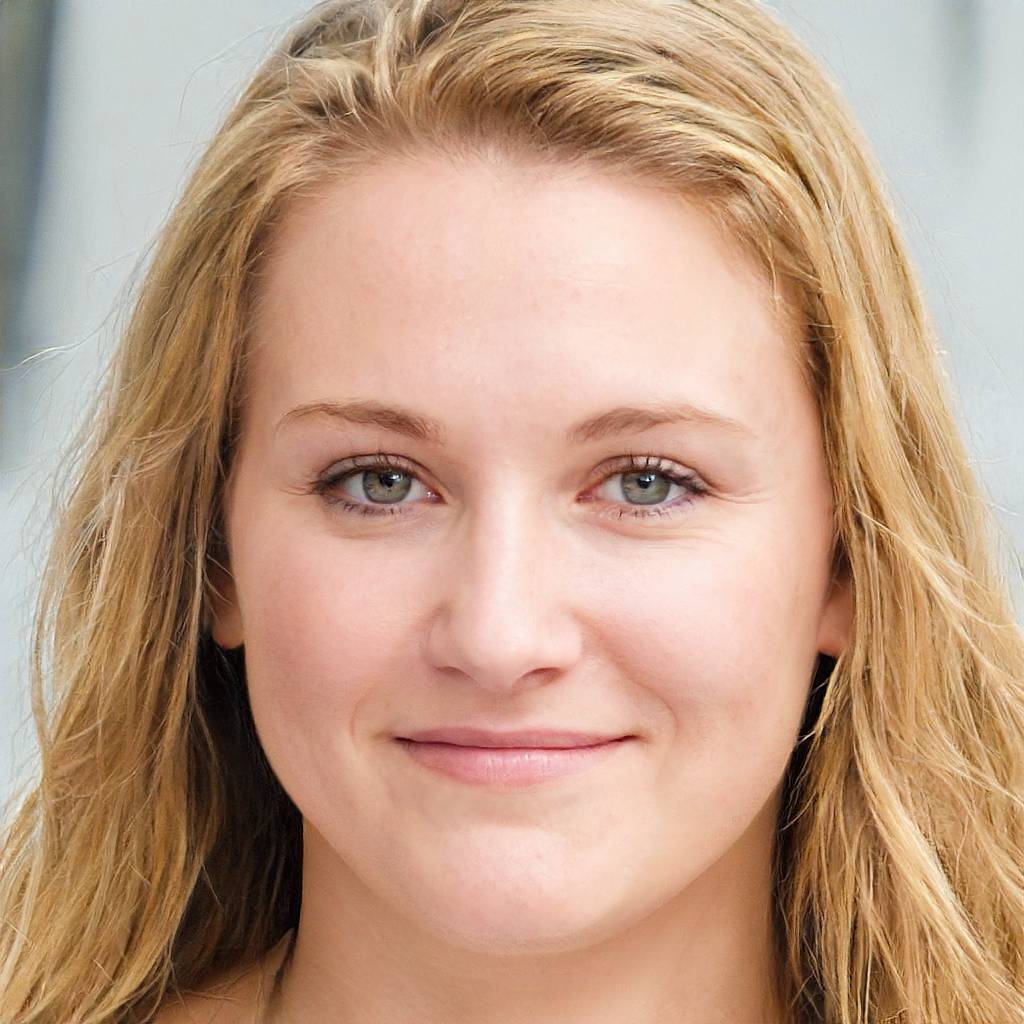 Sarah is the brains behind BootsNerd. Sarah Jaffe is a writer, editor, and boots lover based in Brooklyn, New York. She has done BA (Hons) in Footwear Design from De Montfort University, UK. She loves to write about boots and has a particular interest in vintage and sustainable fashion.