Last Updated on July 7, 2023 by Sarah Jaffe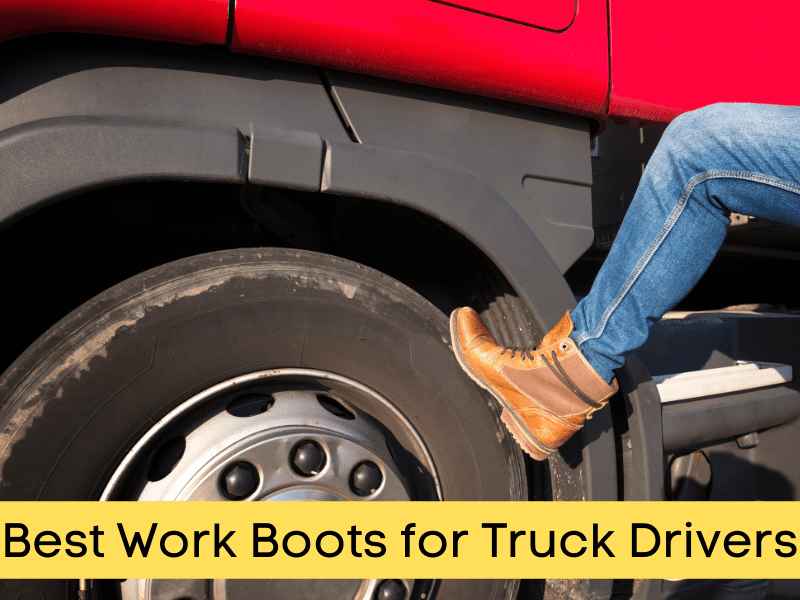 If you're a truck driver, you know that there's nothing worse than aching, tired feet after a long day on the road. But did you know that your choice of footwear could be the culprit behind your discomfort?
With the right pair of work boots, you can bid farewell to soreness, blisters, and fatigue, and look forward to a more productive and enjoyable workday. So why settle for less than the best?
Our guide to the Best Work Boots for truck drivers will help you navigate the confusing world of footwear options, so you can find the perfect pair that will keep you comfortable and focused on the road ahead.
Best Work Boots For Truck Drivers – Our Top Pick!
Here are our top recommended products:
1. KEEN Utility 1022098 – The Perfect Work Boot for Truck Drivers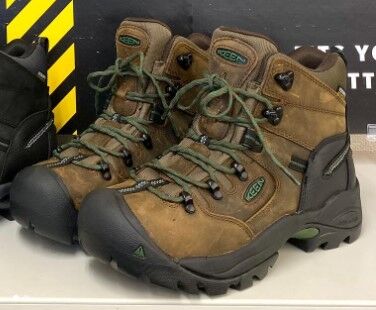 KEEN Utility Men's 1022098 provides exceptional traction even on slippery surfaces due to its Oil and slip-resistant rubber outsole. Whether you are navigating a wet truck bed or stepping out onto a slick pavement, you will feel confident in your footing. The aggressive lug sole pattern effectively channels away water and oil, reducing the risk of slips and falls. It is vital for those truck drivers who frequently encounter various terrains and conditions during their deliveries.
Speaking of moisture, these shoes boast Keen Dry Waterproof System, which is a huge plus for truck drivers who encounter rain, snow, or spills while loading and unloading cargo. This thing has proven reliable, keeping my feet dry even during heavy downpours. This is crucial not only for comfort but also for preventing any potential health issues that can arise from prolonged exposure to wet conditions.
I was very much impressed by its electrical hazard rating. As a truck driver, I occasionally have to handle electrical equipment while loading and unloading cargo. Knowing that they are designed to protect against electrical hazards provides me with peace of mind and an added layer of safety on the job.
Moreover, it has premium quality TPU shank to provide additional support and stability to the foot and arch. This can be especially useful for driving professionals who spend long hours on the road, as it can help to reduce fatigue and prevent foot and leg pain. Plus, it can contribute to preventing the midsole from breaking down over time.
One aspect that pleasantly surprised me was the asymmetrical toe caps. Unlike traditional work boots with round or square toe caps, the KEEN Utility 1022098 has toe caps that follow the natural shape of the foot. This design not only provides a more comfortable fit but also allows for more room in the boot.
As a truck driver, I spend a considerable amount of time on my feet, and having that extra space for my toes to move freely has made a noticeable difference in overall comfort.
2. Caterpillar Hauler P90449 – Truckers' Choice for Comfort on the Long Haul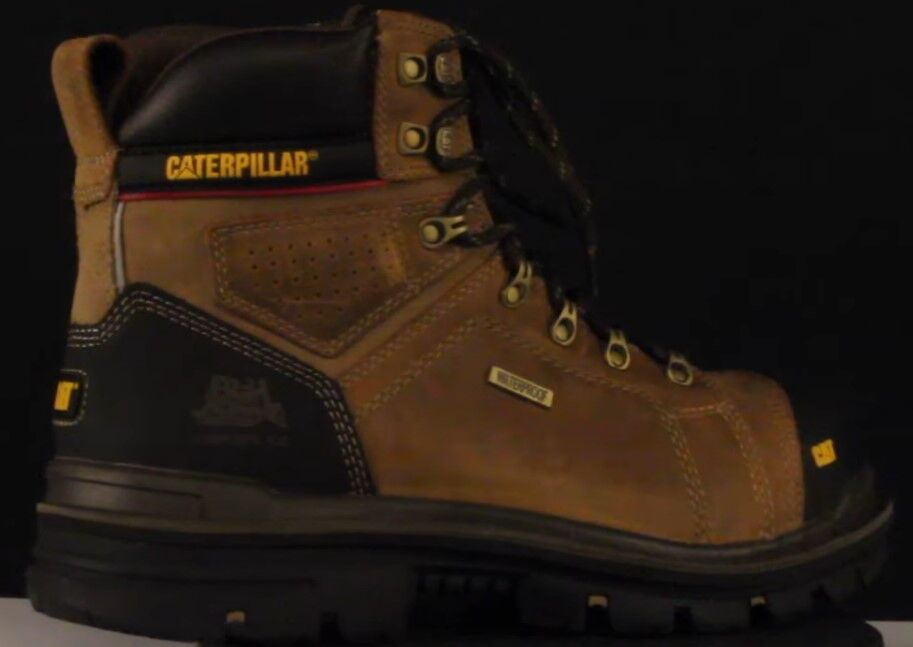 Caterpillar Hauler P90449 has a rubberized toe that covers the composite toe protection. Its added layer enhances the durability of the footwear. It also provides extra protection for your toes, guarding against accidental impacts or compression from heavy objects that are often encountered in trucking environments.
One of the best things about this model is its 6″ shaft height. It gives sufficient ankle support and protection, which is crucial for truck drivers who spend long hours on their feet and are constantly exposed to rough terrain and hazardous materials. The higher shaft likewise serves to prevent dirt, dust, and debris from entering the shoe.
Furthermore, its three-quarter welt design is worth noting for its flexibility and durability. This construction style starts at the forefoot and extends all the way around to the arch, ensuring enhanced flexibility and ease of movement. Plus, it contributes to the shoe's overall durability by providing additional support and stability, particularly when the boot is subjected to frequent bending and flexing during trucking tasks.
Besides that, it is outfitted with Nylon Mesh Lining to deliver breathability, which is essential in keeping the feet cool and dry during long hours of driving. This is particularly advantageous for those who spend extended periods of time in their boots. Aside from that, it prevents the accumulation of bacteria and odors inside the shoes.
To further bolster its durability, Caterpillar Hauler P90449 utilizes a welded construction method. It eliminates the common issue of cracked seams that can occur with glued boots over time. This welding technique significantly prolongs the lifespan of the footwear, enabling it to endure the demanding daily tasks of trucking without compromising its structural integrity.
3. Thorogood 804-420080D – For Truck Drivers Who Demand Durability and Comfort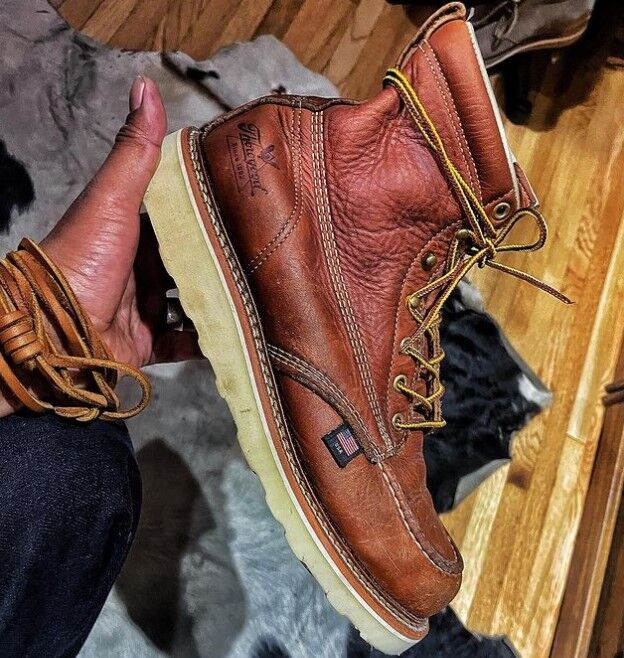 Upon first encountering the Thorogood 804-420080D, one thing immediately caught my attention – the remarkable quality of its leather. Fashioned from oil-tanned leather, it not only exudes rugged durability but also possesses a supple texture. Abundantly infused with oils and waxes, this leather exhibits an impressive resistance to scratches and various weather conditions.
Another appealing feature that will undoubtedly captivate you is its MAXWear Wedge outsole. As a truck driver, traversing treacherous surfaces, particularly during unfavorable weather conditions, is a common occurrence. Rest assured, this outsole offers impeccable traction, instilling a sense of confidence as you navigate any terrain, free from the worry of slipping and sustaining injuries.
Additionally, this product incorporates a steel toe that shields the feet from heavy objects that may accidentally fall on them while loading and unloading cargo. Further, the steel toe safeguards against cuts, scrapes, and punctures that may be caused by sharp objects on the ground or in the truck bed.
What's more, it is constructed with a Goodyear welt mechanism, ensuring durability and longevity. The triple stitching along the upper adds an extra layer of reinforcement. This gives you confidence in their ability to withstand the demands of your profession.
Thorogood 804-420080D features a fiberglass shank and a removable footbed made with poron, providing excellent arch support and cushioning. Being a truck driver, spending hours seated can take a toll on my feet and legs. The added support in these boots alleviates fatigue and provides comfort during long stretches on the road. Whether navigating bumpy roads or making quick stops, my feet feel well-cushioned and protected.
4. Skechers 77143 Burgin-Tarlac Work Boot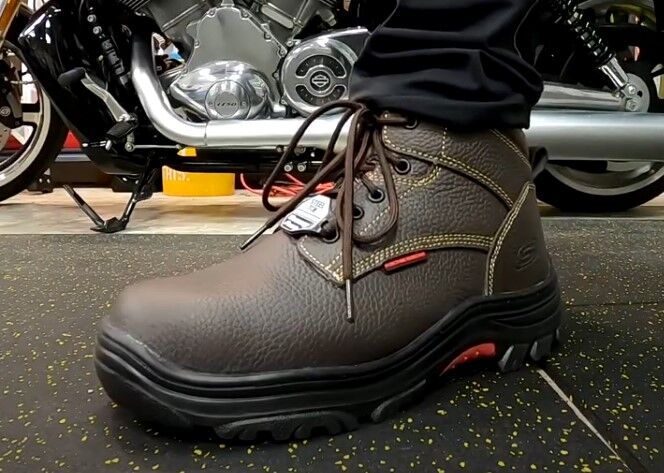 Starting with the construction, the Skechers 77143 Burgin-Tarlac is crafted with high-quality materials, ensuring robustness and longevity. The upper portion is made of genuine leather, which offers excellent resistance to wear and tear, making it suitable for the demanding conditions that truck drivers often encounter. The leather also provides a professional appearance, enhancing the overall aesthetics of the boot.
In terms of the toe protection, it boasts a steel toe cap. This protective element is essential for truck drivers as it safeguards their feet against impact and compression hazards. The steel toe cap meets industry safety standards, providing peace of mind to drivers who may be exposed to potential accidents or heavy objects in their work environment.
Comfort is paramount for truckers who spend a lot of time on their feet. This brand addresses this concern with its well-designed inner sole. It has incorporated a memory foam insole, which provides superior cushioning and absorbs impact, reducing stress on the feet and joints. This feature ensures a more pleasant and comfortable experience for drivers throughout their workday.
Skechers 77143 Burgin-Tarlac has a rubber outsole that can withstand heavy use and resist abrasions, punctures, and tears. Its slip-resistant properties make it suitable for various surfaces encountered by truck drivers, including wet or greasy floors. The aggressive tread pattern enhances grip, reducing the risk of slips and falls.
5. Reebok RB8406 Sublite Work Boots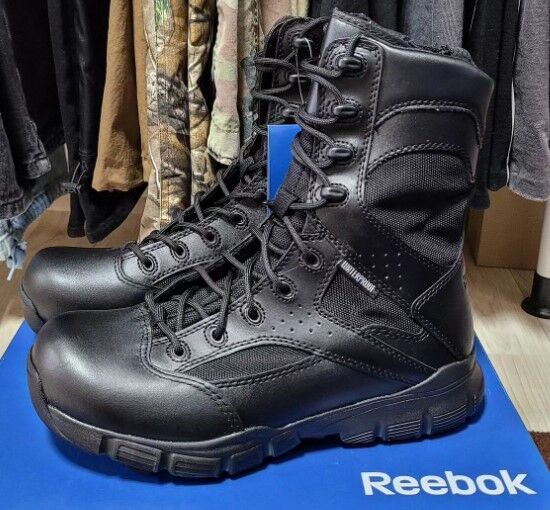 Reebok RB8406 Sublite's upper is crafted from a combination of mesh and synthetic materials, providing a lightweight and breathable feel. This design allows for excellent ventilation, ensuring that truck drivers' feet stay cool and comfortable throughout their shifts, even during warmer weather conditions.
I love that its memory tech massage cushioning in the footbed contours to my feet, providing a personalized fit that feels like walking on clouds. Even during those marathon drives, the shoes maintain their plush support, ensuring that my feet remain comfortable and pain-free throughout the journey. Whether I'm behind the wheel or taking a brief break, their unparalleled comfort keeps me going strong.
In addition to that, these shoes boast Sublite cushioning technology which is integrated into the midsole. This innovative padding system provides exceptional shock absorption, reducing the impact felt by truckers during long hours spent on their feet. The cushioning not only enhances comfort but also helps minimize fatigue and discomfort, permitting drivers to stay focused and alert on the road.
Moreover, its Full-Foot flex grooves bring significant benefits to truck drivers. These specialized grooves improve foot flexibility and movement during walking or running. Consequently, truckers can enjoy greater stability and agility while performing tasks such as climbing in and out of the cab, walking around the truck, or carrying heavy loads.
Reebok RB8406 Sublite is equipped with a non-metallic composite toe cap, providing protection against impact and compression hazards without adding excessive weight to the boot. This toe cap meets ASTM F2413 safety standards, making it suitable for truck drivers who require safety footwear in compliance with workplace regulations.
FAQs
Do truck drivers need to wear work boots?
Yes, truck drivers should wear work boots for safety reasons. Work boots provide protection for the feet and ankles in case of an accident or when loading and unloading cargo. They also provide better traction when walking on wet or slippery surfaces. Additionally, some work boots are designed to protect against electrical hazards and other workplace hazards. Therefore, it is recommended that truck drivers wear work boots that meet industry safety standards.
Does OSHA require you to have any specific type of footwear as a truck driver?
According to OSHA regulations, employers are responsible for ensuring that employees wear appropriate footwear when performing their job duties. While there are no specific requirements for truck drivers' footwear, employers should consider the hazards present in their particular work environment and select footwear that provides adequate protection. For example, slip-resistant soles may be necessary for drivers who frequently load and unload cargo in wet or slippery conditions.
How often do truck drivers need new work boots?
The frequency at which truck drivers need new work boots can vary depending on several factors like the quality of the boots, how often they are worn, and the type of work environment they are exposed to. Generally, work boots should be replaced every six months to a year, depending on wear and tear. However, truck drivers who work in harsh environments or put in long hours may need to replace their boots more frequently. It's also important to note that regular maintenance, such as conditioning and cleaning, can extend the life of work boots.
Final Verdict
Based on our extensive research and analysis, we recommend the KEEN Utility Men's 1022098 as the top choice for work boots among truck drivers. These boots boast a durable rubber outsole, a reliable Keen Dry Waterproof System, and a high-quality TPU shank that delivers enhanced support and stability to both the foot and arch.
Remember to steer clear of any boots that are flimsy or lack proper support. Also, stay away from footwear that is too heavy or bulky, as they can impede your ability to maneuver foot pedals. Moreover, it's crucial to prioritize safety features like slip resistance and toe protection over style or cost.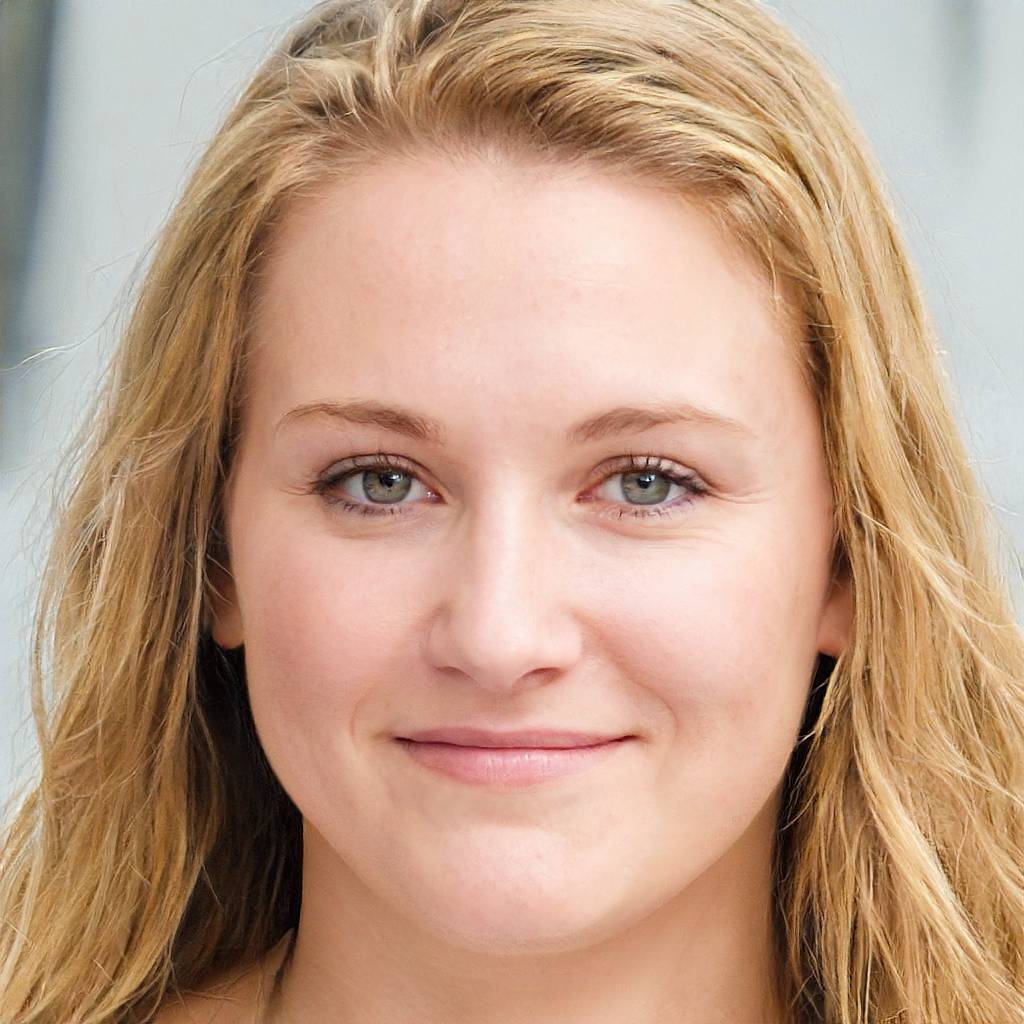 Sarah is the brains behind BootsNerd. Sarah Jaffe is a writer, editor, and boots lover based in Brooklyn, New York. She has done BA (Hons) in Footwear Design from De Montfort University, UK. She loves to write about boots and has a particular interest in vintage and sustainable fashion.