Last Updated on November 21, 2023 by Sarah Jaffe
Do you love to hike, but your bunions make it difficult? Fear not! There are plenty of comfortable, supportive hiking boots made especially for folks with bunions. So, get out in nature and enjoy the trails!
According to a study done by the Harvard Medical School, a good quality shoe for bunions should have a roomy toe box that allows plenty of space for your feet to move around as well as plenty of cushioning and flexible sole to absorb impact and reduce pressure on the bunion area. Plus it ought to provide ample arch support, as well as a secure fit and a good grip on the outsole.
However, having the wrong boots on your feet can be a hazardous choice. WebMD points out that unsupportive and ill-fitting boots can be a major cause of bunions, as well as worsen existing ones. It can even lead to more serious medical conditions like bursitis or tendinitis. To prevent such issues, it is essential to be mindful when selecting footwear, making sure it fits well and provides the necessary assistance.
In a Hurry? Check These 2 Top-Rated Boots Based On Our Testing:
What are Bunions and what causes them
Bunions are bony protrusions that form at the base of the big toe, causing it to deviate towards the second toe. Characterized by a visible bump and potential joint inflammation, bunions result from a combination of genetic factors and external influences such as improper footwear. Over time, this misalignment of the toe joint can lead to discomfort, pain, and difficulty finding comfortable shoes.

Following are the reasons for causing bunions.
Genetic Predisposition: Inherited structural imbalances in the foot contribute to abnormal joint mechanics, increasing the likelihood of bunions.
Foot Mechanics: Individuals with certain foot shapes or arch abnormalities may experience uneven distribution of pressure on the big toe joint, leading to bunion formation.
Footwear Choices: Ill-fitting shoes, particularly those with narrow toe boxes or high heels, can exacerbate bunion development by placing excessive pressure on the toes.
Progressive Condition: Bunions often develop gradually, with repeated stress on the joint causing the misalignment of the big toe and the formation of a bony protrusion.
Joint Instability: Weakened ligaments or joint instability can contribute to the misalignment of the big toe, further promoting bunion formation.
How to Treat Bunions
In addressing bunions, it is essential to adopt a multifaceted approach tailored to the severity of the condition. Here we have summarised some experts' opinion on treating bunions.
Footwear Modification: Recommend wearing comfortable, wide-toe shoes to reduce pressure on the affected joint and alleviate symptoms.
Orthotic Devices: Suggest customized or over-the-counter orthotic inserts to provide support and improve foot mechanics, addressing underlying structural issues.
Pain Management: Prescribe anti-inflammatory medications or recommend topical treatments to manage pain and inflammation associated with bunions.
Physical Therapy: Advocate for exercises to strengthen foot muscles and improve joint flexibility, aiding in better alignment and reducing discomfort.
Bunion Pads or Splints: Propose the use of pads or splints to cushion the bunion and promote proper toe alignment, particularly during weight-bearing activities.
Injection Therapy: In some cases, corticosteroid injections may be considered to alleviate inflammation and pain in the affected joint.
Lifestyle Modifications: Emphasize the importance of weight management and avoiding activities that exacerbate bunion symptoms.
For severe cases resistant to conservative measures, surgical intervention, such as bunionectomy, may be discussed as a viable option to address the underlying structural deformity. Ultimately, the treatment plan should be tailored to the patient's individual circumstances and preferences, considering both conservative and surgical options. Regular follow-ups will be crucial to monitor progress and make adjustments as necessary.
Reference:
Washington University Orthopaedics
Best Hiking Boots for Bunions – Our Top Picks!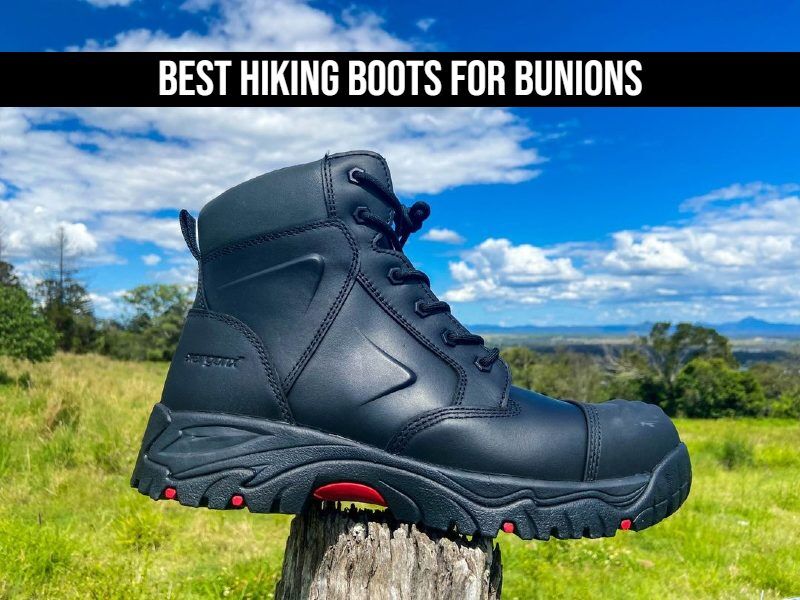 Tired of searching for the right hiking boots for your bunion? We've got you covered. Our list of the best hiking boots for bunions provides the comfort, support, and cushioning you need to get the most out of your outdoor adventures.
So, let's get started!
1. Lowa Men's Renegade GTX Mid-Hiking Boot (Editor's Choice)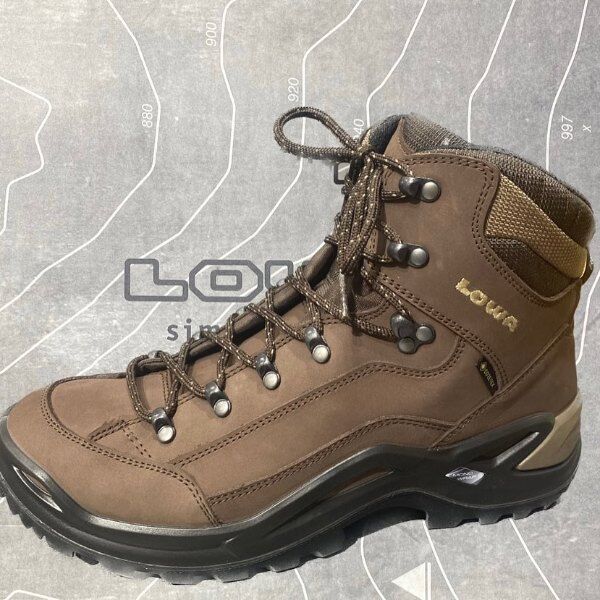 Lowa Men's Renegade is one of the best men's hiking boots for bunions that are constructed with a full-length nylon shank that provides needed assistance and stability. This shank helps to reduce pressure and distribute weight evenly, resulting in lessened discomfort from bunions. Moreover, it works to increase the torsional rigidity of the boot, allowing for greater balance and defense when hiking.
Most customers are attracted to this purchase because it features a Vibram Evo outsole that ensures you can traverse a variety of terrains with confidence. Its multi-directional lug pattern provides excellent traction and grip while cushioning and support in the heel and forefoot help to reduce the strain on the feet for those with foot problems.
In addition to that, it has a polyurethane Monowrap frame that wraps around the entire midsole of the boot, providing extra assistance and protection for the foot and ankle. It is perfect for those with painful foot issues such as plantar fasciitis, bunion, and others because the Monowrap frame absorbs shock and reduces vibrations to aid lessens pain and weariness.
The 5-inch shaft height of Lowa Men's Renegade hiking boots is a blessing for hikers of all levels, providing essential ankle support and protection. While traversing uneven terrain and unstable surfaces, the increased height of the shaft prevents your ankle from rolling or twisting, significantly reducing the risk of injury.
2. KEEN Targhee – Best women's hiking boots for bunions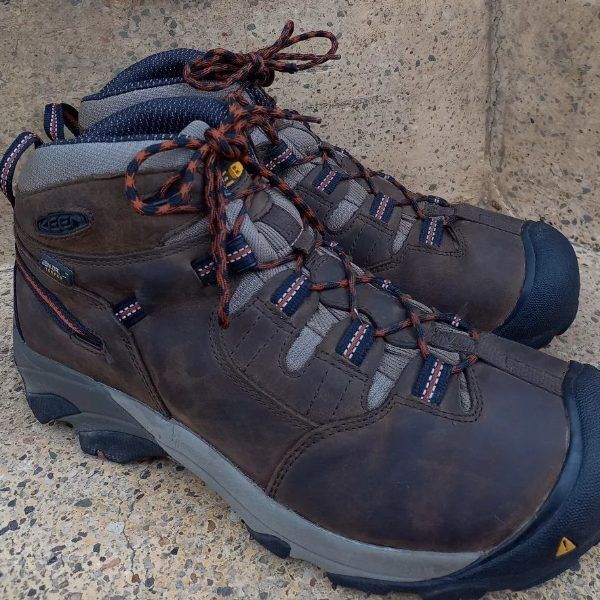 KEEN Targhee 2 has a metatomical footbed that offers the ultimate arch support and cushioning. This unique design conforms to the natural shape of the foot, providing much-needed relief to those with sensitive feet and bunions. It can also be easily removed and replaced with a new footbed when needed.
We love that it boasts a 4-inch shaft height which gives more stability to the ankle, making it ideal for hikers with foot problems. This added assistance safeguards the foot from rolling too far inward or outward on uneven ground, helping to avoid discomfort and pain.
Furthermore, these boots are outfitted with a dual-density molded EVA midsole, a unique technology that combines two layers of EVA material to provide superior cushioning and shock absorption. The higher-density layer offers support, while the lower-density material absorbs the impact of each step.
KEEN Targhee 2 introduces 4mm multi-directional lugs on their outsole, which provide an abundance of advantages. Traversing treacherous terrains, like wet rocks and slippery surfaces, is much easier with the increased grip and traction that the lugs offer. Moreover, the multi-directional design allows for movement in any direction, granting the wearer greater stability.
3. Timberland Men's White Ledge hiking boots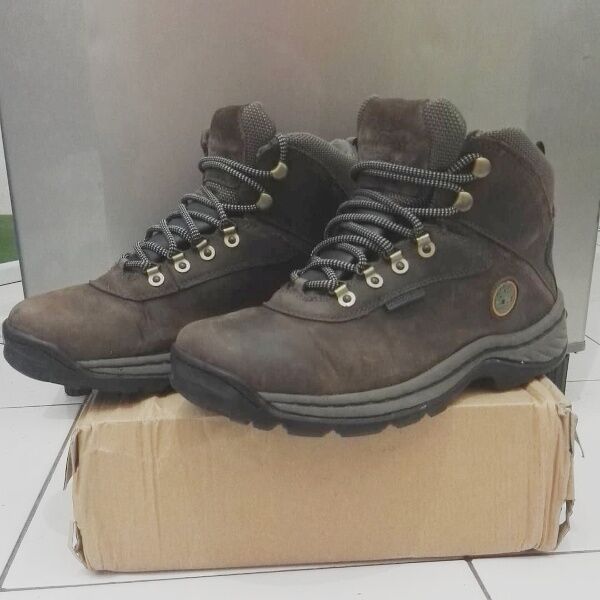 Timberland White Ledge is lined with ReBOTL fabric, offering a luxuriously soft, comfortable feel and superior breathability. The fabric wicks away moisture, keeping your feet cool and dry during long hikes while providing a snug fit to keep your feet in place.
Another great thing about this shoe is that it gives a secure and cozy fit, thanks to its fully gusseted tongue. This feature ensures that dirt and debris stay out of the boot, while also keeping the tongue in place and making sure it doesn't slip out of position and cause any discomfort.
Moreover, it is crafted with full-grain leather uppers, providing a snug fit for those with bunions. The leather is supple enough to stretch and conform to the shape of the foot, allowing for a relaxable fit that won't aggravate any of the foot problems.
Timberland White Ledge is designed with the adventurer in mind. Featuring an EVA midsole, they generate cushioning and shock absorption to protect feet on a variety of terrains. The lightweight, flexible, and durable material absorbs impacts and reduces foot fatigue, making them the perfect companion for a long hike through the wilderness.
4. Hanwag Men's Alta Bunion II GTX Shoes
Hanwag Alta Bunion Boot is equipped with reinforced PU foam, a special blend of polyurethane, and reinforcing material like fiberglass or Kevlar. This foam is designed to deliver superior shock absorption and stability, creating a comfortable environment for your feet as you take on whatever terrain your journey may lead you to.
You will like that it is made with a luxurious nubuck leather upper, providing a soft and velvety feel that is both lightweight and water-resistant. The breathability of the leather ensures you stay cozy, while its durability and flexibility make it an excellent choice for outdoor activities or for those with foot issues.
Besides that, this unit is outfitted with GORE-TEX lining which is an advanced waterproof and breathable membrane that helps to prevent sweat from accumulating in the boot, keeping your feet healthy and irritation-free.
Hanwag Alta has Polyamide insoles that are specially engineered to adapt to the shape of the foot, providing maximum support. The polyamide material absorbs shock and disperses it evenly throughout the foot, reducing fatigue during long hikes.
5. Columbia Men's Newton Ridge Plus Ii Hiking Shoe (Budget Pick)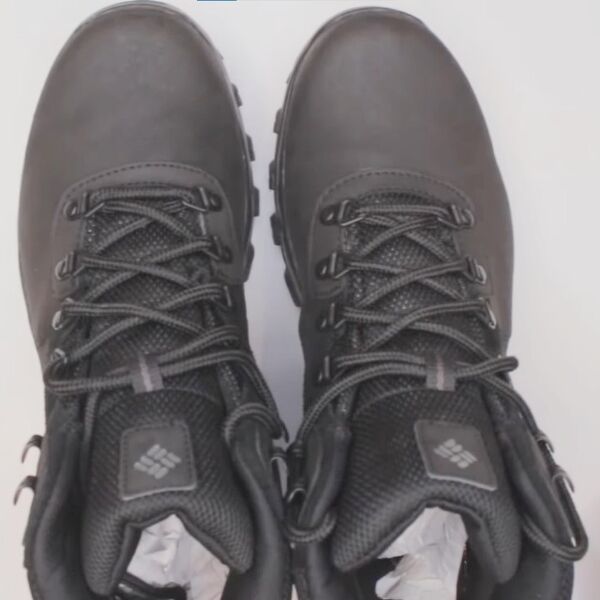 For those with bunions, Columbia Men's Newton Ridge can be a helpful ally. With the addition of scratch rubber heel overlays, extra softening is provided to not only lower pressure and friction on the infected area but also to create a more secure base for the foot. This improved stability decreases the risk of slips and can even help to reduce bunion discomfort and progression.
Furthermore, it boats PU-coated leather and suede construction that delivers premier protection from water, dust, and dirt, while also preventing wear and tear. The soft suede finish helps ease pressure and irritation around the bunion area, while the PU coating enhances grip and traction on uneven terrain.
Additionally, this item equips you with a dual-zone winter tread pattern to deliver ultimate traction and grip on snow and ice-covered trails. The lugs are wider and more aggressive on the outer edges, while the center is lined with a series of narrow, parallel lugs for optimal grip in winter conditions.
Columbia Men's Newton Ridge footwear introduces a strong, durable mesh tongue that helps keep feet dry and comfy whether you're out for a walk or climbing a mountain. Its breathable material permits air to circulate, keeping your feet from overheating, while the mesh also safeguards against dirt, rocks, and twigs that could otherwise irritate your feet and cause blisters.
How A Wrong Footwear Can Cause the Bunions Worse
As per Dr. Kanchan Sabui, the RMO of Medical College Kolkata, "Choosing inappropriate footwear, such as shoes with narrow toe boxes or high heels, can exacerbate bunions by subjecting the big toe joint to excessive pressure and forcing it into an unnatural position. The wrong shoes not only contribute to the development of bunions but can also worsen existing conditions, leading to increased pain, inflammation, and a faster progression of the deformity."
Features to look for when buying the Best Hiking Boots for Bunions
If the great outdoors is your happy place, you know the importance of finding the perfect hiking boots for an enjoyable and cozy experience. But if you have bunions, your search just got a lot harder. Read ahead to learn the features to look for in the best hiking boots for bunions.
Wide Toe Box
A Wide Toe Box provides ample space for swollen and enlarged toes, meaning no aching, pressure, or pain. With the extra room, the toes can move more freely, greatly reducing discomfort.
It also helps to protect against blisters as it reduces friction between the toes and the sides of the boot. Its generous space makes for a smoother journey, allowing you to enjoy your hike without any pesky foot problems.
There are two main types of wide-toe boxes when it comes to hiking boots: a rounded-toe box and a square-toe box.
The rounded toe box is usually more curved and permits more flexibility and a better fit for those with bunions.
The square toe box is more structured and provides a more secure fit, which can help to protect the feet from debris and other hazards encountered on the trail.
The upper part should be made of soft material
When buying hiking boots for bunions, it is important to consider the soft material of the upper part of the shoe. Soft materials such as suede, leather, and synthetic materials such as nylon and polyester are excellent choices for providing comfort and flexibility for the feet and bunion area.
The Suede is lightweight, breathable, and provides plenty of cushioning, making it an ideal option. Leather offers greater stabilization and durability for those seeking more cushioning and stability.
Synthetic materials are also a great choice, as they are lightweight, breathable, and provide good cushioning. With the perfect combination of materials, you can be sure to find a hiking boot that is comfortable and supportive for your feet.
Good support
When searching for the perfect hiking boot to accommodate bunions, make sure you pick one with excellent support for the upper part of the foot. They are bony protrusions that form on the side of the big toe joint, which can cause pain and discomfort while out and about.
Opting for a boot that offers good stabilization in the upper area will reduce pressure and friction on the infected part, providing a more cozy and stable experience while on your hikes.
There are a few types of support available to ease your journey. A stabilizing panel, made of elastic material, cushions the parts of your boot that encounter the bunion. Full-length insoles deliver sturdiness and coziness along the entire length of the foot, while contoured footbeds provide protection and stability around the entire bunion area. For added balance and assistance, a heel cup can be added to the equation.
Padding
When searching for an ideal hiking shoe, those with bunions should be sure to find one that comes with plenty of padding.
This will help to create a protective layer between the footwear and the affected part, warding off unpleasant rubbing and chafing and giving much-needed relief from foot-related discomforts.
Good padding could mean the difference between a pleasant hike and an aching bunion.
There are several different types of padding to pick from. A padded collar is one choice and wraps around the ankle and up the back of the shoe. This kind of softening is designed to give extra defense and comfort to the affected part.
Another option is a padded tongue, usually manufactured from soft materials such as leather or foam. This padding prevents any issues with the laces and keeps the shoe from rubbing against the bunion.
Coverage
It's essential to choose a hiking boot that offers the perfect coverage to protect and stabilize your feet.
For milder cases, a lightweight, low-cut option may be sufficient. But if you need more balance and shielding, a mid-cut or high-cut boot could be the way to go.
With the right coverage, you can take on any terrain, and rest assured that your bunion won't be getting any worse.
Final Verdict
According to the famous Dr. Richard R. Derner, DPM (a famous Podiatrist in Virginia),
"Having the right shoes can make all the difference for those with bunions. Quality hiking boots with a wide-toe box provide the stability, support, and cushioning needed to reduce pain and prevent further damage.
Wearing ill-fitting shoes can only add to the suffering, so make sure to choose footwear that fits properly and offers the necessary protection for your feet".
For the top of the line in footwear, the Lowa Renegade GTX is the leader. Not only do they provide excellent arch support, but they are fortified with a GORE-TEX lining, a full-length nylon shank, and a Rugged Vibram outsole for an unbeatable grip.
However, for those on a tighter budget, the Columbia Men's Newton Ridge Plus is a great option. Its mesh tongue and lace-up closure ensure a secure fit, while a dual-zone winter tread pattern guarantees solid traction on slippery surfaces.
FAQs
Will orthotics work in hiking boots for bunions?
Yes, orthotics can be a great way to provide stabilization and cushioning for bunions while hiking. These can be inserted into a hiking boot to provide the needed arch support and reduce the pressure on the bunion area. Additionally, it can help to correct your gait and posture, which can help to reduce strain on the feet while hiking.
Can you hike with bunions?
Yes, you can hike with bunions. However, you may need to take extra precautions to help minimize pain and discomfort. Wearing well-fitting, supportive shoes can help reduce the amount of pressure placed on the area by distributing your weight more evenly. You should also make sure to use appropriate insoles and cushioned socks. Plus, taking frequent breaks throughout the hike and stretching before and after can help reduce the pain associated with bunions.
What shoes make bunions worse?
Shoes that are too rigid, too tight, too small, or too shallow can aggravate this disease. Boots that have a pointed toe, a high heel, or put pressure on the toes can also lead to the formation of a bunion. Plus, any footwear that rubs against the bunion can cause irritation and redness, leading to an even worse condition.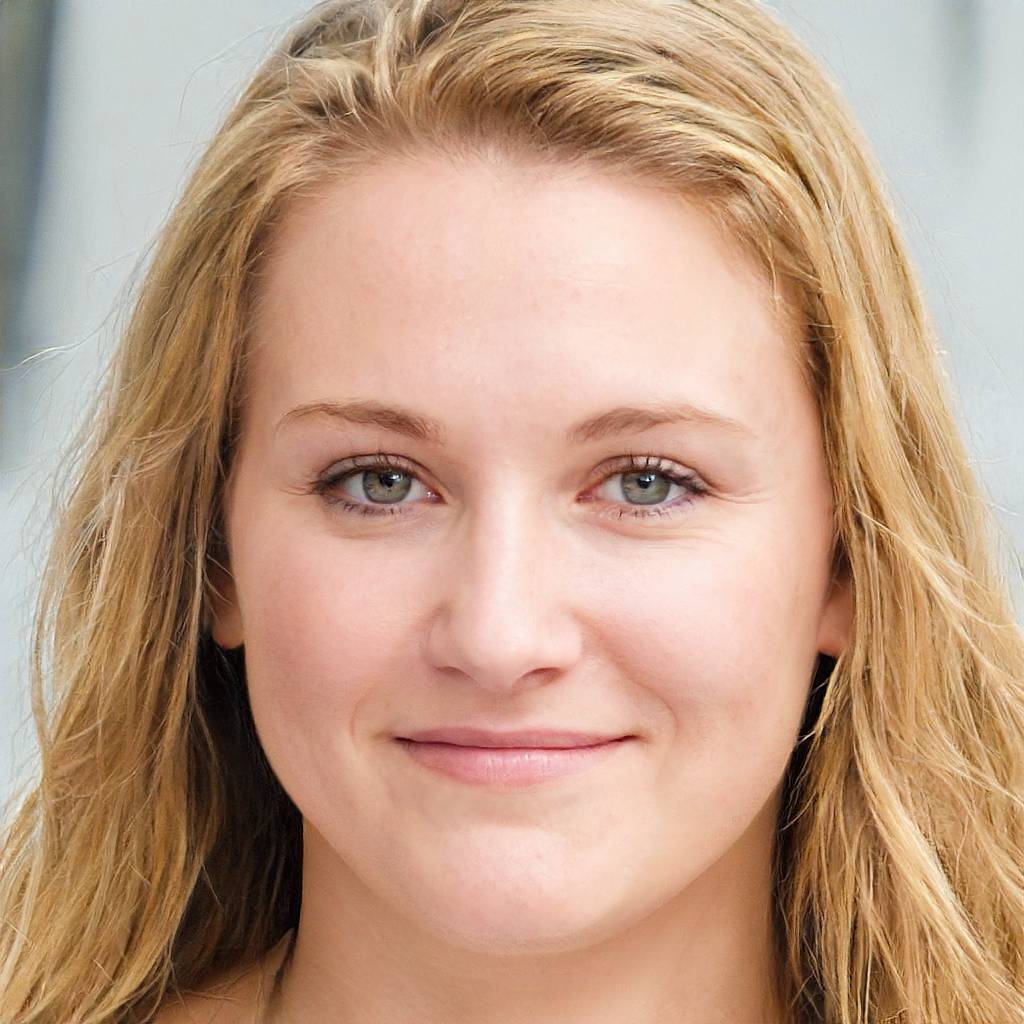 Sarah is the brains behind BootsNerd. Sarah Jaffe is a writer, editor, and boots lover based in Brooklyn, New York. She has done BA (Hons) in Footwear Design from De Montfort University, UK. She loves to write about boots and has a particular interest in vintage and sustainable fashion.