Last Updated on March 31, 2023 by Sarah Jaffe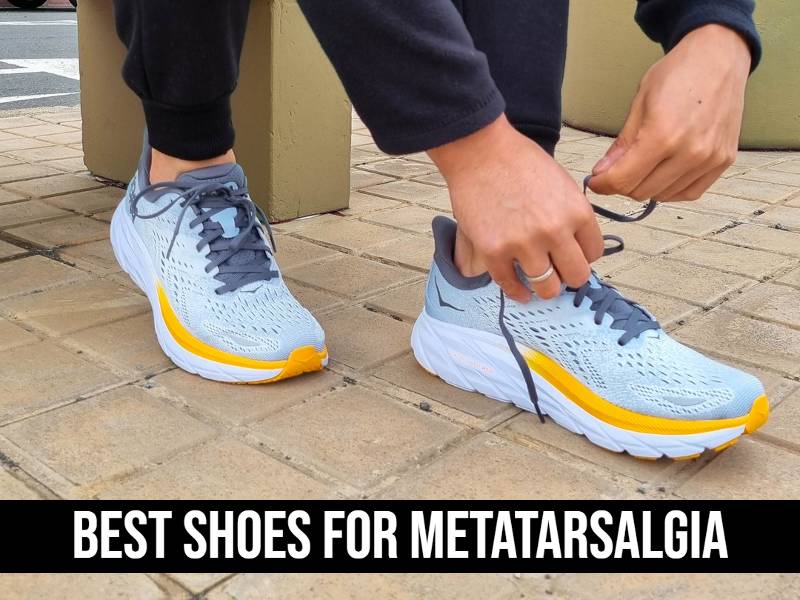 Do you suffer from Metatarsalgia? Do you experience persistent pain in the balls of your feet? If so, finding a pair of shoes that are comfortable and supportive can make a world of difference.
WebMD reports that Metatarsalgia sufferers can find relief in footwear featuring padded insoles, arch supports, or other orthotics. Plus, footwear designed for this illness should be lightweight and flexible and have a wide toe box to prevent pressure on the affected area.
However, Selecting the wrong shoes for Metatarsalgia can be risky business. From painful and uncomfortable feet, to sprained Achilles tendon and even bunion, the consequences could be dire.
This is why it's so important to carefully research the best shoes for Metatarsalgia, so you can make an informed decision.
List of the Best Shoes for Metatarsalgia
Best Shoes for Metatarsalgia (Top-Rated Picks!)
In this section, we will discuss the best shoes for metatarsalgia that can help relieve your pain and improve your quality of life.
So, let's get started!
1. New Balance Men's MW928 Walking Shoes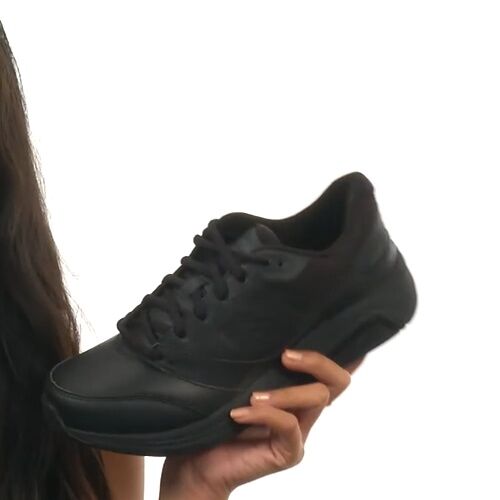 New Balance Men's MW928 provides metatarsalgia sufferers with the support and stability they need to stay comfortable. Its stabilizing ROLLBAR technology features an innovative dual-density medial post system which offers an ideal heel-to-toe transition. The post is composed of a soft cushioning foam on the outside and a firmer foam on the inside to reduce pronation and supination, two common sources of pain in metatarsalgia.
We love that its rubber sole helps to absorb the shock of each step and reduce strain on the feet and joints, allowing your feet to move naturally and preventing slips.
Not to mention, it also offers superior traction on numerous surfaces, so you can confidently walk without fear of falls.
New Balance Men's MW928 is perfect for sore feet, with its well-padded collar and tongue providing cushioning and support. The laces attach to the top of the shoe, cradling the foot and creating a soft, cozy layer of padding.
The tongue, serving as a bridge between the laces and the shoe, is also padded to provide extra cushioning and comfort.
2. Reebok Men's RB3500 Guide Work Shoes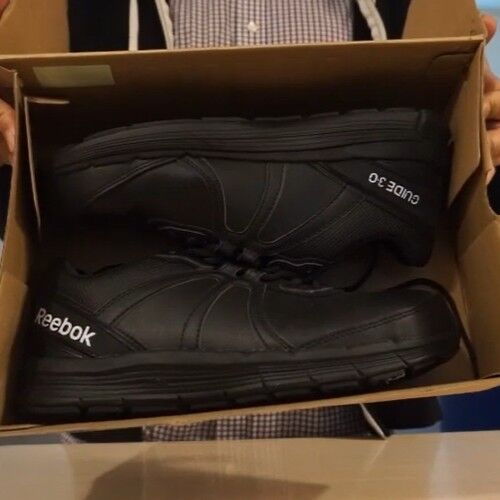 Reebok Men's RB3500 Guide construction boots are designed with a slip-resistant outsole, which provides excellent grip and stability on slippery surfaces. This is great news for those of us who work in hazardous environments, where the risk of slipping and falling is high.
One of the best things about this unit is that it has a soft toe that meets ASTM F2892 Safety Standards. It helps to keep them light and comfortable, without sacrificing protection. This is especially important for those who suffer from Metatarsalgia, as they need shoes that are both protective and soft.
Furthermore, it is designed with a shaft measurement of approximately 3 inches from the arch. This helps to provide the perfect amount of arch support for those with sore feet, enabling them to determine just how much relief they'll receive when wearing the shoes.
But wait, there's more! The Reebok Men's RB3500 boasts a MemoryTech Massage footbed, which conforms to the shape of your feet, providing customized cushioning and support.
If you suffer from Metatarsalgia, this is excellent footwear to give the much-needed support and cushioning to the balls of your feet, where the discomfort is most felt.
3. Saucony Zealot Men's Shoes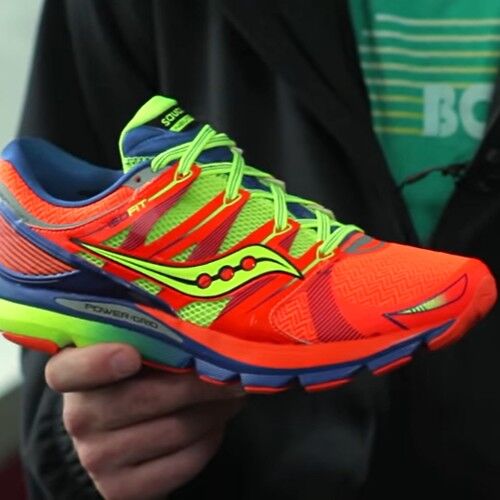 Saucony Zealot is outfitted with Saucony's EVERUN foam, which is made to be both lightweight and responsive. It feels really bouncy and comfy when you run or walk in it. This extra cushioning can help absorb shock and reduce pressure on the balls of your feet, which is key when you're dealing with metatarsalgia.
Moreover, it has a 4mm drop, which means that there's a 4mm difference in height between the heel and the toe of the shoe. This may not sound like a big deal, but it can actually make a big difference in how your foot strikes the ground when you walk or run.
A lower drop can encourage a more natural, midfoot strike, which can help reduce the impact on your metatarsals.
Besides that, Saucony Zealot employs a special feature called an "ISOFIT" upper. Basically, this means that the upper of the shoe is designed to conform to your foot, providing a snug and supportive fit. This can help keep your foot from sliding around inside the boot, which can reduce friction and irritation on the ball of your foot.
4. HOKA 1110519-CCSD Women's Bondi 7 shoes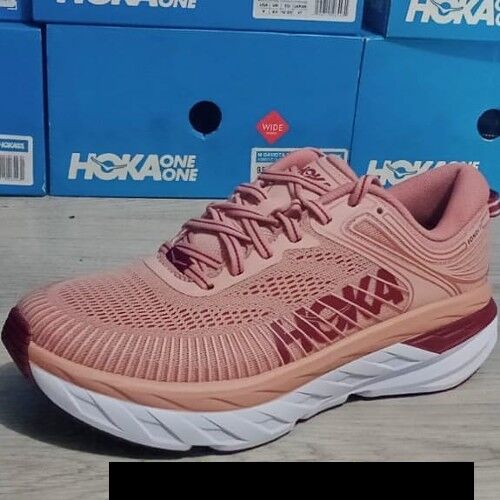 HOKA 1110519-CCSD offers a unique solution to those suffering from Metatarsalgia. Their mesh upper provides a lightweight and breathable surface that reduces friction on the foot, permitting air to flow freely and keeping your feet cool and comfortable. This helps to reduce the pressure on the painful area, providing a welcome respite from the pain of Metatarsalgia.
This product features seamless synthetic overlays that are perfect for those suffering from Metatarsalgia. These overlays are designed to reduce pressure on the heel and arch areas.
The seamless barrier between the foot and the shoe helps to eliminate friction and rubbing, making it comfortable to wear while keeping the foot in place and blister-free.
HOKA 1110519-CCSD employs an EVA midsole that is designed to minimize the impact of each step on the feet. Crafted from lightweight, durable foam, it evenly distributes the force of each step across the entire midsole and provides extra cushioning along the perimeter for enhanced support and protection.
5. Rockport K71218 Men's Eureka Dress Shoes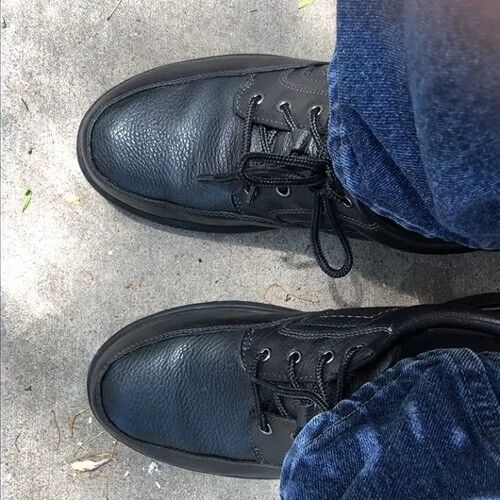 Rockport K71218 Dress Shoes have a Latex foam footbed manufactured to give softening and stability that absorbs shock, providing relief from Metatarsalgia. The footbed also boasts arch support and distributes weight evenly across the foot for superior comfort.
Now let's talk about its water-resistant properties. This unit brings Hydro-Shield waterproof construction to your feet, safeguarding you from unwanted moisture.
With an expert combination of waterproofing and advanced breathability technologies, they will keep you feeling dry and cozy, no matter the conditions. The materials work to keep water out, while the air circulation ensures your feet never get too hot or sweaty.
Rockport's K71218 gives the ideal combination of style and coziness thanks to its revolutionary truTECH Comfort Technology. This technology utilizes a lightweight foam compound to absorb the shock of each step, helping to reduce stress on the feet, ankles, and knees.
Furthermore, the foam has been anatomically designed to provide superior cushioning and comfort in key areas such as the heel and arch.
Things to Consider when buying the best Shoes for Metatarsalgia
Metatarsalgia is a common foot problem that can cause a lot of pain and discomfort. When choosing shoes to help alleviate this condition, there are some important factors to consider, given below:
Type of shoes:
If you suffer from metatarsalgia, it's essential to select the right kind of shoe. When shopping for shoes, running, hiking, walking, work, and dress shoes should all be taken into consideration. Running shoes are great for those who will be doing a lot of exercises, such as running, as they provide cushioning and support.
On the other hand, hiking shoes may be the perfect choice for those who are fond of hiking and mountain climbing as they have a higher heel that helps to reduce pressure on the metatarsal region.
As for work or dress shoes, they offer less cushioning and support, but maybe the optimal choice for individuals who need a shoe for formal events or the workplace.
Finally, walking shoes are the ideal go-to for everyday use and are lighter than running shoes.
Arch Support:
Arch Support is an important factor to consider when purchasing shoes for Metatarsalgia. It helps to distribute the pressure evenly across the bottom of the foot, helping to reduce the pain associated with Metatarsalgia.
Arch Support is available in a variety of shapes, sizes, and materials. Foam insoles are a popular choice for providing cushioning to the arch area of the foot. They are comfortable and lightweight, making them a great choice for those with mild forms of Metatarsalgia.
Gel insoles are an additional option that is more supportive and may be better for those with more severe forms of Metatarsalgia.
For those who require extra cushioning and support, custom-made orthotics are an excellent option that is designed to fit the contours of the foot.
Wide toe box:
People struggling with Metatarsalgia can enjoy the comfort of a wide-toe box that offers more room in the front of the shoe. This reduces the pressure and discomfort on the toes and provides better balance and support for the feet.
Soft-toe shoes are best for those with the condition, as it is gentle and forgiving, reducing pressure and strain on the toes.
Steel-toe or composite-toe shoes, however, are not often suitable for those with this foot illness due to their hard, rigid material that could cause more pressure and discomfort. Furthermore, the lack of flexibility from the hard material could lessen the support, making the condition worse.
Look for Supportive Features:
When you're on the hunt for shoes to help you manage Metatarsalgia, don't skimp on supportive features. The right pair of shoes can help ease some of the symptoms associated with this foot condition, so it's important to look for specific features to ensure a good fit.
Here's what to keep in mind:
1. Ample cushioning – Shoes with ample cushioning provide shock absorption and aid to lessen the pressure on the metatarsal bones.
2. Rigid sole – A rigid sole assist to minimizes overpronation, which is a common cause of metatarsalgia.
3. Deep heel cup – The deep heel cup works to ensure the foot is properly positioned, taking the pressure off the metatarsal bones and allowing for a more comfortable experience.
More Read: Best shoes for metatarsal stress fracture
Final Verdict
After exploring the multiple kinds of shoes designed to alleviate the pain of metatarsalgia, it's evident that what works well for someone else may not be the ideal choice for you, it's all about finding the right fit.
Walking shoes tend to be the most comfortable and supportive, while if you're looking for a more sophisticated look, work, and dress shoes can be a great option. And if you're an active person, running shoes come in a multitude of styles and are designed to provide the required cushioning and support.
However, those suffering from Metatarsalgia should avoid footwear featuring minimal arch support, limited cushioning, and a lack of heel counters and secure lacing systems.
Thank you for reading!
FAQs
Are Zero-drop Shoes Good for Metatarsalgia?
Zero-drop shoes are good for walking with metatarsalgia because they provide a more natural and comfortable gait. They can help to reduce stress on the ball of the foot, which is often the source of discomfort in people with the condition. However, they are not suitable for running, as they do not provide enough cushioning or support for the impact of running. The lack of cushioning can lead to increased strain on the feet and the joints, which can worsen the condition.
Do Metatarsal Pads Help?
Yes, metatarsal pads can help alleviate foot pain, discomfort, and fatigue. They generate softening and support for the metatarsal bones, which are located in the ball of the foot. This can improve the comfort of walking, running, and standing and reduce the strain on the feet. These pads can also help lessens irritation and improve the fit of shoes.
Is walking barefoot good for metatarsalgia?
The Cleveland Clinic warns against walking barefoot if you are suffering from metatarsalgia. This is because the lack of cushioning and arch support can cause discomfort for the ball of the foot when walking. Wearing supportive shoes with proper cushioning and arch support can help reduce pain associated with this condition.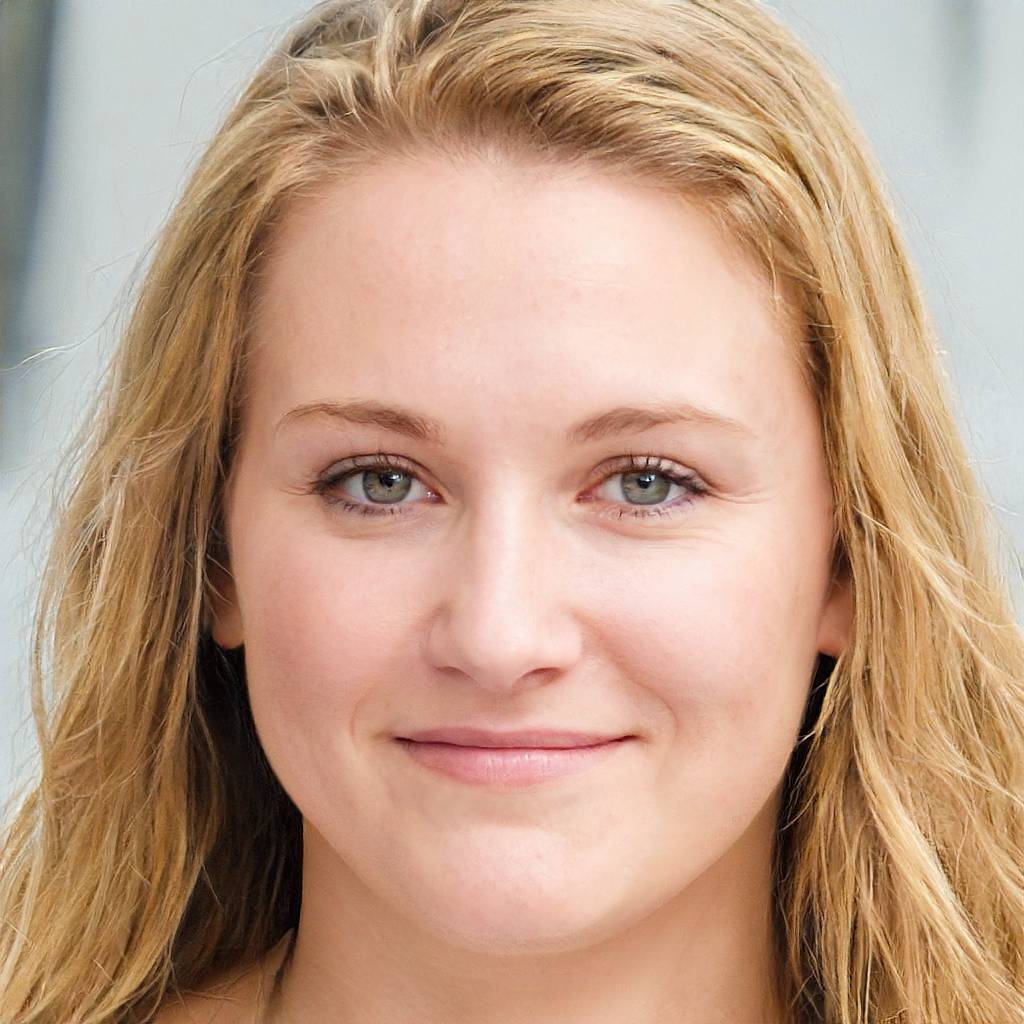 Sarah is the brains behind BootsNerd. Sarah Jaffe is a writer, editor, and boots lover based in Brooklyn, New York. She has done BA (Hons) in Footwear Design from De Montfort University, UK. She loves to write about boots and has a particular interest in vintage and sustainable fashion.