Last Updated on May 21, 2023 by Sarah Jaffe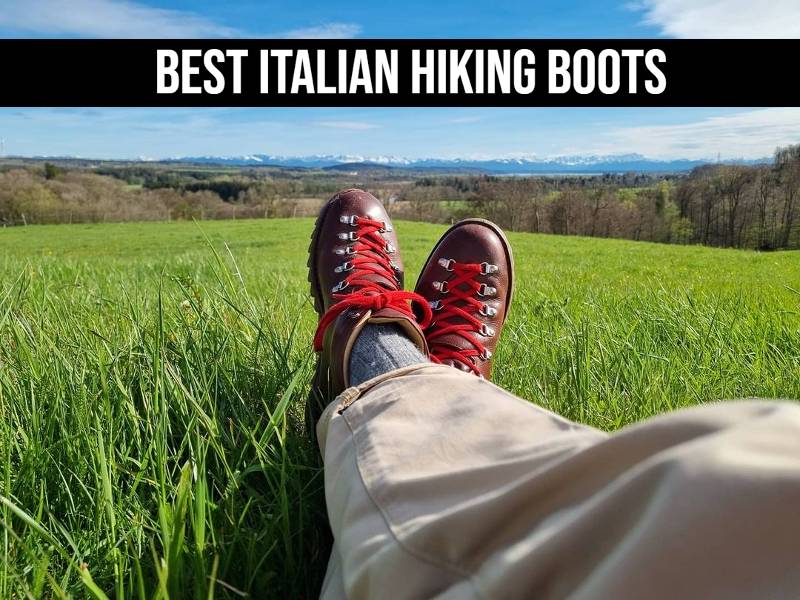 If you're an adventurous explorer looking to take on the rugged terrain of the great outdoors, you need a trusty companion to support you every step of the way. That's where the Best Italian Hiking Boots come in.
These boots have cushioned footbeds, supportive midsoles, and ergonomic design features that help prevent foot fatigue. Plus, they are known for their superior traction. Many models come with Vibram soles that provide excellent grip on a variety of surfaces, including wet and slippery terrain.
Unfortunately, not every Italian hiking boot is crafted with the same level of craftsmanship. If you buy incorrect footwear it can prove to be perilous, resulting in the formation of blisters, aching feet, or even worse – injuries that could cut your hike short.
Hence, it is of utmost importance to dedicate some time to explore and investing in high-quality hiking boots to guarantee a secure and pleasant hiking expedition.
List of the Best Italian Hiking Boots
1. Asolo Fugitive GTX – Best Italian Leather Hiking Boots
2. Zamberlan 1025 Tofane – Italian Hiking Boots For Men
3. La Sportiva Ultra Raptor II – Italian Hiking Boots For Women
4. Garmont Tactical Men's – Italian Military Hiking Boots
5. SCARPA Charmoz HD – Best Italian Waterproof Hiking Boots
Best Italian Hiking Boots – Top Picks!
We've done all the legwork for you and compiled a list of the top Italian hiking boots that combine style, durability, and comfort. So, lace up your shoes and get ready for the adventure of a lifetime.
1. Asolo Fugitive GTX Hiking Boots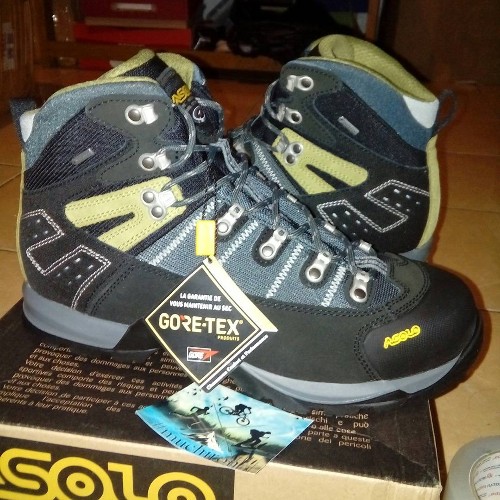 First off, let's talk about the Gore-Tex lining. Asolo Fugitive has a waterproof and breathable membrane that keeps your feet dry and comfortable on the trail. Basically, it's like having a personal umbrella for your feet. No more soggy socks or squishy shoes! And the best part? You won't have to sacrifice breathability for waterproofness.
Moving on to the full-grain Italian leather and water-resistant suede and Cordura uppers. These materials provide a durable and protective outer layer for your feet. Think of them as the armor for your hiking shoes. They're tough enough to withstand the elements, but still flexible enough to allow your feet to move naturally.
But what about support? Don't worry, this unit has got you covered with their ASoflex thermoplastic torsional support. This feature is designed to prevent bruising from rough terrain, so you can keep hiking comfortably for longer periods of time. It's like having a shock absorber for your feet.
And let's not forget about the dual Asolo Soflex midsole. This is where things get really interesting. Its midsole comprises two fused elements aimed at enhancing comfort and performance. The initial element, made of rigid material, is designed to mitigate anti-pronation,  anti-supination, and anti-torsion risks.
Meanwhile, the second element is fashioned from a softer material to provide added cushioning when walking. The result? A comfortable and supportive hiking shoe that can take on any terrain.
2. Zamberlan Men's 1025 Tofane NW GT RR Hiking Boot (Editor's Choice)
Zamberlan Tofane is crafted with Norwegian welted construction, known for its durability and strength. This construction technique involves stitching a leather strip to the upper of the boot and attaching it to the sole, resulting in a sturdy and long-lasting bond that can withstand wear and tear. With this structure, these boots are well-equipped to endure rugged outdoor environments.
Moreover, its Vibram NorTrack outsole possesses lugs designed for solid downhill braking, easy cleaning, and superb traction on all terrains. Whether you're scrambling up a rocky slope or trekking through a muddy forest, these boots will keep you steady on your feet.
Besides that, this product uses a waxed leather upper to repel water and moisture, keeping your feet dry and cozy even in the dampest of conditions. Plus, it is highly durable and abrasion-resistant, making it ideal for exploring rugged terrain. With these shoes, you can conquer mountains, cross streams, and trek through the toughest of environments with ease.
What's more, is that it is outfitted with Nor-Flex 3.5 MM + PE detachable leather insole. This insole offers excellent padding and stability to your feet, reducing fatigue even during extended hikes. The removable aspect makes it effortless to clean and replace, maintaining freshness and comfort.
3. La Sportiva Womens Ultra Raptor II Hiking Boots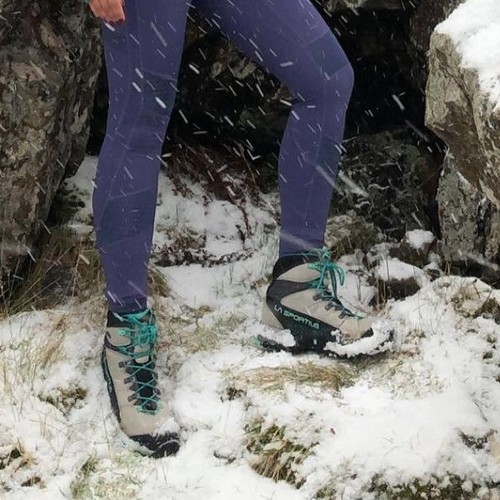 La Sportiva Ultra Raptor II is equipped with a Frixion XT 2.0 rubber outsole to deliver unparalleled traction on any terrain, be it a rocky trail or a muddy bog. The lugs are thoughtfully designed with optimal depth and spacing to offer a secure grip and stability on the trail. More importantly, the outsole is remarkably hard-wearing, eliminating any concerns about wearing down your soles even after multiple hikes.
You will like that its upper is made with abrasion-resistant mesh and TPU reinforcements, which not only provide protection and durability but also help keep your feet cool and dry. The mesh allows for breathability even on the hottest days, while the TPU adds structure and stability to the boot.
Furthermore, it has a noteworthy lacing system that utilizes a conventional lace-up design. An additional locking eyelet at the ankle guarantees a personalized and secure fit. Plus, the lace loops are bolstered with durable metal eyelets for enhanced longevity and they won't fray or break easily.
La Sportiva Ultra Raptor II is enhanced with an anti-shock rubber toe cap, which offers superior toe protection when trekking on uneven terrain, rocky paths, or challenging trails. The toe cap absorbs shock from unexpected impacts or collisions with rocks, thus safeguarding the toes against any possible injuries. In addition, the durable and long-lasting rubber material is an excellent solution to prevent damage to the front area of the footwear.
4. Garmont Tactical Military Hiking Boots (Best in the low Budget)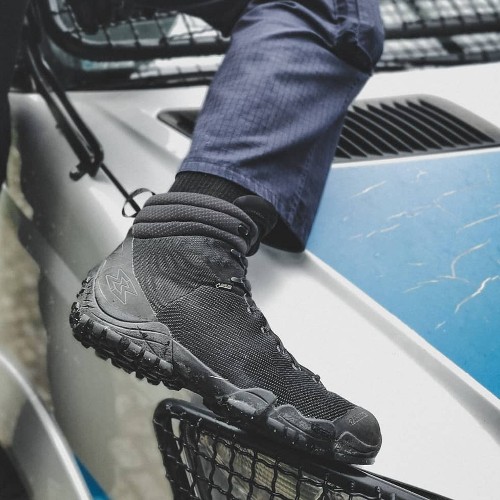 Garmont Tactical utilizes Lenzi Perspair fabric and erGo-last technology for its upper, which is capable of enduring even the harshest environments. The fabric's resistance to abrasions, cuts, and punctures contributes to the boots' longevity.
While the erGo-last mechanism integrated guarantees comfort and a snug fit for the wearer. These two combine together to enable a more anatomical fit that provides targeted support, specifically in areas like the arch and heel.
One of the best things about this unit is its high-performance Vibram outsole. It provides excellent traction on all sorts of surfaces, from loose gravel to slick rock. Additionally, it's designed to be flexible and responsive, so you'll be able to feel the ground beneath your feet and make quick, precise movements.
Another feature that sets these shoes to stand out in the military world is the A.T.C. (Anatomically Directed Design) technology. Basically, this means that the boots are designed to fit the natural shape of your foot, with specific attention paid to the arch and heel areas. This helps to reduce fatigue and discomfort during long hikes or other outdoor activities.
Now, onto protection. They have a rubber toe cap and heel counter, which provide extra protection against rocks, roots, and other hazards on the trail. And if you're someone who likes to kick things (not that I condone that kind of behavior), they can handle it without getting scuffed or damaged.
5. SCARPA Men's Charmoz HD Hiking Boots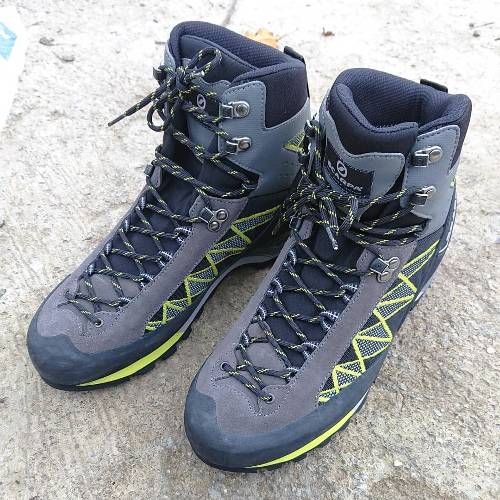 SCARPA Charmoz features an upper made of 1.8 mm Suede and Fabric which offers both durability and breathability. The suede component enhances the boot's toughness, making it suitable for rough terrain and harsh weather. The fabric section of the upper promotes air circulation, keeping your feet dry and cool throughout your long hikes. This blend of materials conforms to your feet, ensuring a comfortable fit.
We love that it comes with a rubber outsole that delivers several advantages to hikers. For one, it provides exceptional grip and traction on different types of terrain, even on wet and slippery surfaces, which help hikers maintain their footing and avoid falls. Additionally, the rubber outsole absorbs shocks and minimizes the impact of each step, resulting in greater comfort and less strain on joints and feet.
In addition to that, this product boasts a 3D EVA-CM midsole that guarantees maximum comfort throughout the most strenuous hikes. The midsole is crafted to conform to the wearer's foot shape, providing a tailored fit that minimizes pressure points and prevents exhaustion. The 3D layout of the midsole also boosts stability and responsiveness, enabling the wearer to effortlessly navigate uneven terrain and conquer strenuous hikes.
Conclusion
To wrap it up, out of all the products discussed in this editorial piece, the one that captures the spotlight is none other than the Zamberlan Men's Tofane Hiking Boot. With its superior Norwegian welted construction, Vibram NorTrack outsole, and waterproof waxed leather upper, it keeps your feet dry and comfortable even during the wettest hikes.
And if you're looking for a more affordable option that doesn't sacrifice quality, the Garmont Tactical Military is your go-to. Thanks to its innovative Anatomically Directed Design, GORE-TEX lining, and resilient Lenzi fabric upper, it can withstand the most extreme climates and terrains without breaking a sweat.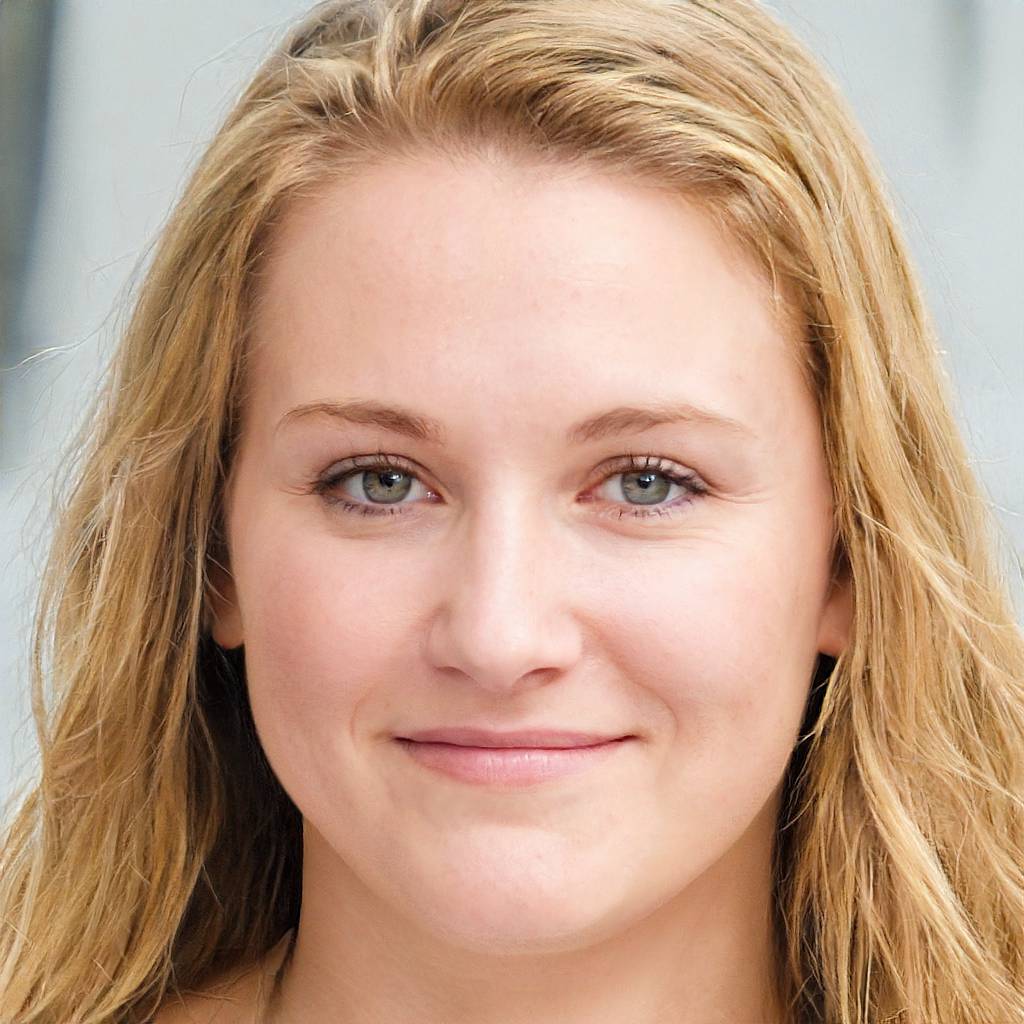 Sarah is the brains behind BootsNerd. Sarah Jaffe is a writer, editor, and boots lover based in Brooklyn, New York. She has done BA (Hons) in Footwear Design from De Montfort University, UK. She loves to write about boots and has a particular interest in vintage and sustainable fashion.