Last Updated on July 3, 2023 by Sarah Jaffe
Are you suffering from capsulitis? Are your feet aching and throbbing with pain? Is it difficult for you to walk around or even stand for long periods of time? If so, then you know the importance of finding the best shoes for capsulitis.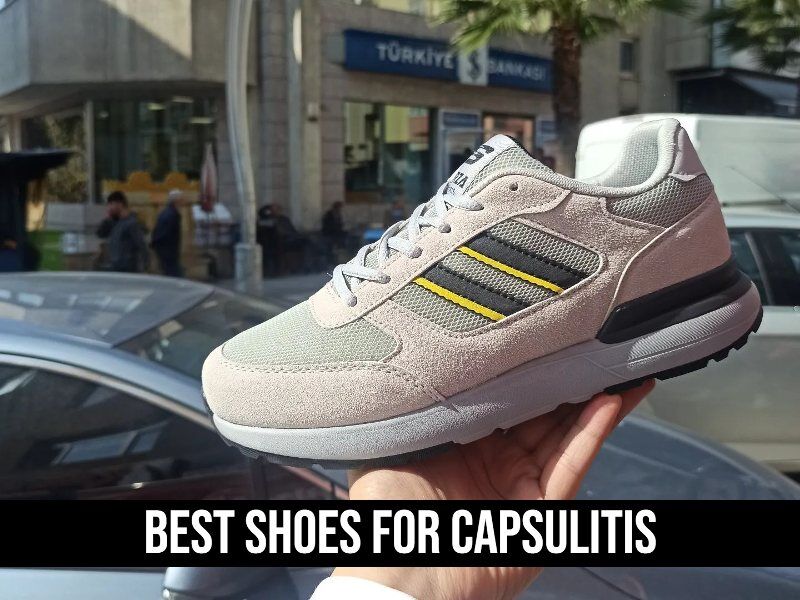 The right pair of shoes for people suffering from capsulitis can provide support and cushioning for the affected area of the foot, which helps to reduce pain and discomfort. It can also serve to keep the foot in the correct alignment and reduce movement of the joint, which can contribute to preventing further injury or re-injury.
But what footwear is appropriate for capsulitis? Well! According to the the Advanced Foot and Ankle of Wisconsin, LLC recommends wearing wider shoes to help the healing process.
List of the Best Shoes For Capsulitis
1. HOKA 1110519-CCSD ONE ONE Women's Bondi 7 – Best women's shoes for capsulitis of the second toe
2. Brooks 1102612E Addiction 13 – Best men's shoes for capsulitis
3. Rockport Men's Chranson – Best walking shoes for capsulitis of the second toe
4. New Balance Men's, 481 V3 Trail – Best Running Shoes For Capsulitis
5. ALTRA Men's AL0A4VQE Lone Peak 5 Trail – Best hiking shoes for capsulitis
Best Shoes For Capsulitis – (Reviews and Guide)
We know that the pain of capsulitis can be unbearable and that it can limit the activities you can do. But the good news is that you don't have to suffer any longer! We've scoured the internet to find the best shoes for capsulitis that can help reduce your pain and give you the support you need.
1. HOKA 1110519-CCSD ONE ONE Women's Shoes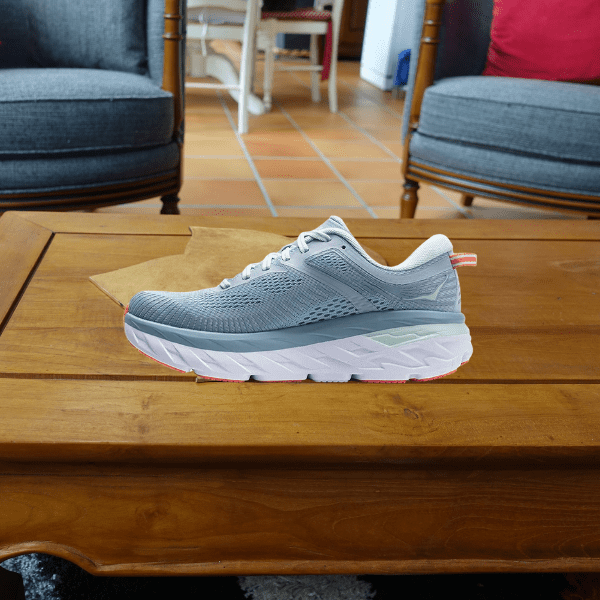 HOKA 1110519-CCSD ONE ONE is designed to help alleviate the symptoms of capsulitis, especially for ladies. They feature a wide toe box that allows for plenty of room for your toes to spread out and move around. This is important because when you have capsulitis, any pressure on the MTP joints can be incredibly painful.
But it's not just the toe box that's impressive. Its upper is made from a breathable mesh material that's both comfortable and durable. The mesh allows air to circulate freely around the foot, which can help to prevent sweat and odor buildup.
One of the standout attributes of this unit is the cushioned sole made from HOKA's signature EVA foam. This lightweight foam provides superior shock absorption to reduce the impact of each step. Thus, the pressure on the foot is relieved.
2. Brooks 1102612E Addiction 13 Men's shoes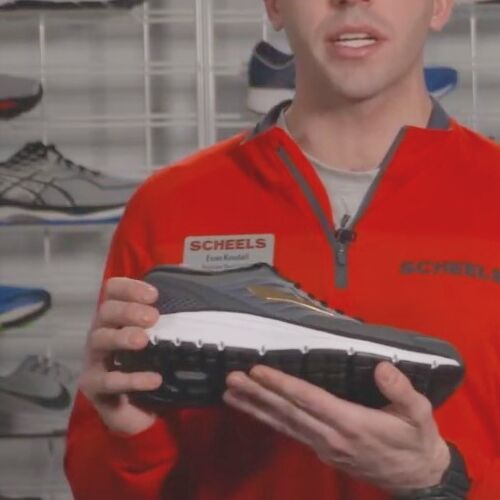 Brooks Addiction 1102612E has been carefully crafted with the revolutionary Omega Flex Grooves – strategically placed for ease of movement and extra cushioning. These special flex grooves assist you to move comfortably and naturally as they reduce the strain on your feet, ankles, and Achilles' tendons.
Now, if you're someone who suffers from sore feet, you know how important it is to have boots that provide ample ankle support. That's where the padded tongue and collar come in, offering extra suppleness and stability for your ankle.
Moving on to the midsole, Brooks has used their proprietary DNA technology to create a lightweight cushioned, and responsive midsole that offers excellent shock absorption. This means that every step you take in these shoes feels like you're walking on a cloud. The cushioning is located throughout the platform and provides excellent support to your foot, which is essential for those with capsulitis.
3. Rockport Men's Chranson Walking shoes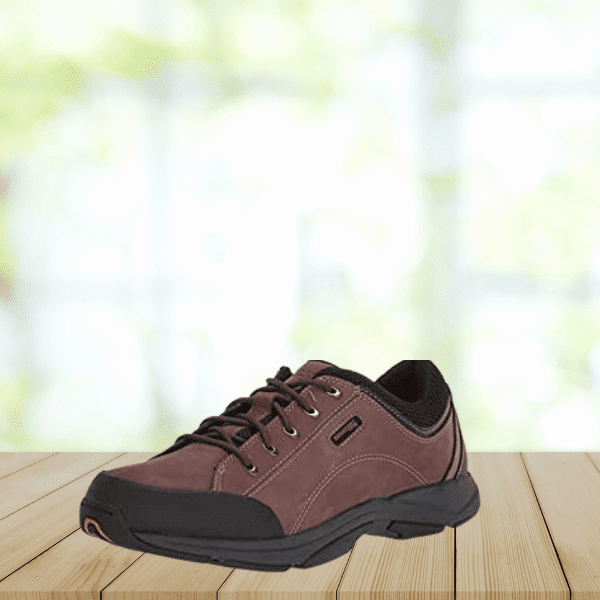 Rockport Chranson boasts a 1.2 inches heel for a supportive and stable base for the foot. This can be a great benefit for those suffering from capsulitis, as the heel can help to reduce the pressure on the joints, thus leading to reduced inflammation and pain.
You will like that it is made to perfection with genuine leather nubuck for maximum comfort and protection. Luxuriously soft and velvety to the touch, nubuck helps reduce friction and prevent blistering, while also delivering breathability to keep you feeling cool and dry. Plus, its added protection from the elements means these shoes will stay looking polished and last longer.
Furthermore, this product is designed with excellent impact resistance and padding thanks to their rubber outsoles, helping to reduce pain and discomfort caused by Capsulitis. The rubber material not only provides increased softness and grip but also superior stability to prevent slips and falls.
4. New Balance 481 V3 Trail Running Shoes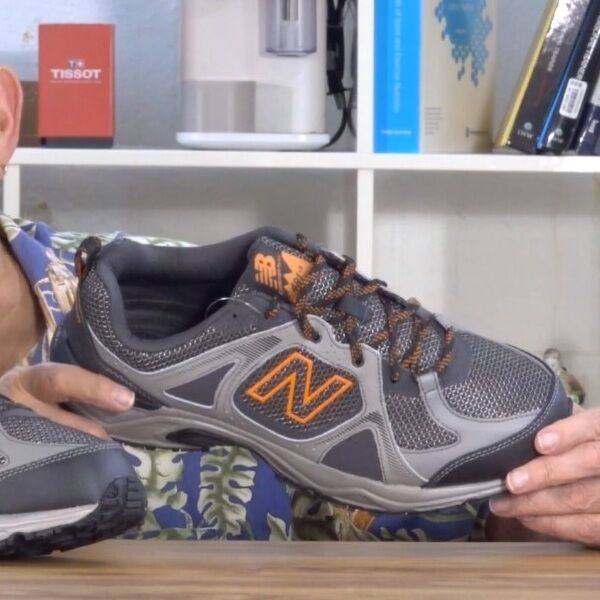 New Balance 481 V3 is crafted from a unique blend of 50% leather and 50% mesh. This combination gives the perfect balance of structural integrity and breathability. The leather helps to protect the foot from injury and to provide stability, while the mesh upper promotes air circulation and helps keep the feet cool and dry.
We love the fact that it gives a cozy wrap-around collar that's perfect for those suffering from sore feet. The cushioning collar keeps the affected area free from friction and pressure, providing a supportive barrier that prevents further irritation. As an additional benefit, the extra cushioning helps promote stability, aiding in a smoother gait and reducing the risk of injury.
Another great feature of the New Balance 481 V3 is its sizing options (7 to 16 X-Wide). These shoes come in a variety of sizes and widths, including wide and extra-wide options. This is excellent news for anyone with capsulitis, as it means they can find a shoe that fits their foot properly and provides the necessary support.
5. ALTRA Men's AL0A4VQE Lone Peak 5 Trail Hiking Shoes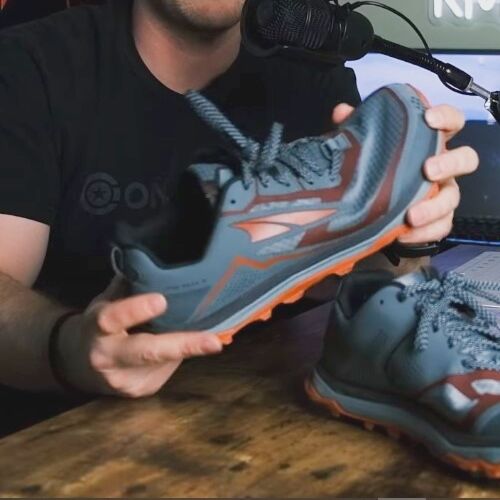 First and foremost, the Lone Peak 5s are built with ALTRA's signature FootShape™ toe box. This means that the boots are manufactured to permit your toes to spread out naturally, rather than being cramped and squished together. It can significantly alleviate pressure on the metatarsal area, which can be a huge relief for anyone dealing with capsulitis.
In addition to that, this model features ALTRA's Zero Drop™ platform. As a result, there is no height difference between the heel and the forefoot of the shoe, which can enhance and promote a more natural, low-impact stride. This can be especially helpful for anyone dealing with foot pain or injury.
But what about the actual hiking part? The Lone Peak 5 has a revolutionary MaxTrac outsole with a unique TrailClaw lug pattern design. Constructed with blown rubber, it has enhanced energy absorption and flexibility. Plus, its additional contact points on the ground ensure the pressure is dispersed evenly throughout the foot and away from the toes and heel. This makes it an ideal choice for those suffering from capsulitis.
Things to Look for when buying the Best Shoes For Capsulitis
The right footwear can make a world of difference in dealing with the discomfort of capsulitis. With the right kind of shoes, you can ease the pain and inflammation that this condition can cause. Here are a few tips to help you find the perfect pair of shoes to help manage your capsulitis:
Stiff Soles
Firm and rigid soles are a must for aiding the feet and ankles in providing that extra bit of support and steadiness. Bending and flexing of the soles can cause extra ache and uneasiness, and so the stiffer soles help to prevent that. Furthermore, they help to ease the tension on the toes, thus reducing the chance of further injury.
The types of materials that can be used to provide stiff soles for shoes for those suffering from Capsulitis include leather, rubber, polyurethane, and other synthetic materials.
Leather is a good choice as it provides a strong and durable base for the soles of the shoes, while rubber and polyurethane are lightweight in nature and deliver good cushioning and shock absorption. Synthetic materials can also be used to produce an effective combination of strength and comfort.
Excellent Arch Support
Good arch support can be a great way to reduce the risk of developing capsulitis, as it can provide the ankle with extra stability and lessen the strain on the supporting structures of the foot. Not only that, but it can also help to take the pressure away from the arch, potentially reducing inflammation in the area.
If a person is struggling with capsulitis, there are a variety of arch support options at their disposal. There are semi-rigid orthotics, which provide proper alignment, cushioning, and sturdiness to the entire foot and can be adjusted to match each individual's foot size and shape.
There are also custom orthotics, which come with firm padding and be constructed to control the movement of the foot but tend to be more expensive than semi-rigid orthotics. Plus, heel cups and lifts provide just the right amount of support and elevation to your heels and Achilles tendon, giving your feet the relief they need to stay strong and healthy.
Good Ventilation
Proper ventilation is essential when purchasing shoes for capsulitis; the inflammation of the connective tissue in the joint capsule of the foot. Poor ventilation leads to an excess of sweat and heat trapped in the shoe, both of which can worsen the inflammation.
For those dealing with capsulitis, there are a few beneficial types of ventilation: air holes, mesh panels, and breathable fabric. Shoes with air holes allow air to pass through and prevent moisture from accumulating.
Mesh panels are perfect for allowing air to circulate around the foot. Lastly, breathable fabric is essential for permitting air to flow, as well as preventing sweat from building up.
Durability
For those who suffer from Capsulitis, finding shoes sturdy enough to withstand regular use is essential to avoid painful flare-ups. With the right footwear, you can move through your day with ease and comfort, knowing that your shoes are up to the task.
Leather uppers, leather soles, and rubber midsoles make the most reliable boots that offer superior support. Additionally, synthetic materials like polyurethane and polyester are also suitable – though they don't quite compare to the quality of leather and rubber.
Nonetheless, it's not just the material that matters; shoe construction is just as important for enhanced longevity. Opt for boots that have reinforced stitching and double-stitched seams for lasting comfort and support.
Final Verdict
To wrap up, the best way to keep your feet comfortable and safe while living with capsulitis is to choose shoes that offer cushioning, support, flexibility, and enough room for your toes. Be mindful of your own foot shape and needs when selecting the best shoes for yourself as this will ensure you have a comfortable and safe walking experience.
However, making a random pick when choosing footwear for these sore feet can be dangerous if you don't do your research. Without proper consideration, you could end up with a shoe that won't provide the necessary support or comfort. This could lead to further issues and injury risks.
So do your homework, try them on, and find the best solution for you.
FAQs
Are Toe Separators Good For Capsulitis?
No, toe separators are not good for capsulitis. Capsulitis is a condition that causes inflammation of the joint capsule, which is the area surrounding the joint. Toe separators are designed to keep toes apart, which could actually worsen the condition by further irritating the joint capsule. Instead, it is recommended to wear appropriate shoes that are wide enough to allow for good movement of the toes and provide cushioning to reduce irritation of the joint capsule.
What type of outsole is ideal for capsulitis of the second toes?
A rocker-bottom outsole is ideal for capsulitis of the second toes. This type of outsole features a curved design that allows the foot to roll forward with each step, reducing pressure on the ball of the foot and promoting a more natural stride. The curved design is intended to reduce friction on the second toe, helping to alleviate the pain and discomfort associated with capsulitis.
How can I maintain my shoes for capsulitis of the second toe?
Capsulitis of the second toe can be painful and can be prevented by taking good care of your shoes. Make sure to store footwear away from sunlight, and moisture when not in use. Additionally, replace your insoles often to ensure that they are free from dirt, debris, and other materials that can irritate the toe. Moreover, avoid wearing high-heeled or tight-fitting boots and clean them on regular basis.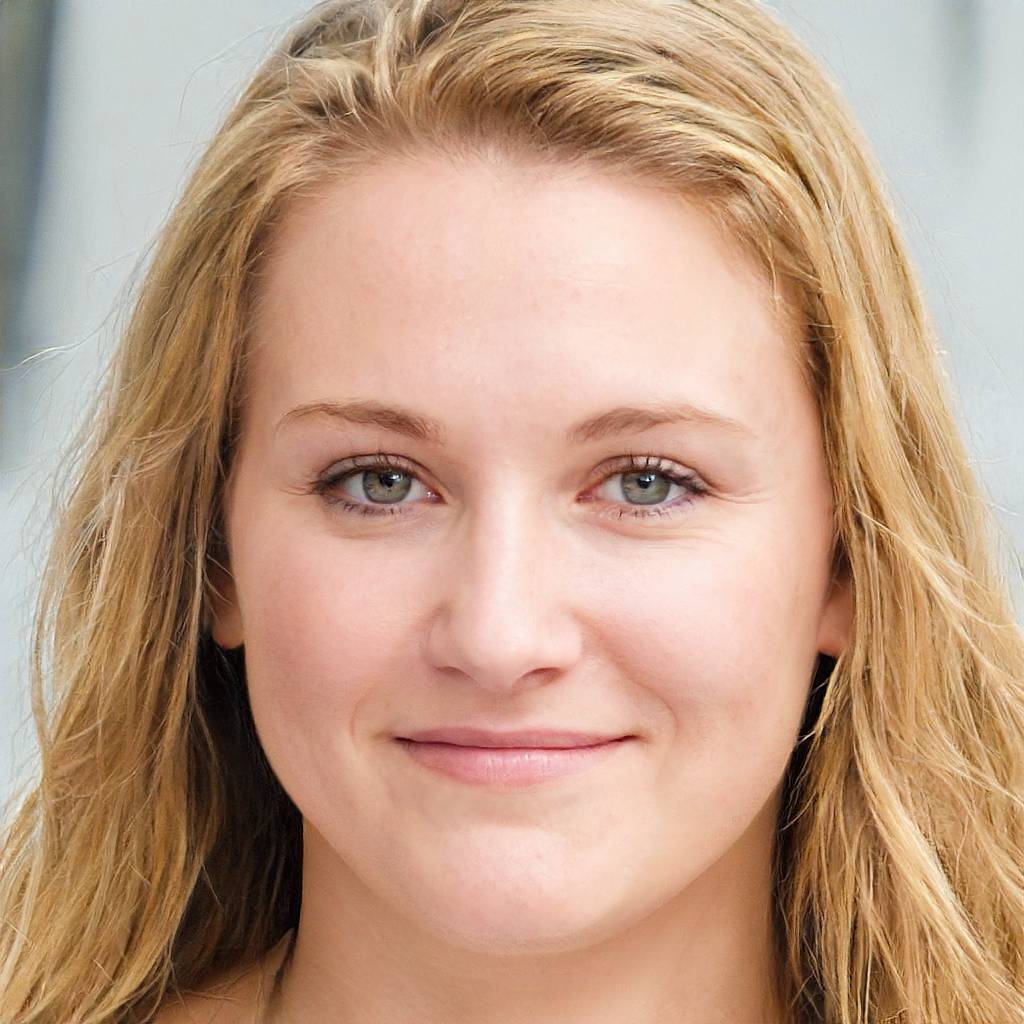 Sarah is the brains behind BootsNerd. Sarah Jaffe is a writer, editor, and boots lover based in Brooklyn, New York. She has done BA (Hons) in Footwear Design from De Montfort University, UK. She loves to write about boots and has a particular interest in vintage and sustainable fashion.