Last Updated on April 19, 2023 by Sarah Jaffe
With gout affecting more than 8 million adults worldwide, finding the right shoes to alleviate discomfort and promote mobility has become a pressing concern for many. The excruciating pain caused by gout is typically concentrated in the feet, making it essential to choose footwear that offers ample support, cushioning, and stability.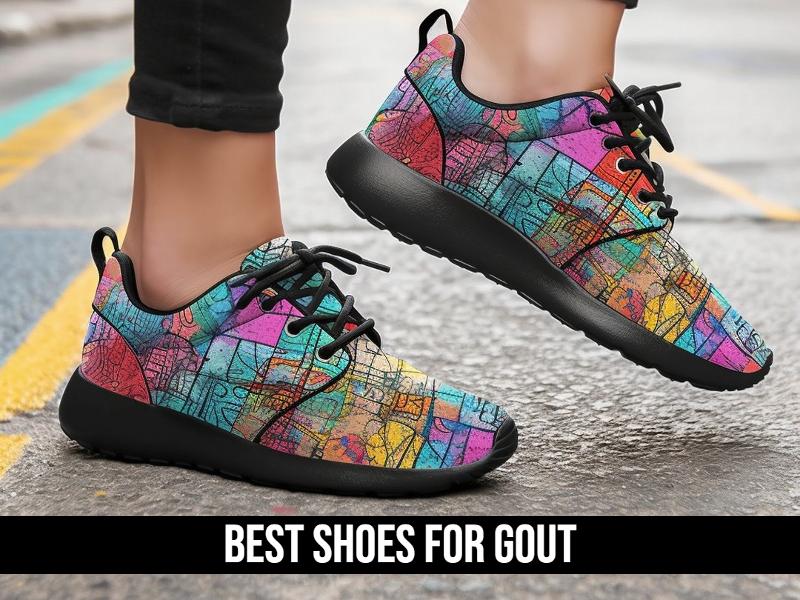 But for those with this foot problem, it can be a difficult search to find the perfect pair of shoes. The National Library of Medicine suggests people with gout opt for shoes with wide and deep toe boxes, adjustable straps, and plenty of room to breathe.
However, buying the wrong boots could have dire consequences. Not only can it lead to increased pain, but it can also result in more swelling and an exacerbation of your gout symptoms. To avoid this, be sure to pick footwear that is tailored to your joint pain needs.
List of the Best Shoes For Gout
1. ASICS Gel-Venture 6 – Best Running Shoes for gout sufferers
2. Skechers 54600-BBK Go Max-Athletic – Best walking shoes for gout sufferers
3. Ryka E1360MP Devotion Plus 2 – Best women's shoes for gout
4. Columbia Men's Newton Ridge Plus – Best hiking shoes for gout
5. Dunham MCR6630B Cloud Mid-Cut – Best Waterproof shoes for gout
Best Shoes For Gout – Our Top Picks!
Looking for relief from gout pain? Check out our list of the best-rated shoes for gout sufferers. Find the perfect pair of comfortable and supportive footwear to ease your symptoms and prevent flare-ups.
Let's get started!
1. ASICS Gel-Venture 6 Running Shoes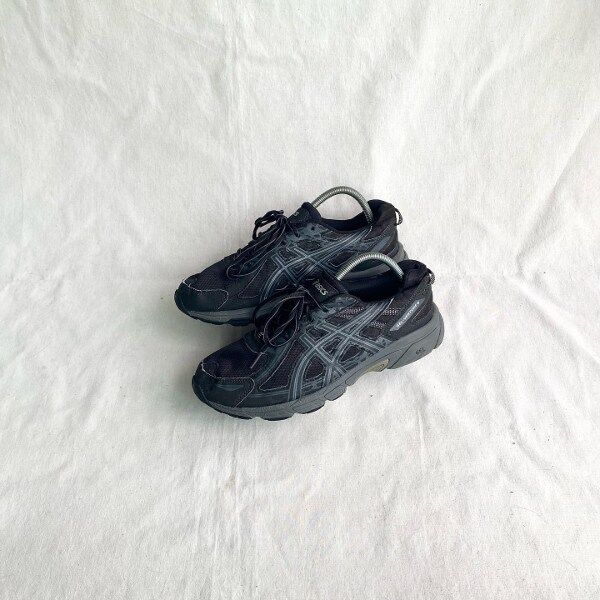 ASICS Gel-Venture 6 is designed to keep your feet cool and comfortable, even in the hottest and sweatiest of conditions. The breathable mesh material on the upper allows air to flow freely and prevents your feet from getting too hot. This is especially beneficial for those with gout, as heat and moisture can trigger painful flare-ups. The flexible fit also helps reduce friction and blisters, providing a snug and secure feel.
We love its AHAR rugged outsole which is certainly a major plus. Its ability to provide outstanding grip across a wide range of surfaces makes it an essential addition to any trail running or hiking kit. Plus, the strategically placed lugs on the outsole provide gout sufferers with the extra stability and protection they need to stay balanced and in control.
But what really sets these boots apart is the gel cushioning system. ASICS is known for its Gel technology, which is designed to absorb shock and provide support to your feet. It delivers rearfoot Gel absorbing wedging, which is specifically designed to help reduce the impact of each step you take. This is crucial for gout sufferers, as any excess pressure on the joints can be extremely painful.
2. Skechers 54600-BBK Go Max-Athletic Walking Shoes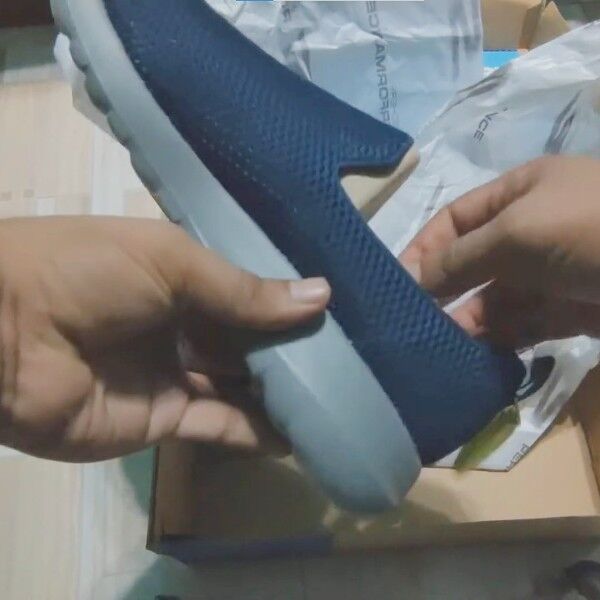 The Goga Max technology incorporated in the sole of Skechers 54600-BBK makes them stand out from the rest. This advanced technology provides superior cushioning, which aids in absorbing the shock of each step and alleviates the stress on your joints. This attribute is particularly advantageous for people suffering from sore feet, as it helps reduce the pain and discomfort caused by walking.
In addition to that, it offers superior softness and support with the addition of the 5GEN midsole. Your weight is evenly distributed throughout your foot, relieving strain on the joints. It also assists to improve the overall energy return of the shoe, permitting the walker or athletes to feel more energized during their daily exercise.
Besides that, their GOwalk Max outsole is a wonderful addition that flexes along with your foot, giving you a natural, comfortable experience. Those with gout can particularly benefit from this, as wearing stiff or rigid shoes can increase joint pain and inflammation. Plus, the unique tread pattern on the outsole provides excellent traction, which will make it easier to prevent slips and falls.
Furthermore, with the Skechers 54600-BBK, those in foot pain don't have to worry about the hassle of lacing up their footwear every morning. Their slip-on design features a mid-foot elastic gusset that gives a secure and comfortable fit, allowing you to slip your boots on and off with ease.
3. Ryka E1360MP Devotion Plus 2 Women's Shoes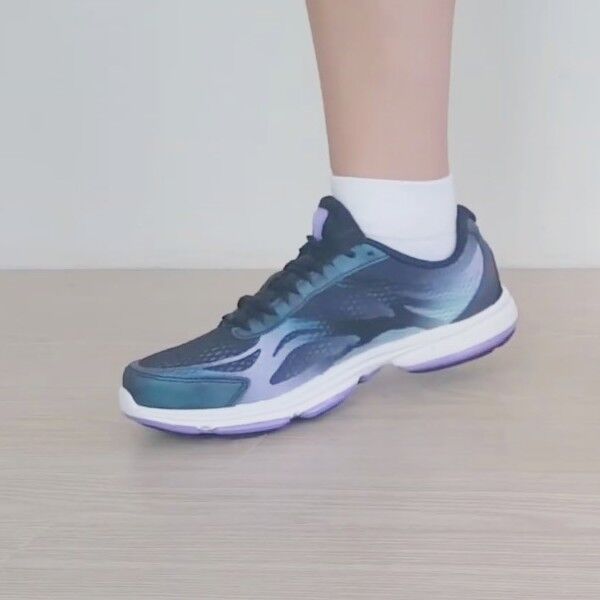 For starters, Ryka E1360MP Devotion Plus 2 has a memory foam footbed that conforms to the shape of your foot, providing softness and assistance where you need it most. Not only will this help to minimize joint pain, but it can also soothe and ease the agony of gout.
But it's not just the footbed that makes this unit great for aggravating arthritis sufferers. The outsole is made of a durable rubber skeleton and features a pod system that acts to absorb shock with each step. It is important because gout can cause pain even when just walking, and shock absorption serves to cushion the joints and relieve discomfort.
Moreover, they boast a stylish faux leather upper, expertly crafted to contour to ladies' feet, providing exceptional support and stability to those struggling with foot joint issues. It further delivers breathability to help keep the feet cool and dry, reducing the risk of blisters and other foot irritations. Plus, it ensures superior traction and grip for a lightweight and comfortable fit.
Ryka E1360MP Devotion Plus 2 sports a breathable, stretchy Lycra-lined tongue and collar that provide cushioned comfort and protection for those with foot joint issues. The snug fit of the Lycra material helps to reduce irritation and discomfort. It also stabilizes the foot and absorbs sweat and moisture for less friction between the foot and shoe.
4. Columbia 1746411 Newton Ridge Plus Hiking shoes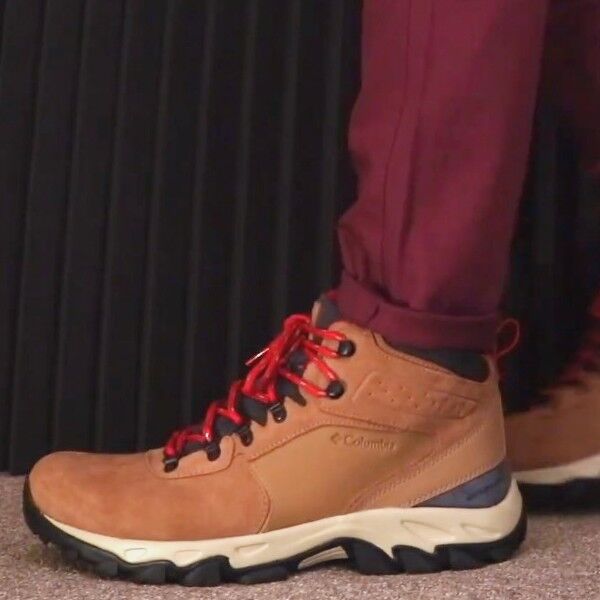 Columbia Newton Ridge Plus is designed to provide exceptional comfort with its Techlite lightweight midsoles. This innovative material helps to absorb and reduce the impact of walking on hard surfaces, making them ideal for those with joint inflammation who experience painful feet and ankles. Now you can explore the outdoors, knowing you have the protection you need.
One of the key features of these boots is the Omni-Grip rubber sole. This advanced traction system is designed to provide excellent grip and stability on all kinds of surfaces, from wet rocks to loose gravel. In particular, this can be crucial for people with gout, who need to be careful about slipping or twisting their ankles on uneven surfaces.
Additionally, they let you adjust the fit to your preference – perfect for those who struggle with sore feet. With the lace-up closure system, you can adjust the fit throughout the day to ensure your feet remain comfortable and supported as swelling or changes in size occur.
Columbia Newton Ridge Plus has a unique combination of leather, mesh, and suede, upper making them the excellent choice for all-day wear and performance. The leather provides superior durability, while the breathable mesh permits your feet to move freely. The soft suede provides additional padding and comfort, allowing you to stay on your feet for long periods of time.
5. Dunham MCR6630B Waterproof Shoes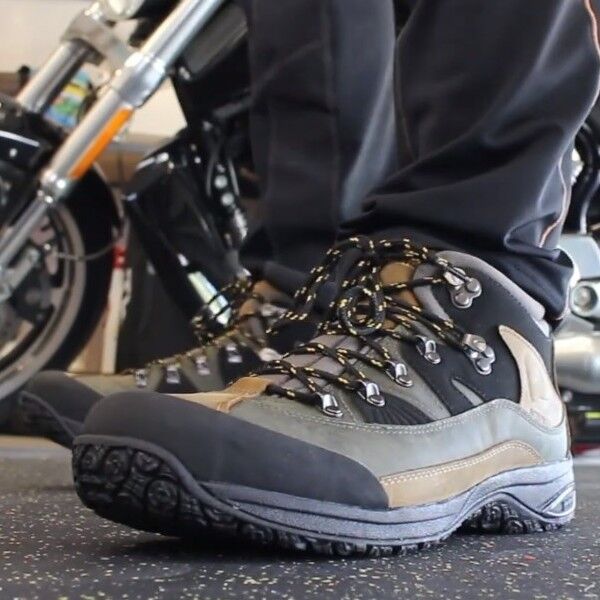 First of all, let's talk about the sizing. The Dunham MCR6630B comes in a range of sizes, from 7 to 18, with options for narrow to extra wide feet. This is a huge plus for anyone struggling to find boots that fit comfortably with gout. The last thing you want is to add extra discomfort to an already painful condition, so finding shoes that fit just right is crucial.
Now don't let a rainy day stop you from enjoying your day if you suffer from gout. This product is seam-sealed and waterproof, so you don't have to worry about any swelling or inflammation caused by wet socks. It'll keep you comfortable and dry, even if the weather isn't cooperating.
You will like the fact that it has a special type of support, a Nylon Shank. This thin and stiff material is inserted into the midsole or outsole of the shoe, providing stability, cushioning, and reducing flex. It ensures even distribution of weight across the foot, reducing pressure on the joints and delivering a more comfortable experience.
Dunham's MCR6630B shoes are engineered with R-Bar technology, an advanced energy-returning system that provides supreme shock absorption and energy return. Its polyurethane foam insert is strategically placed beneath the heel, absorbing the impact of each foot strike and compressing for a smoother transition from heel strike to toe-off.
Pros:
Key Features To Look For When Buying The Best Shoes For Gout
If you're struggling with gout, finding the perfect pair of shoes can help ease the pain and provide comfort and relief. To help you find your way to the ultimate footwear choice, here are the top factors to keep in mind when shopping for boots for this foot condition:
1. Wide Toe Boxes
When buying shoes for gout, it is important to consider wide-toe boxes. This is because gout is a form of arthritis that affects the joints of the foot and can cause swelling, redness, and tenderness. A wider toe box allows for more space for the toes to move and reduces pressure on the affected area. This can help minimize the associated pain of gout and also prevent further damage to the foot.
Generally, the toe box should be at least one-half inch wider than the widest part of your foot. This permits the boot to fit more securely and minimizes the risk of blisters or other injuries due to friction. It can also significantly lessens the risk of developing bunions or hammertoes, which are common in people who suffer from gout.
2. Motion Enhancing Outsoles
Motion-inducing outsoles are crafted to cushion the heel and arch areas of the feet, absorbing the shock of every step. It can be particularly helpful for those who struggle with gout, lessening the amount of impact the foot experiences.
There are several types of outsoles made for this foot disorder. Gel-filled midsoles provide cushioning and shock absorption, while thermoplastic rubber outsoles deliver superior traction and flexibility.
For those with mild to moderate gout, rocker-type outsoles are ideal, allowing for a natural walking motion that rocks the foot from heel to toe.
3. Flexible Upper
When you're shopping for shoes to ease the pain of Gout, it's essential to look for those with soft and stretchy uppers. Rigid and hard uppers can rub and irritate the inflamed joints, but supple and flexible uppers give a softer effect and permit more natural movement.
Gout sufferers can find relief in a variety of soft, stretchy uppers, from Lycra to Neoprene, Suede, Mesh, and Leather.
Lycra delivers a lightweight and breathable fit with minimal pressure points, perfect for comfortable movement.
Neoprene's synthetic rubber texture helps to reduce swelling and pressure. Suede is a supple material with reduced friction for added comfort. Mesh is airy and cool, providing a secure fit that contours to the foot.
Finally, Leather provides durable cushioning and sturdiness, and is highly breathable for reduced swelling and pain.
4. Adjustable Straps
Adjustable straps let you find the perfect fit for your feet – snug but comfy – so your joints and muscles aren't overworked. For those dealing with gout, this can be a godsend, as an ill-fitting pair of shoes could only make things worse.
Some of the most suitable adjustable straps for those with gout include hook and loop straps, elastic straps, and buckle straps. Hook and loop straps are the most common type and are usually made from materials such as Velcro or nylon. They are easy to adjust and provide a secure fit.
Elastic straps are also popular, as they allow you to customize the tension and can be adjusted as needed. Buckle straps are excellent for those needing added traction, as they are highly secure and less likely to stretch.
5. Arch Support
Your feet and ankles depend on adequate arch support for stability and balanced weight distribution throughout your body. Without it, your feet can become misaligned, leading to joint pain and extra strain.
With regard to arch support, there is a myriad of options available. Orthotic inserts are a popular choice, providing a comfortable and customizable fit to your shoe. They come in a variety of sizes, shapes, and materials, and can be found in most shoe stores.
For those looking for a more personalized experience, custom-made orthotics can be tailored to suit your individual needs. Then there's Medial arch support, which is beneficial in reducing pressure on the inner arch and helps keep your feet in the right alignment.
6. Padded Collars
For those suffering from gout, padded collars on their shoes can be a godsend. These extra layers of compression and assistance can significantly ease the pressure on the inflamed joints of the feet and ankles, providing much-needed relief from the pain and discomfort associated with the condition.
Padded collars come in a variety of materials, all offering unique benefits. Foam and gel provide softness and stability, while still allowing air to circulate around the foot.
Memory foam is incredibly soft and supportive and is often a top choice for those suffering from gout. Neoprene offers an extra layer of softness, while fabric collars provide enhanced bolstering and breathability.
Final Verdict
To wrap it up, the perfect footwear for gout sufferers are those that offer the utmost cushioning, have a well-cushioned sole, and have a wide toe box. Heels, pointed-toes, or shoes that are too tight are a definite no-no as they can worsen existing conditions. With the appropriate shoes and some lifestyle changes, gout sufferers can find solace and make the most of life.
FAQs
Can shoes affect gout?
Yes, shoes can affect gout. Tight-fitting shoes, particularly those with a low heel, can put extra pressure on the toes and feet and aggravate the inflammation associated with gout. Shoes that are too loose can also cause discomfort and put a strain on other parts of the foot. Wearing shoes that provide good arch support and cushioning can help reduce the risk of developing gout.
Does walking help gout in the foot?
Yes, walking can help reduce the pain associated with gout in the foot. By simply taking a walk, the flow of blood to the affected area is increased, resulting in decreased pain and inflammation. Furthermore, endorphins, the body's natural pain reducers, are released and stress is relieved, enhancing physical well-being. Additionally, walking helps to reduce uric acid levels, as well as aiding in weight loss; both of which can help to reduce the severity of gout.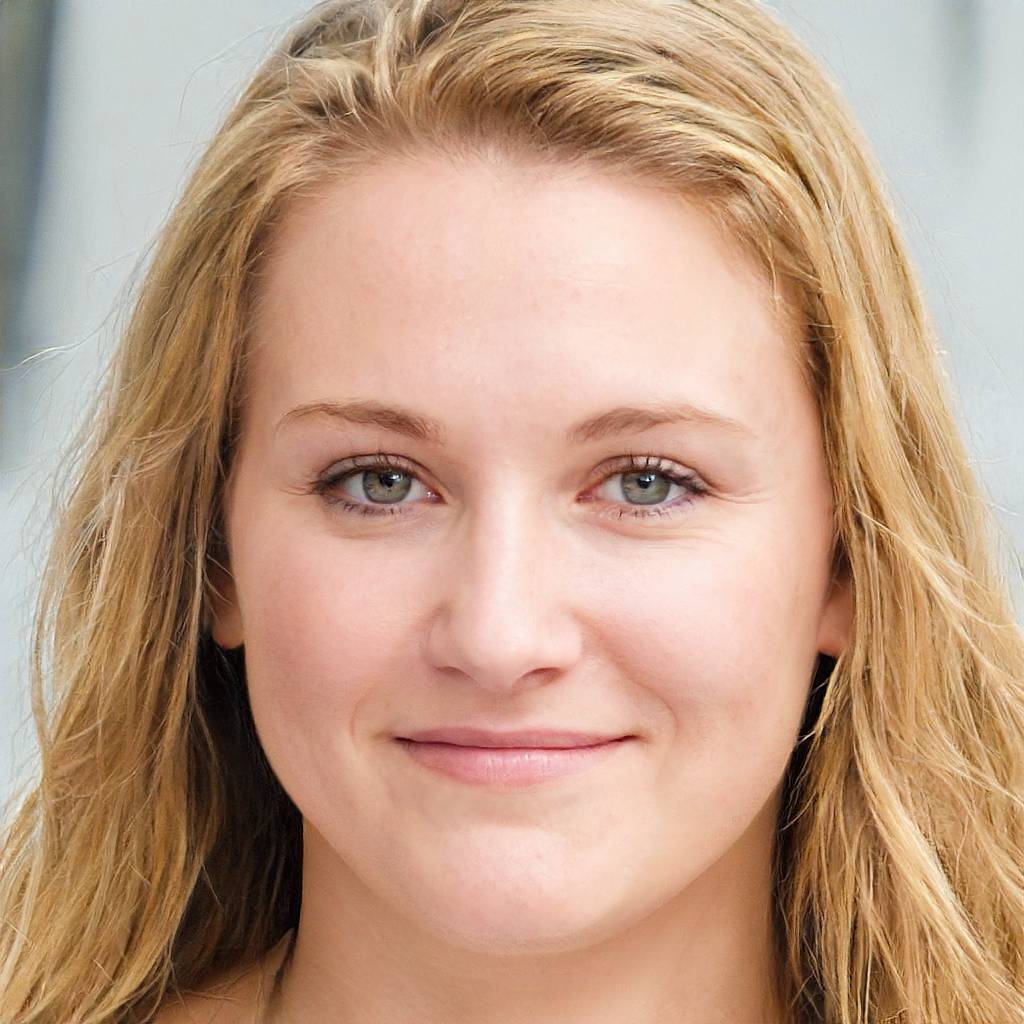 Sarah is the brains behind BootsNerd. Sarah Jaffe is a writer, editor, and boots lover based in Brooklyn, New York. She has done BA (Hons) in Footwear Design from De Montfort University, UK. She loves to write about boots and has a particular interest in vintage and sustainable fashion.