Last Updated on March 7, 2023 by Sarah Jaffe
Do you dread putting on your work boots every day because of the excruciating pain they bring to your poor, tired feet? As someone who's been in the same boat, let me tell you, I feel your pain. I used to have to hobble around like a penguin because my work boots were killing my feet. But then, I discovered the magic of the best work boots for sore feet, and now I strut around like a peacock (well, almost).
And, did you know that the average person takes approximately 7,500 steps per day? Now imagine doing that in a pair of uncomfortable work boots. Ouch.
In this blog post, I'll be sharing my top picks for work boots that provide the perfect balance of comfort and durability. Say goodbye to blisters, calluses, and soreness, and hello to pain-free days on the job. Let's dive in!
Common Foot Problems Caused by Uncomfortable Work Boots
Working boots are an essential safety and comfort tool for those who work in industries that require heavy-duty foot protection. However, when not properly fitted or made from the wrong materials, they can also lead to a number of foot problems, as mentioned below:
1. Blisters
Blisters can be caused by the friction of a work boot rubbing against the skin of the foot. This can happen if the shoe is too tight or if the material is too rough. They can be very painful and, if not treated properly, can lead to more serious infections.
2. Plantar Fasciitis
Plantar fasciitis is a painful condition that affects the connective tissue on the bottom of the foot. It is caused by an inflammation of the plantar fascia, a band of tissue that runs from the heel to the toes. Uncomfortable work boots can cause strain on the plantar fascia, leading to pain and inflammation in the area. Check here best work boots for plantar fasciitis.
3. Bunions
Bunions are an irritating condition that can develop when pressure from tight-fitting shoes, such as ill-suited footwear, is placed on the big toe. This pressure can cause bony bumps to form on the side of the big toe, which can be very painful when walking.
4. Calluses
Calluses are areas of thickened skin that can form due to constant friction and pressure. Ill-suited shoes, for example, can cause this disease on the feet, making it difficult to walk and causing a great deal of discomfort.
5. Ingrown Toenails
Ingrown toenails are a common problem caused by wearing boots that are too tight. The pressure of the shoes on the toenail can cause the nail to grow into the skin, resulting in inflammation, pain, and infection.
6. Hammertoes
According to Dr. Brian M Weatherford, MD, FAAOS (Orthopedic Surgeon), "when toe-squashing boots are worn too tight, the middle joint of the toe can become bent and deformed, leading to the formation of hammertoes. This once-flexible joint is now locked in a bent position, creating an unsightly and often uncomfortable deformity."
7. Achilles Tendinitis – Achilles tendinitis is an inflammation of the Achilles tendon, which runs down the back of the lower leg into the heel. Wearing a boot that is too tight or lacks adequate cushioning can restrict the movement of the ankle, leading to this painful and debilitating condition. (Check here boots for Achilles tendinitis guide)
List of Best Work Boots for Sore feet
KEEN 1009709 Utility Men's Pittsburgh Work Boots – Best Overall
Timberland Men's White Ledge Shoe – Best in the low Budget
Men's Keen 1020085, Detroit XT Shoe – Best Waterproof Work Boots for Sore feet
ROCKROOSTER AK245Z-4 Shoe – Best Steel-toe Work Boots for Sore feet
Irish Setter 83606-M Men's – Most Comfortable Work Boots for Sore Fee
Best Work Boots for Sore feet – Our Top Picks!
We understand how difficult it can be to find the perfect work boot that will provide the support, comfort, and protection your sore feet need.
That's why we have taken the time to research and review the ideal shoes for this disease. We have carefully considered the features of each boot, including the construction, materials, and design, as well as customer reviews and ratings. This way, you can be sure to make an informed decision.
1. KEEN 1009709 Utility Men's Pittsburgh Work Boots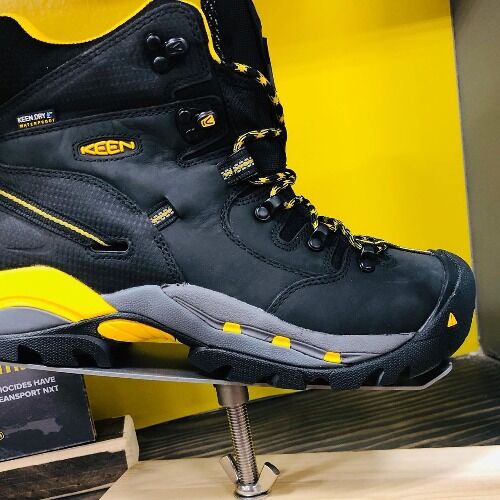 Key Specifications
| | |
| --- | --- |
| Sole | Rubber sole |
| Shaft | Measures approximately 6″ from arch |
| Boot opening | Measures approximately 12″ around |
| Soft Toe | KEEN. PROTECT soft toe caps |
| Traction | Oil- and slip-resistant, non-marking |
As someone who's always on the lookout for a sturdy and reliable pair of work boots, I was eager to try out the KEEN 1009709 Utility Work Boots.
What I found was that these boots offer a lot more than just protection for your feet – they're designed to provide stability, support, and comfort in a way that really makes a difference.
The 6-inch shaft in this boot helps distribute pressure along the sides and back of your feet and ankles. This means that you won't experience the soreness and discomfort that can come from overpronation or other biomechanical issues, even if you're on your feet for hours at a time.
Another great thing about these boots is their rubber outsoles. Not only do they provide superior softness and support, but they also offer excellent grip and traction. This feature comes in handy to navigate slippery surfaces and reduces the risk of slips and falls, which is always a plus in a work environment.
The EVA footbed is another feature that really impressed me. It's made up of two types of EVA foam – a softer foam that absorbs shock and reduces fatigue under the heel and arch of the foot, and a firmer foam that provides stability and support under the forefoot.
Finally, the integrated torsional plate beneath the feet is crafted from thermoplastic polyurethane (TPU) which provides superior abrasion and impact resistance. The anatomical design of the plate encourages a twisting motion that keeps your feet from rolling inwards and provides extra support.
Overall, I would highly recommend the KEEN 1009709 Utility Work Boots for anyone who needs a reliable and supportive pair of work boots. They offer a great combination of stability, support, and comfort, and are sure to be a valuable addition to any work environment.
2. Timberland TB0121352141 Men's White Ledge Work boots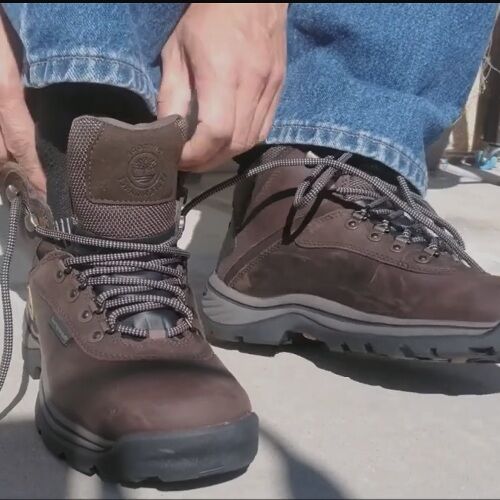 Key Specifications
| | |
| --- | --- |
| Sole | Rubber sole |
| Shaft measures | Approximately 4.75″ from arch |
| Upper material | Premium full-grain waterproof leather |
| Construction | Seam-sealed waterproof construction |
| Lacing system | With hooks at top for secure lacing |
Timberland TB0121352141 introduces a full-grain leather upper that is manufactured to provide a supportive, durable, and cozy snug. The thick leather is highly resistant to wear and tear, ensuring your feet remain protected.
Plus, it can effortlessly mold to the shape of your feet, reducing friction and pressure points for a completely custom fit.
We love the fact that its ReBOTL fabric lining ensures to wicks away moisture, so you can keep your feet dry and free from fatigue and soreness. And with its antimicrobial properties, you can be sure that any odors will be kept at bay.
Furthermore, this unit is equipped with EVA foam midsoles providing a luxurious cushioning experience for those with sore feet.
This foam absorbs shock, eases stress on joints, and evenly distributes the weight, ensuring that you stay plush for hours on end.
Timberland TB0121352141 is equipped with Primaloft insulation to ensure your feet stay warm and dry even in the most extreme conditions.
The insulation works by creating a barrier between your feet and the cold and wet, trapping air within its fibers for superior breathability and waterproof protection.
3. Keen 1020085 Men's Detroit XT Work boots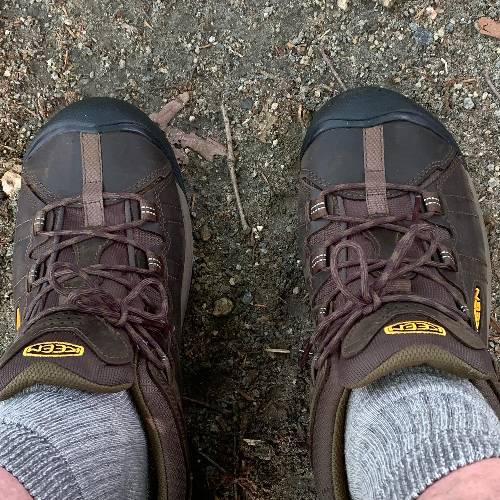 Key Specifications
| | |
| --- | --- |
| Sole | Rubber sole |
| Shaft Height | Approximately 4.5″ from arch |
| Boot Opening | Approximately 12″ around |
| Upper Material | Waterproof leather and fabric |
| Toe Type | Steel toe for added protection |
Keen 1020085 has tough steel toe construction (having ASTM 2413-11 and 2412-11 certification) that provides adequate shielding against impacts or compression from heavy or sharp objects, while also helping to keep your tootsie stable and reduce strain on joints and muscles.
You will like its lace-up closure design, with the help of which you can adjust the fit of the shoe to your specific needs for a secure and comfortable fit.
Plus, the lacing system assists in evenly distributing the pressure around the foot, so you can avoid pressure points and irritation.
Additionally, this unit is crafted with the Dri Lex fabric to boast superior moisture control, breathability, and moisture-wicking properties that help to keep your feet cool, dry, and free from discomfort.
This lightweight fabric help to reduce irritation, soreness, and sweat buildup, making them the ideal choice for long days on your tootsie.
Keen 1020085 contains water-resistant leather uppers that give a layer of defense against moisture, dirt, and other debris, while still allowing feet to breathe. The leather is also resistant to stretching and abrasion, which can help minimize rubbing and friction against the foot.
4. ROCKROOSTER AK245Z-4 Work boots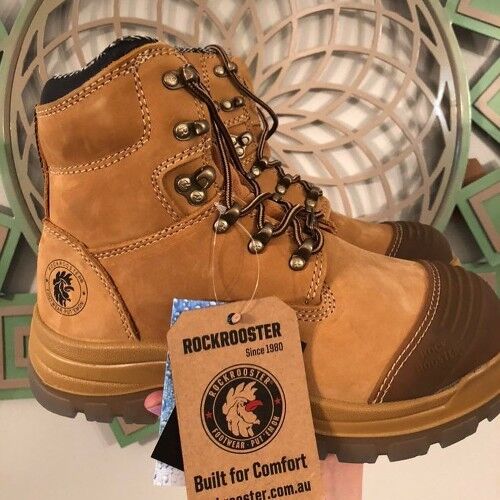 Key Specifications
| | |
| --- | --- |
| Shaft Measurement | Approximately 7″ from arch |
| Heel Measurement | Approximately 6″ |
| Toe Cap Material | Steel |
| Static Dissipative Outsole | Yes, Release Static Electric |
| Slip-Resistant Outsole | Yes, Slip and Oil Resistant TPU Outsole |
Rockrooster AK245Z-4 has been engineered with a highly efficient steel toe that has been tested to meet American Society for Testing and Materials (ASTM) standards for impact and compression, creating a barrier between your tootsie and the ground. This helps reduce the risk of sore feet caused by repetitive crashes and pressure.
Another great thing about this product is that it boasts a tough yet lightweight outsole made from Thermoplastic Polyurethane (TPU). It is highly resistant to wear and tear and provides the perfect level of traction on a variety of surfaces.
Not only does the TPU outsole cushion the foot and reduce the thwack of each step, but it also allows for natural foot movement, helping to minimize fatigue.
In addition to that, its 7 inches shaft length generates extra height that aids to keep the feet in a more natural position, and minimizes strain on the arches, ultimately reducing discomfort and fatigue in the feet and ankles.
ROCKROOSTER AK245Z-4 Work boot's insole is made with a combination of PORON cushioning material and Microban antimicrobial technology.
The PORON softening helps to absorb shocks and reduce strain on the feet, while the Microban technology fights the growth of odor-causing bacteria, fungi, and other microbes, keeping feet dry and healthy.
5. Irish Setter 83606-M Men's Work Boot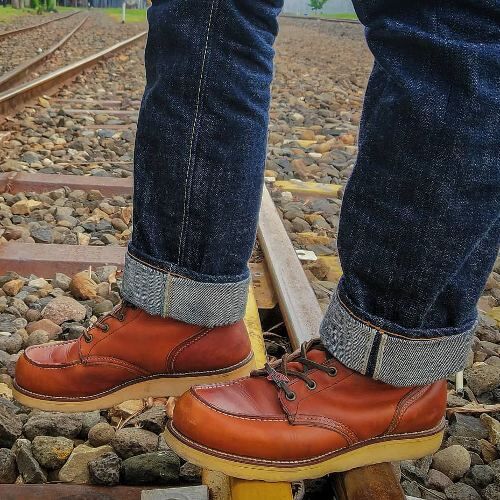 Key Specifications
| | |
| --- | --- |
| Sole | Rubber |
| Boot opening | 14″ around |
| Insole | Removable polyurethane footbed |
| Safety standard | Meets ASTM F2413-11, M/I/75/C/75 for electrical hazard |
| Heat resistance | At a minimum of 475 Fahrenheit |
For those who suffer from sore feet, Irish Setter 83606-M can be a lifesaver. These featherlight boots feature an aluminum toe that absorbs shock and provides extra defense against any heavy or sharp objects that could pose a threat.
Most customers are attracted to this purchase because of its polyurethane footbeds that give your feet a personalized cushion of comfort. The PU foam also conforms to your feet, absorbing shocks and vibrations to reduce fatigue and improve posture.
Plus, this footbed is removable which permits users easy cleaning, and also allows the insertion of custom orthotics for added support.
Furthermore, these shoes are more than ready to handle any tough job with their EVA rubber outsole that won't budge in temperatures of up to 475 Fahrenheit. Plus, the outsole's high heat resistance ensures that it won't melt or break down under hot conditions, making for a longer-lasting and durable boot.
Irish Setter 83606-M can offer your feet much-needed relief with the addition of Texon insoles. Crafted with a special type of closed-cell foam, these insoles provide a cushiony layer of support that absorbs shock and minimizes pressure on the feet.
Not only can you say goodbye to soreness and pain, but you can also rest easy knowing you've taken a preventive step to ward off any future foot issues.
Features to Look for in Work Boots for Sore Feet
It can be overwhelming when it comes to finding the perfect pair of work boots to ease your sore feet. With the vast amount of options, it can be hard to make a decision. To make the process easier, here are a few things to keep in mind when searching for construction or industrial shoes to fit your needs:
Cushioning
Cushioning is an important consideration when buying work boots for sore feet. The right cushioning can make a world of difference in the comfort of your feet, helping to reduce the aches and pains that can come from standing or walking for extended periods of time.
When it comes to cushioning for work boots, you have several options. Molded foam cushioning is thin yet effective in shielding your feet from fatigue. This type is often found in hiking boots, offering optimal shock and impact absorption for your feet.
Alternatively, air and gel cushioning is thicker and heavier than foam, providing enhanced comfort and support, ideal for running shoes and other athletic footwear.
Finally, memory foam cushioning is customized to the contours of your feet, forming a snug fit over time that persists for years. Look for this type of cushioned support in high-end work boots.
Arch support
When on the hunt for the perfect work boots, arch support is a must. Without it, your feet may suffer from fatigue, pain, and discomfort. It helps to evenly distribute the weight of your body across the foot, providing support and ultimately preventing potential problems such as plantar fasciitis, shin splints, and heel pain.
It has three distinct types, medial, lateral, and total. A medial arch support gives your inner foot the stability it needs to stay in place while in motion. It stops excessive pronation, or the inward rolling of the foot, which can be a cause of discomfort and fatigue. By strengthening the arch, this type helps reduce the strain on your feet and can help prevent pain and fatigue.
Similarly, lateral arch support helps stabilize the outer foot and stops the foot from rolling outward. This provides balance when walking or running and gives your arch cushioning and support, reducing the strain and providing a more comfortable experience.
Total arch support offers complete protection for your feet, enabling them to move freely without feeling the strain of regular activity. It provides cushioning and assistance, reducing stress on your feet during walking or running. Not only will it stabilize your feet, but it will also contribute to improved balance and coordination.
Shock absorption
When it comes to finding the ideal pair of work boots for your feet, shock absorption is essential. Not only does it keep your feet from feeling sore, but it also disperses the force of each step, preventing fatigue and pain that can come with a long day at work.
The best way to make sure your footwear has enough padding is to look for a pair that has a midsole with cushioning. Lightweight foam to complex, multi-layered cushioning can be found in many boots, helping to ensure your feet are cozy throughout the day.
Furthermore, also consider the outsole of the shoe. It should be made of a flexible material that allows the foot to move and flex with each step, giving your feet extra padding and absorbing pressure. Additionally, the outsole ought to have a good grip to reduce the risk of slipping on uneven surfaces.
Breathability
Breathability ensures that your feet remain cool and comfortable over extended periods of time, minimizing the risk of excessive sweating and irritation. For optimal comfort and protection of sore feet, make sure to look for work boots with breathable materials.
If you want to maximize ventilation in your shoes, consider features like mesh materials, perforations, air vents, and air channels. Mesh materials allow air to flow more easily over your feet, reducing the chance of sweat and dampness.
Perforations, air vents, and air channels create tiny holes in the shoe to increase breathability, providing more air circulation and keeping your feet cool and dry. All of these attributes are designed to improve ventilation and comfort in work boots, keeping your feet comfortable and free from any pain.
Size and fit
The importance of size and fit when it comes to working boots cannot be overstated. An ill-fitting pair can lead to painful and even lasting effects on the feet and legs. Shoes that are too large can cause blisters, calluses, and inflammation due to the foot sliding around inside the shoes. Conversely, footwear that is too small can pinch the toes, creating pressure points and resulting in pain and discomfort.
So to ensure you choose the right size and fit for your footwear, it is essential to measure your feet and compare them to the manufacturer's size chart. This will help you find the ideal size of work boots for your feet and ensure that they are comfortable and secure.
Also when trying on the boots, make sure to size up if you're in between sizes, as work footwear should fit slightly looser than dress shoes or every day sneakers.
Plus, look out for the socks you will be wearing. Thick socks can cause the shoes to feel snugger, so it is important to find a pair that fits well and accommodates your socks.
If you are looking for steel-toe boots, remember that they tend to run smaller than other types of footwear and you should get a size that fits your foot correctly.
Final Verdict
According to the famous Podiatrist, Dr. Robert Kornfeld.
"Quality work boots are a must-have for any person looking for foot pain relief. Investing in the proper fit, arch support, cushioning, and shock absorption can save you from a world of hurt. Poorly fitted footwear can cause blisters, calluses, bunions, and even plantar fasciitis. Don't let your feet suffer; take the time to select the most comfortable boots for you."
Among the products reviewed in this article, the KEEN 1009709 Utility Men's Pittsburgh Work Boot is the cream of the crop.
It offers 6 inches Soft Toe, Lug sole patterns, Reflective webbing for maximum visibility at night time, and plenty of support to make sure your feet are happy.
However, if you have a tight budget, the Timberland Men's White Ledge Ankle shoe is a great option, with full-grain leather uppers, ReBOTL fabric lining, and seam-sealed waterproof construction.
Thank you for reading!
FAQs
Can work boots cause foot pain?
Yes, work boots can cause foot pain. This is because they are often designed to be heavy-duty and provide extra protection, which can add extra weight and strain on the feet.
Additionally, they are usually designed with a stiffer sole that doesn't allow the foot to move and flex as it would normally. This can lead to pain and discomfort in the feet over time.
How can I prevent foot pain while working?
To prevent foot pain while working, it is important to wear properly fitted shoes that provide good cushioning, arch support, and shock absorption. It's also wise to take regular breaks to stretch, move around, and stay hydrated to keep your feet feeling fresh.
To prevent repetitive strain, try to limit activities such as running and jumping. Plus, if your feet and ankles are prone to swelling, you may want to consider wearing compression socks or wraps.
Do I need steel-toed boots for work?
The answer to this question depends on the type of job that you have. Some jobs may demand you to wear steel-toed boots in order to protect your feet from potential hazards such as heavy objects, sharp objects, and other potential dangers.
If your task requires you to work in areas where there are these potential hazards, then it is likely that you will need to wear this footwear. Also, some employers may require their employees to wear steel-toed boots for safety reasons.
How often should I replace my work boots?
The frequency at which you replace your work boots should depend on the type of work that you do and the conditions in which you do it. Ideally, switch your shoes every six months to one year, depending on the level of wear and tear.
However, if you have a job that involves more strenuous conditions, such as a construction site or factory, you may need to replace them more often due to the accelerated wear.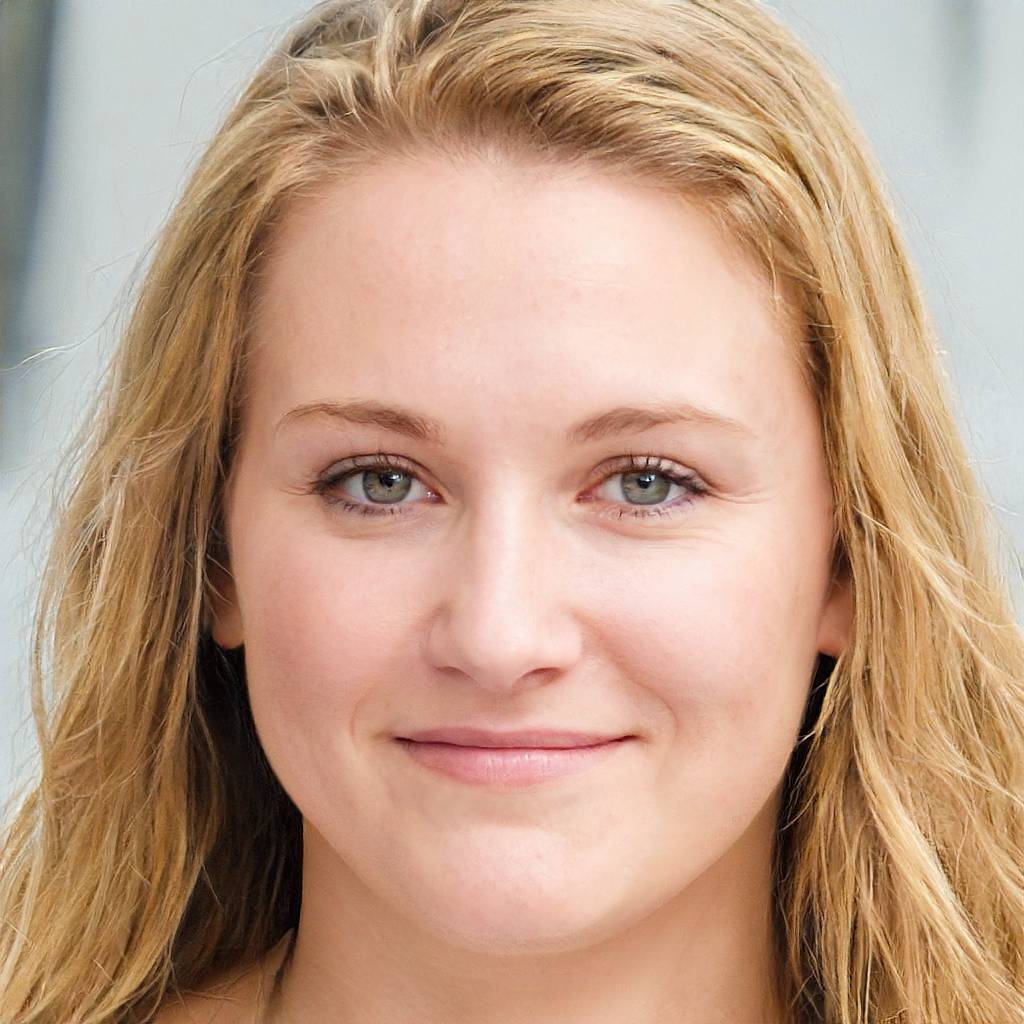 Sarah is the brains behind BootsNerd. Sarah Jaffe is a writer, editor, and boots lover based in Brooklyn, New York. She has done BA (Hons) in Footwear Design from De Montfort University, UK. She loves to write about boots and has a particular interest in vintage and sustainable fashion.