Last Updated on July 6, 2023 by Sarah Jaffe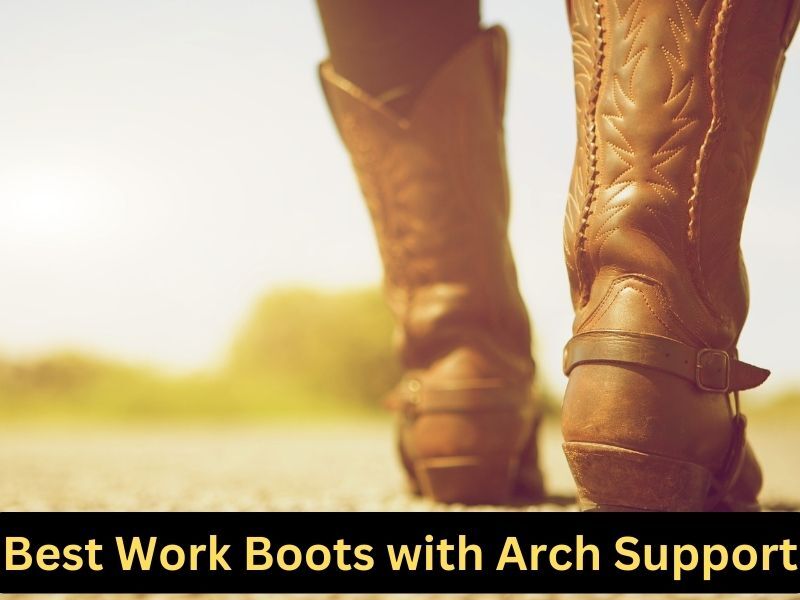 All of us know the importance of having durable, comfortable, and supportive work boots for our demanding workdays. However, let us not overlook the significance of arch support any longer; it is time to grant our arches the recognition they rightfully deserve!
Whether you work on construction sites or in warehouses, spending most of your time on your feet will cause you throbbing arches.
Shoes with arch support provide additional cushioning and support specifically tailored to the arch of the foot. Even the most resilient among us may consider throwing in the towel and returning home early when dealing with this type of pain. But fret not, dear companions, for we possess the solution to all your arch-related tribulations—the finest work boots endowed with exemplary arch support!
Gone are the days when one had to compromise comfort for durability or forsake support in favor of style. With the appropriate pair of work boots, you can have it all. Embrace a day of work devoid of anguish, and say goodbye to those days of limping home after an arduous workday.
Why Arch Support is Important for Work Shoes?
The right work shoes support the arch of the foot because they provide the necessary stability and cushioning to support the natural arch of the foot. Arch support helps distribute body weight evenly across the foot, reducing strain on the arch and minimizing the risk of foot-related issues such as plantar fasciitis and flat feet (learn more benefits here).
Good arch support in work shoes can also improve overall foot comfort, reduce fatigue, and enhance posture. It is crucial to choose work shoes with proper arch support to promote foot health, prevent discomfort, and maintain optimal performance throughout the workday. It is important for workers in standing environments to wear footwear with arch support, as evidenced in this study.
Top 5 Work Boots with Arch Support
After conducting extensive research on various work boots in the market, we have narrowed down the top 5 arch-support work boots. These boots have been selected based on their durability, comfort, and effectiveness in providing proper arch support to ensure the safety and well-being of your feet.
1. Thorogood 1957 Series – Best Men's Shoes with Arch Support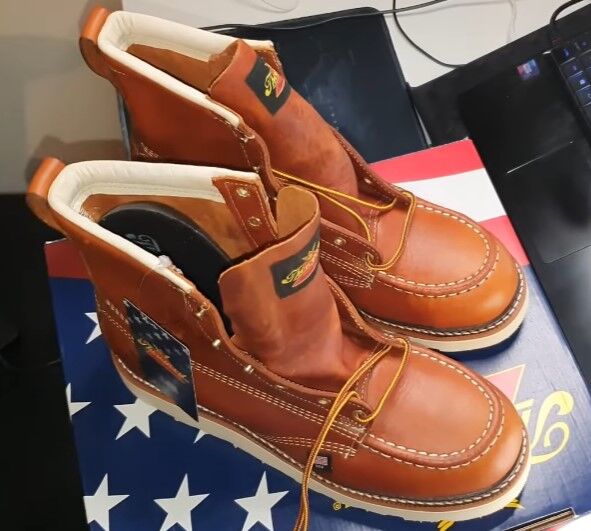 The Thorogood Steel Toe boots are made in Wisconsin at the Thorogood facility by devoted and talented artisans, so you know you're getting a quality product and also feature premium full-grain saddle leather with a moc toe design.
One of the biggest advantages of these Work Boots is their durability. Made from durable trail crazy horse leather, these boots can withstand a variety of outdoor and industrial uses. Whether you're a carpenter, construction worker, or just someone who spends a lot of time on your feet, these boots are sure to provide the support you need.
The rubber sole of these boots measures around 8″ from the arch, which provides ample support to the arch. This is especially important for those who are on their feet all day long and need extra support to prevent foot fatigue.
But these Steel Toe Boots aren't just durable and supportive, they're also incredibly comfortable to wear. The inside of the Trail Crazyhorse boots features a moisture-wicking liner that draws sweat away from the body and out, so you can work without concern. This is a huge advantage for those who work in hot or humid environments, as it helps to keep your feet dry and comfortable.
Aside from their practical features, the toe work boots also look great. They have a vintage look because of the special wax applied to the leather. These boots are also safe for a variety of work environments due to their steel-toe design.
2. Detroit XT Mid from KEEN – Most Comfortable Boots with Arch Support
Detroit Waterproof boots are made of 100% synthetic and textile materials with a rubber sole. This means it is not only durable but also lightweight, which is a huge plus for those who are on their feet all day.
One of the standout features of these boots is the strong arch support it provides. The shaft is roughly 4.5″ from the arch and the boot opening is roughly 12″ in diameter. These measurements ensure that your feet are well-supported and snugly fit into the boots for maximum comfort.
Another great feature of the Keen Detroit Waterproof Boot is the waterproof leather and cloth uppers. It has a DRY waterproof membrane that is also permeable, so it keeps your feet dry even in the wettest conditions. I can attest to the importance of this feature as someone who has suffered through wet socks and shoes.
Safety is also a top priority with the Keen Detroit Waterproof Boot. It comes with a steel toe for further protection in hazardous work environments. The lace-up closure ensures a snug fit and the Dri Lex interior linings add an extra layer of comfort.
In terms of comfort, the footbed of the Keen Detroit Waterproof Boot is padded for additional cushioning. A feature like this is especially important for people who spend long hours on their feet since it reduces foot fatigue and provides extra support.
3. ARIAT Men's Western – Best Pull-on Work boots with Arch Support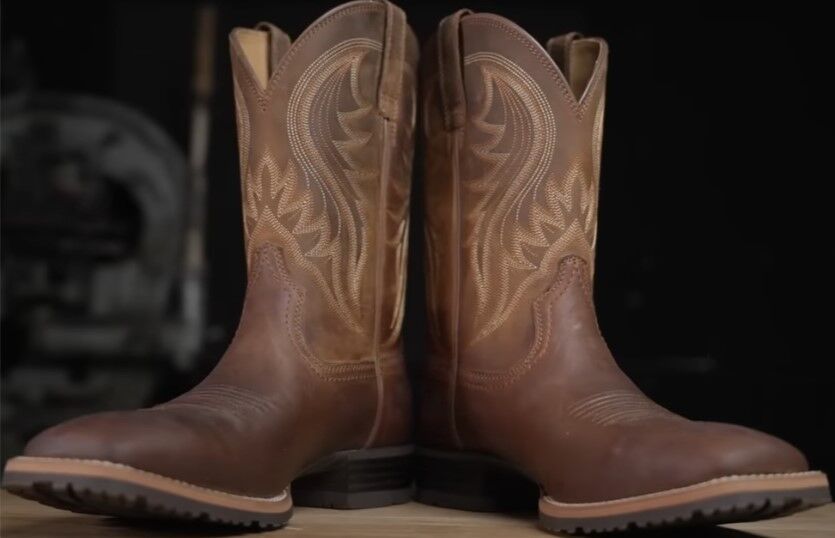 The ARIAT Men's adaptable boots are perfect for any job site, with their rock 'n' roll style and long-lasting durability. The shaft measures approximately Calf High from the arch, making them a comfortable and practical choice for any working man.
One of the standout features of these Western Boots is the classic fit cotton structure. On hectic days, cotton is the best option, and ring-spun denim in the trousers ensures maximum durability. You won't have to worry about your boots giving out on you after a few weeks of wear, as they are built to last.
One of the best things about these boots is how easy they are to wear. The side stretch elastic panels in a pull-on form provide for simpler, slip-on styling, making them the best pull-on work boots with arch support on the market. You won't have to waste time lacing up your boots in the morning – just slip them on and go.
The cut stackable design of these Western Boots is another appealing feature. Ariat uses a combination of rubber compounds to ensure the outsoles are extremely flexible. This makes them perfect for any job site, as you won't have to worry about slipping or sliding on uneven terrain.
In addition to the single patch pocket and two-button adjustable cuffs, the ARIAT Western Boot also comes with a button-down collar. These finishing touches make these boots not only practical but also stylish and versatile. You can wear them to work or out on the town with ease.
4. Timberland PRO Men's Work Boots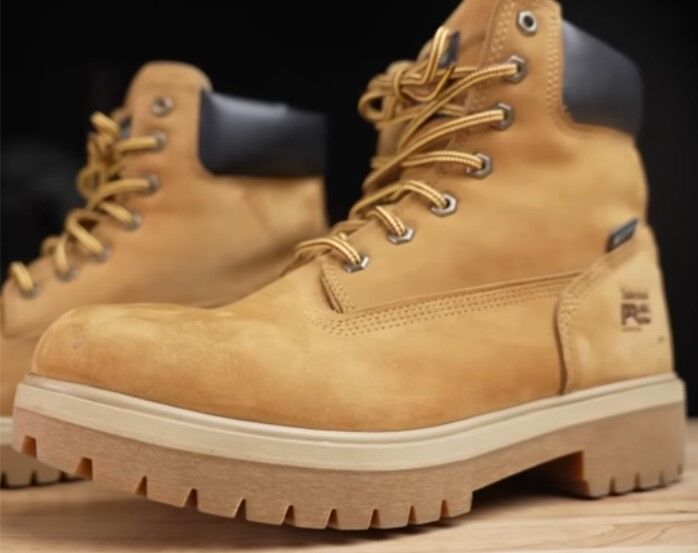 Timberland PRO Men's Workboots maintain a perfect blend of style, comfort, and durability, making them the go-to choice for anyone working in harsh environments.
The boots are made of 100 percent leather that guarantees long-lasting wear and tear. The rubber sole provides excellent traction and grip, allowing you to walk on any surface with ease. This feature ensures that you remain safe and secure while working on hazardous terrains.
For people with flat feet or who stand for long periods of time, these boots provide incredible arch support. The shaft is roughly 6″ from the arch, providing ample support to your feet, ankles, and lower leg. This feature ensures that your feet remain stable, reducing the risk of injury or strain.
A unique feature of the Timberland Work Boots is their full-grain waterproof leather, waterproof membrane, and 1.5-inch rubber toe. Your feet will stay dry and comfortable even in wet environments. The fiberglass shank offers structural support, ensuring that your feet remain stable and secure.
The boots come with a Dynamic Dual Density Footbed with Anti-Fatigue Technology that provides unmatched comfort and cushioning. By reducing fatigue and enhancing shock absorption, you will remain comfortable for longer periods of time.
Its mesh interior sets it apart from other work boots. Even on hot days, your feet will remain cool and dry due to proper ventilation. It reduces the risk of infection and foul odor, ensuring that your feet remain healthy.
5. Carhartt Women's Work Boot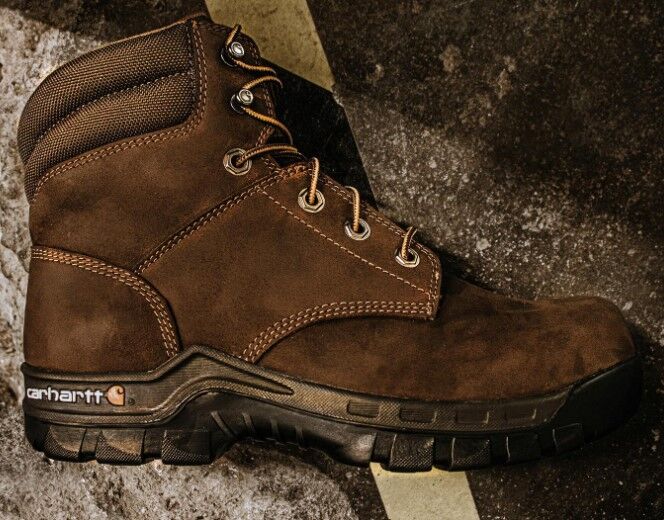 Made from 100 percent leather and featuring a rugged rubber sole, these Carhartt Women's Work Boots can withstand even the toughest conditions.
One of the standout features of these boots is their excellent arch support. Our tests have shown that the insole is both cushy and supportive, providing a comfortable fit even during long hours on your feet. This is particularly important for those who suffer from foot pain or other related issues.
As a secondary defense against accidental contact with dry electrical circuits with 18,000 volts or less, these boots also meet ASTM F2413-18 EH guidelines for electrical hazard protection. This makes them an ideal choice for those working in industries where electrical hazards are a concern.
A further advantage of the Carhartt Women's Work Boot is that it is constructed using Carhartt rubber. This flexible and rugged outsole provides excellent traction, even on slippery surfaces. As well as being durable and long-lasting, their cement construction ensures that they will not need to be replaced anytime soon.
The brown oil-tanned leather insoles of these boots provide cushioned comfort and help to decrease foot fatigue. For those who spend long hours on their feet, the Carhartt PU cushion insole is designed to maximize comfort.
FAQs
Can I use orthotic insoles with work boots that have arch support?
Yes, you can wear orthotic insoles with arch-support work boots. In fact, many people use orthotic insoles to further enhance the arch support in their work boots. Orthotic insoles are designed to fit inside your shoes and provide additional support and comfort to your feet.
Can women wear work boots with arch support too?
Yes, there are plenty of work boots with arch support that are designed specifically for women. It's important to choose a pair of boots that are made for your foot shape and size to ensure the best fit and support. Carhartt Women's work boots are suggested above also.
How do I know if a work boot provides good arch support?
You can tell if a boot supports your arch well by looking at the design of the sole. A good work boot with arch support will have a contoured footbed that conforms to the shape of your foot, providing support to your arch. You can also look for work boots that have removable insoles, as these can be replaced with orthotic insoles for even better arch support.
Can work boots with arch support help prevent foot injuries?
Yes, shoes with arch support can reduce the risk of foot injuries by providing additional support and cushioning to the feet. This can help reduce the risk of injuries related to flat feet, plantar fasciitis, and other foot conditions.
What are the benefits of work boots with arch support?
The arch support in work boots reduces pressure points, improves alignment, absorbs shock, and enhances comfort, which can prevent foot injuries. In addition, they can improve overall productivity and well-being by reducing fatigue and discomfort in the feet.
Conclusion
Selecting appropriate work boots with arch support is crucial for individuals who find themselves standing for prolonged periods of time. It is possible to suffer pain, discomfort, and even injuries if your boots are not properly fitted or inadequate. Thus, it becomes imperative to invest in work boots of exceptional quality that prioritize arch support.
As the result of thorough research, our esteemed editorial team has decided to recommend Thorogood Steel Toe Work Boots. Designed with premium materials, these boots offer unparalleled arch support, making them suitable for demanding work environments. These shoes are not only highly durable and secure but also comfortable and slip-resistant.
For those seeking an economically viable option, the Keen Detroit Waterproof Boot proves to be an outstanding selection. Despite its budget-friendly nature, this footwear marvelously caters to arch support needs while offering commendable comfort and protection.
Choose wisely, and let your work boots with arch support become your trusted companions, ensuring both your job satisfaction and physical well-being.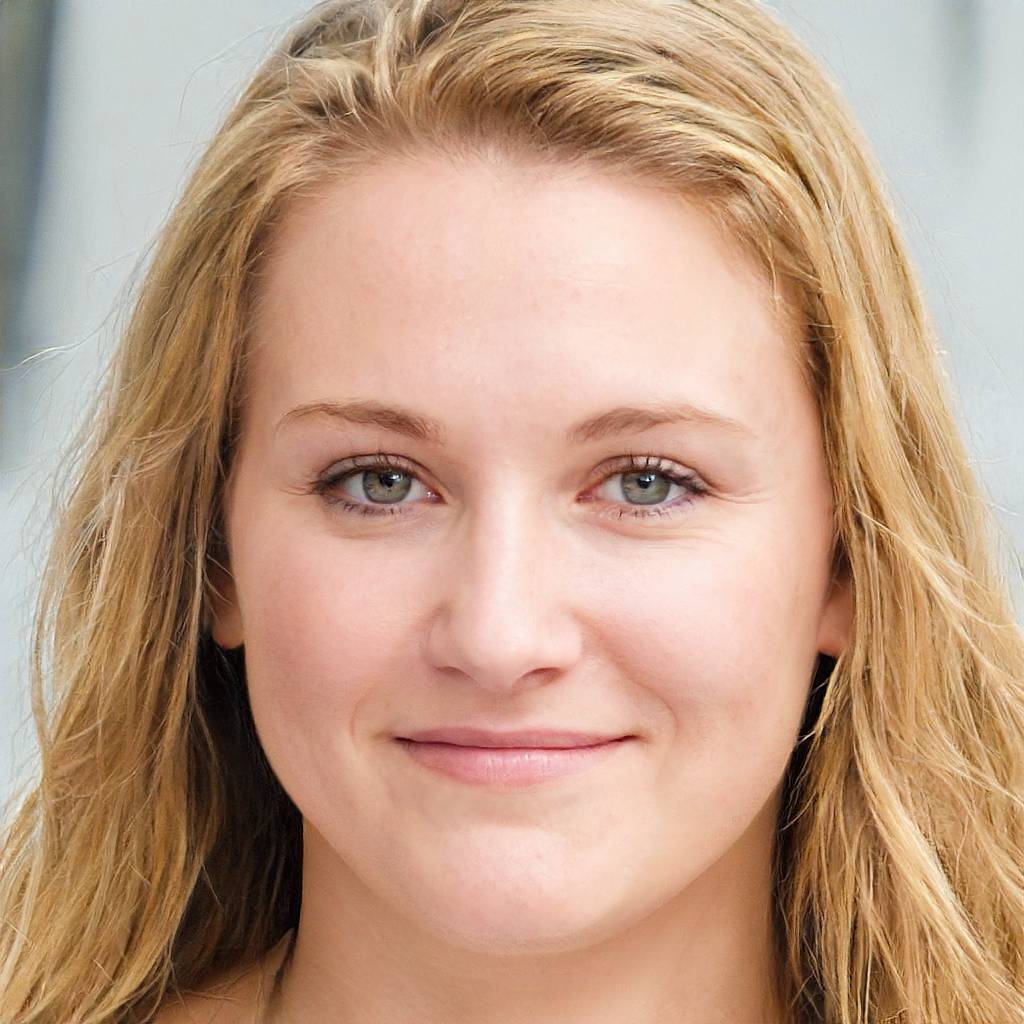 Sarah is the brains behind BootsNerd. Sarah Jaffe is a writer, editor, and boots lover based in Brooklyn, New York. She has done BA (Hons) in Footwear Design from De Montfort University, UK. She loves to write about boots and has a particular interest in vintage and sustainable fashion.