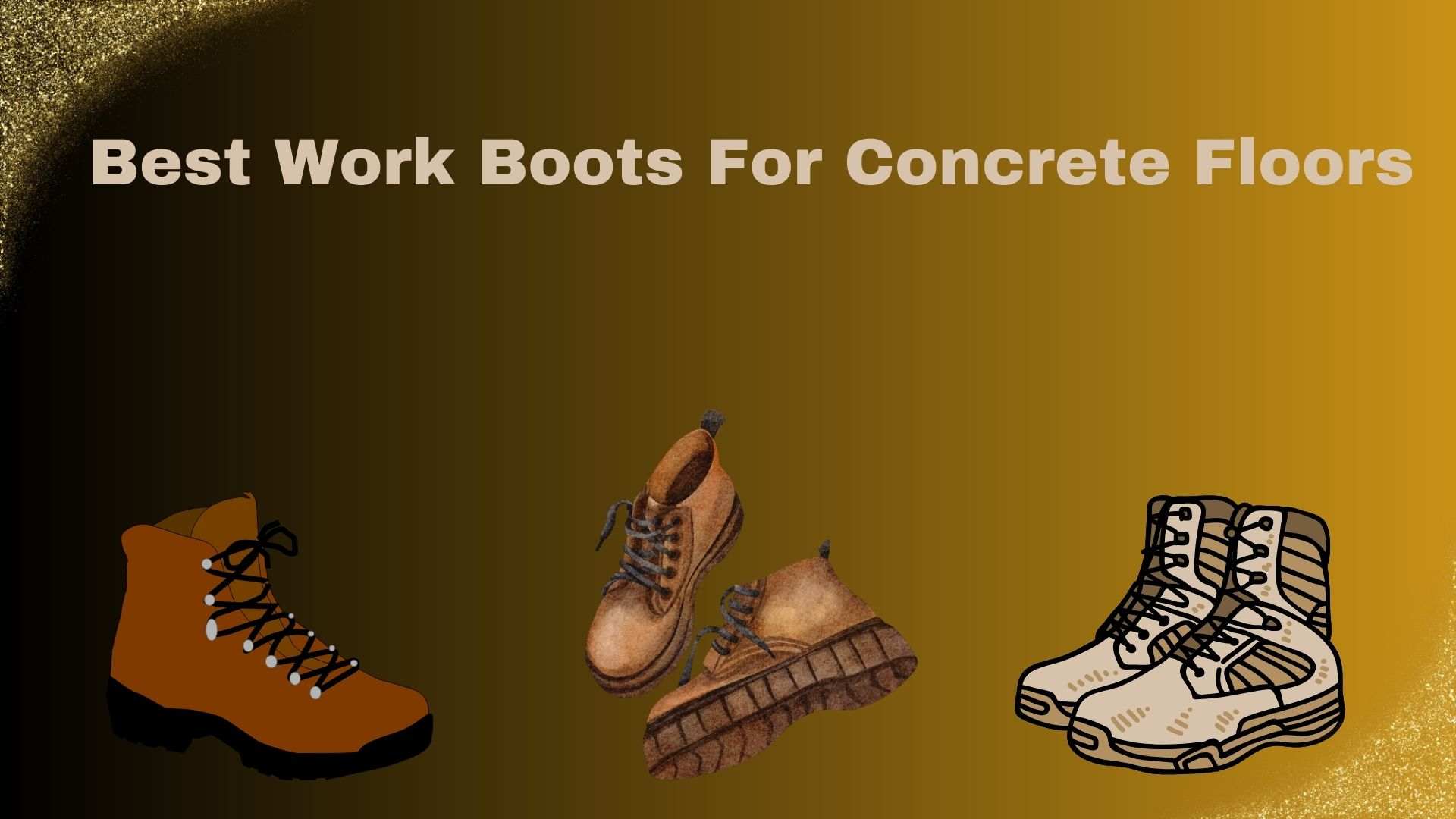 If you're someone who spends long hours on concrete floors, you know the importance of having the right pair of work boots. But what if we told you that not all work boots are created equal?
In fact, some can make your feet ache and leave you feeling exhausted at the end of the day. Hence don't settle for low-quality boots that compromise your comfort and productivity.
Keeping all that in mind we've done the research and testing to bring you the best work boots for concrete floors. Whether you need steel-toed, slip-resistant, or waterproof boots, we've got you covered.
List of The Best Work Boots For Concrete Floors
1. Carhartt CMW6096 – Best Overall Work Boots for Concrete Floors
2. Caterpillar P89586 Steel Toe – Best Men's work boots for concrete floors
3. WOLVERINE W02421 Raider-M – Most comfortable work boots for concrete
4. Timberland PRO Titan – Best Women's work boots for concrete floors
5. Keen Utility 1009173 Milwaukee – Best Work Boots For Standing on Concrete All Day
Best Work Boots For Concrete Floors – Tested And Comparison!
Here are our top recommended products:
1. Carhartt Cmw6096 Work Boot (Editor's Choice)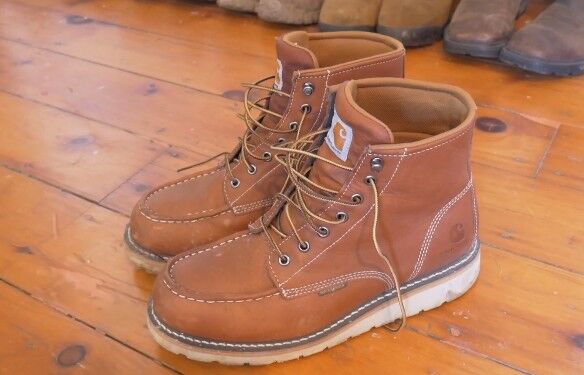 Carhartt CMW6096 is equipped with an EVA midsole to offer a phenomenal cushioning experience and top-notch shock absorption. Whether you're walking or standing on cold concrete floors for hours on end, the EVA midsole has got your back. It's specially designed to alleviate foot fatigue and provide you with a comfortable experience throughout the day.
One of the standout features of this gadget is its slip-resistant outsole. The specially designed rubber outsole offers superior traction on concrete surfaces, reducing the risk of slips and falls. The multi-directional tread pattern provides reliable grip and stability, even in wet or oily conditions. This thing is crucial for workers who frequently navigate concrete floors where traction is essential to maintain safety and productivity.
In addition to that, it is crafted from high-quality, oil-tanned leather, known for its strength and resistance to wear and tear. The leather upper provides excellent protection against abrasions and impacts, making it ideal for demanding work environments.
Besides that, it has a polyurethane insole to provide superior comfort and support for your feet, making it an ideal choice for those who spend long hours on their feet. This can help to prevent foot fatigue and discomfort, allowing you to stay focused and productive throughout the day.
Concrete work can involve exposure to wet conditions, which is where the Carhartt CMW6096 shines. The boot has a waterproof membrane that keeps the feet dry and protected, even in challenging weather conditions or when working with liquids. This design enhances the durability of the shoe and prevents discomfort caused by moisture seepage.
2. Caterpillar P89586 Work Boots (Best In The Low Budget)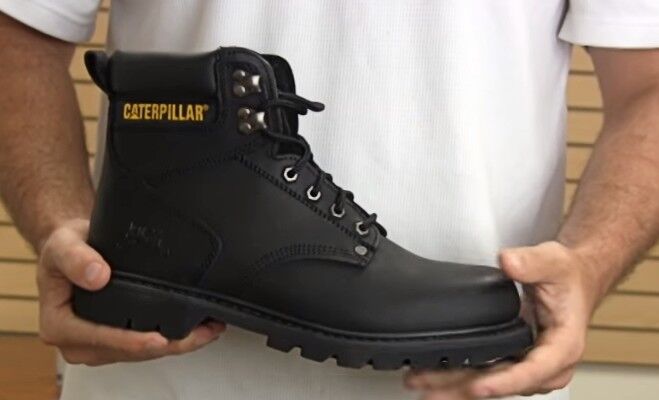 Starting with the outsole, Caterpillar P89586 features a high-quality rubber sole that offers exceptional slip resistance on concrete surfaces. The sole is designed to provide maximum traction and stability, reducing the risk of slips and falls in the workplace. Additionally, it is resistant to oils and other common workplace substances, ensuring a secure footing even in challenging environments.
You will like that it boasts a Goodyear welt construction to provide exceptional strength and stability, making it capable of withstanding the rigors of daily use on concrete floors. This construction method also allows for easy resoling, prolonging the overall lifespan of the boot.
Moving up, it is made from premium grain leather, known for its durability and durability. This durable leather enhances the overall longevity of the shoe. It also creates excellent protection from abrasion and shock hazards which are common in heavy concrete work areas.
Additionally, it incorporates steel toe pads which are an important safety feature for workers in the industrial sector. This helmet ensures reliable protection from pressure and impact injuries. In addition, it reduces the risk of accidental impacts or heavy objects falling on your ankles when working on concrete surfaces.
Caterpillar P89586 has 6 inches Shaft that gives a shield of protection to the ankle, a vulnerable area prone to injury and strain during physically demanding work. It stands tall, ensuring a snug fit around the ankle, and fends off pesky particles such as dirt and debris from entering the boot. This ensures your feet stay clean and comfortable, making it the perfect sidekick for the workday.
3. Wolverine W02421 Raider-M Work Boot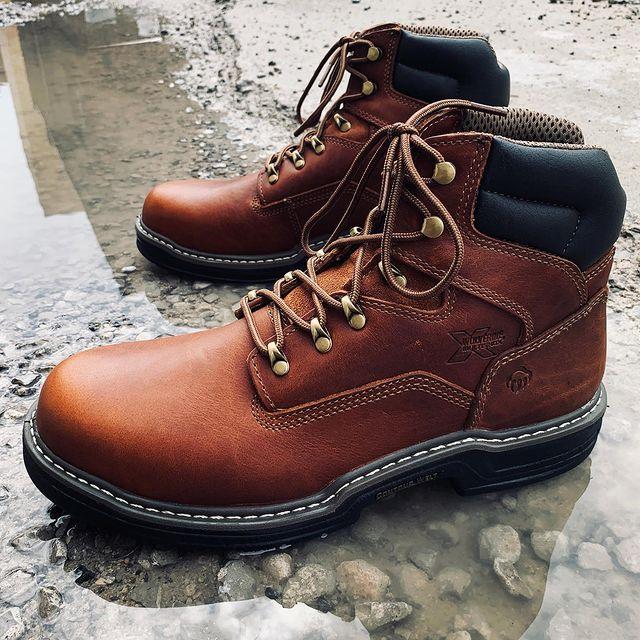 WOLVERINE W02421 gives you the flexibility of two safety-toe options: steel toe and soft toe. The steel toe variant provides an extra layer of protection against heavy falling objects, effectively safeguarding the toes from potential injuries. On the other hand, the soft toe option delivers a lightweight and more comfortable alternative for individuals not requiring the enhanced protection of steel toe caps.
Another great thing about this shoe is that it is built with a premium full-grain leather upper that guarantees excellent durability and resistance to wear and tear. The leather material is known for its ability to withstand the rigors of tough working environments, ensuring long-lasting performance.
Furthermore, it possesses a patented multi-shock system, complemented by a comfort gel footbed. This combination effectively absorbs and disperses shock, reducing fatigue and minimizing the impact on the feet and lower limbs. The arch area is specifically designed to enhance flexibility, facilitating natural movement and reducing strain during prolonged use.
In terms of breathability, this shoe is constructed with a highly advanced moisture-wicking lining. It keeps your feet dry and content by whisking away unwanted moisture and thwarting excessive sweating. Hence, whether you're working long hours or working in hot conditions, these boots are a true lifesaver.
Unique to the WOLVERINE W02421 is the pressure pads located in the foot and heel areas. These strategic placements ensure that the parts of the footwear that hit the ground are cushioned, providing an additional layer of comfort and minimizing the impact on the wearer's feet. This design further contributes to fatigue reduction and overall foot well-being, enhancing the work experience on concrete floors.
4. Timberland Pro Titan Work Boots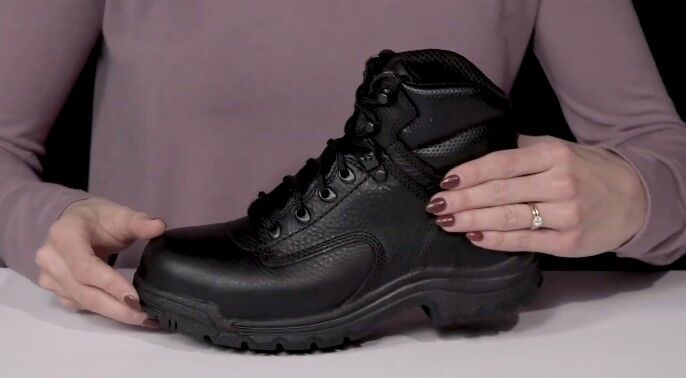 Timberland PRO Titan is constructed using premium full-grain leather, ensuring exceptional durability and longevity. This material not only withstands the harsh conditions typically encountered in concrete work environments but also provides excellent resistance against abrasions and wear, ensuring the boots maintain their integrity over time.
We love its lightweight TITAN alloy safety toe cap that protects against impacts and compression hazards. The advanced alloy material ensures reliable protection while minimizing the weight burden on the wearer, reducing fatigue during long work hours. The safety toe cap conforms to industry standards, meeting ASTM requirements for safety footwear.
What's more, it is equipped with electrical hazard protection to safeguard workers in environments with electrical hazards. The shoe meets stringent safety standards, providing a secondary level of protection against accidental contact with live electrical circuits. This thing is particularly crucial for workers who operate in construction sites or industrial settings with potential electrical risks.
The PowerFit comfort system integrated into the footwear promotes excellent foot support and fatigue reduction. This innovative mechanism has ergonomic design elements, including arch support and cushioning, promoting proper alignment and reducing strain on the feet and lower body. Plus, it enables workers to remain comfortable and supported throughout extended periods of wear.
Timberland PRO Titan comes with a waterproof membrane that shields the wearer's feet from moisture and wetness effectively. Regardless of rain, puddles, or other liquids, this membrane serves as a dependable barrier, ensuring dryness and comfort all day long. This characteristic is especially advantageous for outdoor professionals or those who work in environments that are susceptible to wet conditions.
5. Keen Utility 1009173 Milwaukee Work Boots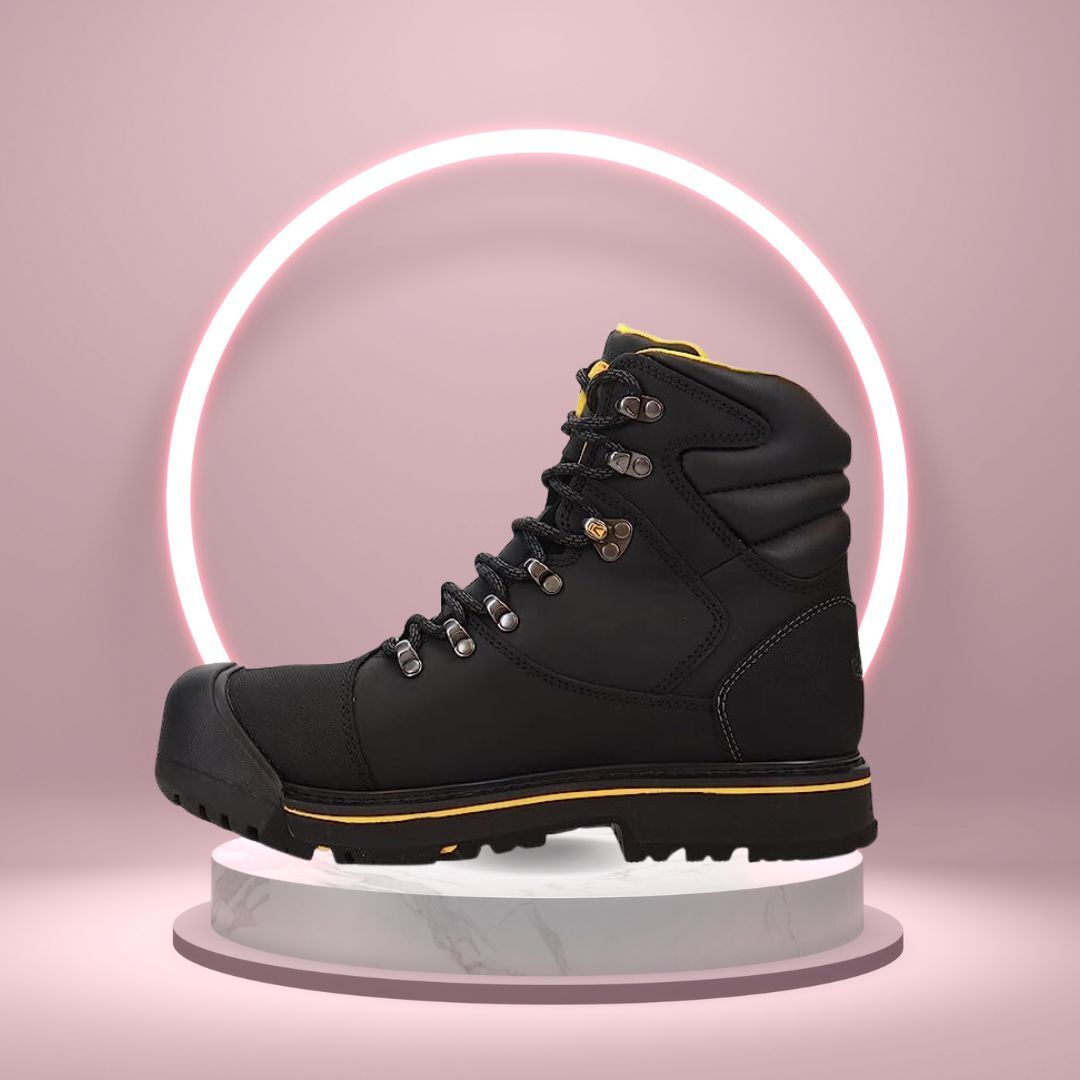 Keen Utility 1009173 utilizes a waterproof leather upper that not only protects against moisture but also enhances the overall longevity of the boot. The use of waterproof leather ensures that your feet stay dry even in wet conditions, providing excellent comfort throughout the day.
To elevate its ability to resist water, the inclusion of Keen Dry membrane technology is incorporated. This cutting-edge membrane functions by effectively obstructing the infiltration of external moisture into the boot, while simultaneously permitting the escape of moisture vapor. Consequently, this ensures that your feet remain comfortably dry as the membrane prevents the penetration of water without compromising on breathability.
When it comes to selecting a work boot suitable for standing on concrete, one crucial factor to consider is the level of protection it provides. These shoes proudly feature a steel toe cap, which serves as a reliable safeguard against impacts and compressions. With this protective feature, your feet are shielded from potential workplace hazards, granting you peace of mind and significantly reducing the risk of injuries.
Moreover, it boasts a moisture-wicking lining with multiple benefits. Not only does it keep your feet dry and comfortable in hot or humid conditions by effectively drawing moisture away from your skin and evaporating it, but it also prevents the growth of bacteria and fungi within the boot. This design helps maintain the overall cleanliness and hygiene of the footwear.
For additional support and customization, the Keen Utility Milwaukee is designed with a removable footbed. This design permits you to replace the footbed with a more specialized orthotic if desired, catering to individual foot requirements and providing personalized comfort. The removable footbed also adds an extra layer of cushioning, further enhancing the overall comfort provided by the shoe.
Things To Consider When Buying The Best Work Boots For Concrete Floors
To ensure safety and comfort while working on concrete floors, selecting the appropriate work shoes is imperative. Here are some key factors to keep in mind when purchasing the best work boots for concrete floors:
1. Slip-Resistant Outsoles
When it comes to selecting the right work boots for concrete floors, slip-resistant outsoles should be at the top of your priority list. The reason for this is simple – concrete floors tend to be hard and unforgiving, which means that they can be particularly slippery, especially when wet.
This can pose a significant safety risk for workers, particularly those who are required to move around frequently or work in areas with high levels of foot traffic
There are several types of slip-resistant outsoles available for work boots. The most common types include:
1. Rubber Outsoles: Rubber is one of the most popular materials used for slip-resistant outsoles, thanks to its excellent grip and durability. They are also resistant to oil and chemicals, making them ideal for use in industrial settings.
2. TPU Outsoles: Thermoplastic polyurethane (TPU) outsoles are resistant to abrasion, oil, and chemicals, ensuring long-lasting performance and reliability.
3. Lug Outsoles: Lug outsoles are characterized by deep, aggressive tread patterns with thick lugs or lugs with sharp edges. They are highly effective in providing traction on rough or uneven concrete surfaces.
4. Polyurethane (PU) Outsoles: PU outsoles are lightweight and flexible, making them ideal for jobs that require a lot of movement. Additionally, they provide excellent traction on a range of surfaces, including wet and oily floors.
2. Astm-Compliance
Concrete floors can be slippery, and workers may encounter hazards such as falling objects or sharp debris. ASTM-compliant work boots are designed to provide adequate protection against these risks.
Hence look for footwear that has reinforced toe caps (ASTM F2412-18a), which protect the feet from impact and compression. Additionally, they may have electrical hazard protection (ASTM F2413-18 EH), and puncture resistance (ASTM F2413-18 PR) to prevent sharp objects from penetrating through the sole and injuring the wearer.
3. High Heel And Top Tie Up
Another often overlooked aspect is the height of the boot and whether it features a tie-up at the top. High heels and tie-up at-the-top work boots are designed to provide support, comfort, and stability on concrete floors.
The high heel design helps to distribute the weight of your body evenly across your feet, reducing the pressure on your feet and lower back. The high heel also helps to create a more natural walking motion, reducing fatigue and strain on your legs.
4. Breathable Upper
Another key factor to keep in mind is breathability. Breathable upper materials can help to keep your feet cool and dry throughout the workday, which can be especially important if you work in a hot or humid environment.
1. Full-grain leather: It is known for its enduring nature and ability to let air pass through, and is a favored option for work boots. By promoting proper airflow, it effectively regulates heat and moisture levels, ensuring excessive build-up is avoided.
2. Mesh: Mesh is a lightweight and airy fabric, that is widely utilized in the construction of work boot uppers to maximize ventilation. It facilitates a substantial influx of fresh air, aiding in moisture control. However, to bolster its longevity, pure mesh compositions are often reinforced with leather or synthetic overlays, thereby augmenting their strength.
3. Suede: Possessing a plush, velvety texture, suede is a variety of leather that, although not as breathable as mesh or synthetic materials, permits some degree of air circulation.
4. Gore-Tex: This breathable membrane is best when working in damp or wet conditions, preventing moisture from entering work boot uppers while letting it escape. Its waterproof properties make it an optimal choice for maintaining dryness and comfort in such environments.
FAQs
How do you keep your feet from hurting when standing on concrete?
Wearing work boots for a long time can cause discomfort and pain when standing on concrete. To alleviate this, you can invest in work boots that have cushioned insoles designed for reducing foot fatigue. Furthermore, wearing compression socks can help improve blood circulation and reduce swelling in the feet and lower legs. Taking frequent breaks to rest your feet and doing foot stretches can also help reduce discomfort.
What size concrete boots do I need?
The size of work boots you need for working on concrete depends on your foot measurements. To ensure you have the right size, it is recommended that you measure your feet and refer to the manufacturer's sizing chart. Plus certain shoes are categorized as "true size," while others may recommend sizing up or down by half or even a full size, so keep that in mind as well. Moreover consider factors like sock thickness and orthotic inserts.
Are wedge sole boots good for concrete?
The size of work boots you need for working on concrete depends on your foot measurements. To ensure you have the right size, it is recommended that you measure your feet and refer to the manufacturer's sizing chart. Plus certain shoes are categorized as "true size," while others may recommend sizing up or down by half or even a full size, so keep that in mind as well. Moreover consider factors like sock thickness and orthotic inserts.
Final Verdict
To sum it up, after careful consideration and review, one boot stood head and shoulders above the rest – the Carhartt CMW6096. This exceptional shoe boasts an EVA midsole, rubber outsole, and a waterproof membrane that will keep your feet bone-dry in even the dampest of conditions.
However, for those of you watching your wallet, fear not! The Caterpillar P89586 is a budget-friendly option that won't let you down. It has Goodyear welt construction, full-grain leather, and a steel toe cap to keep your feet protected from any potential hazards.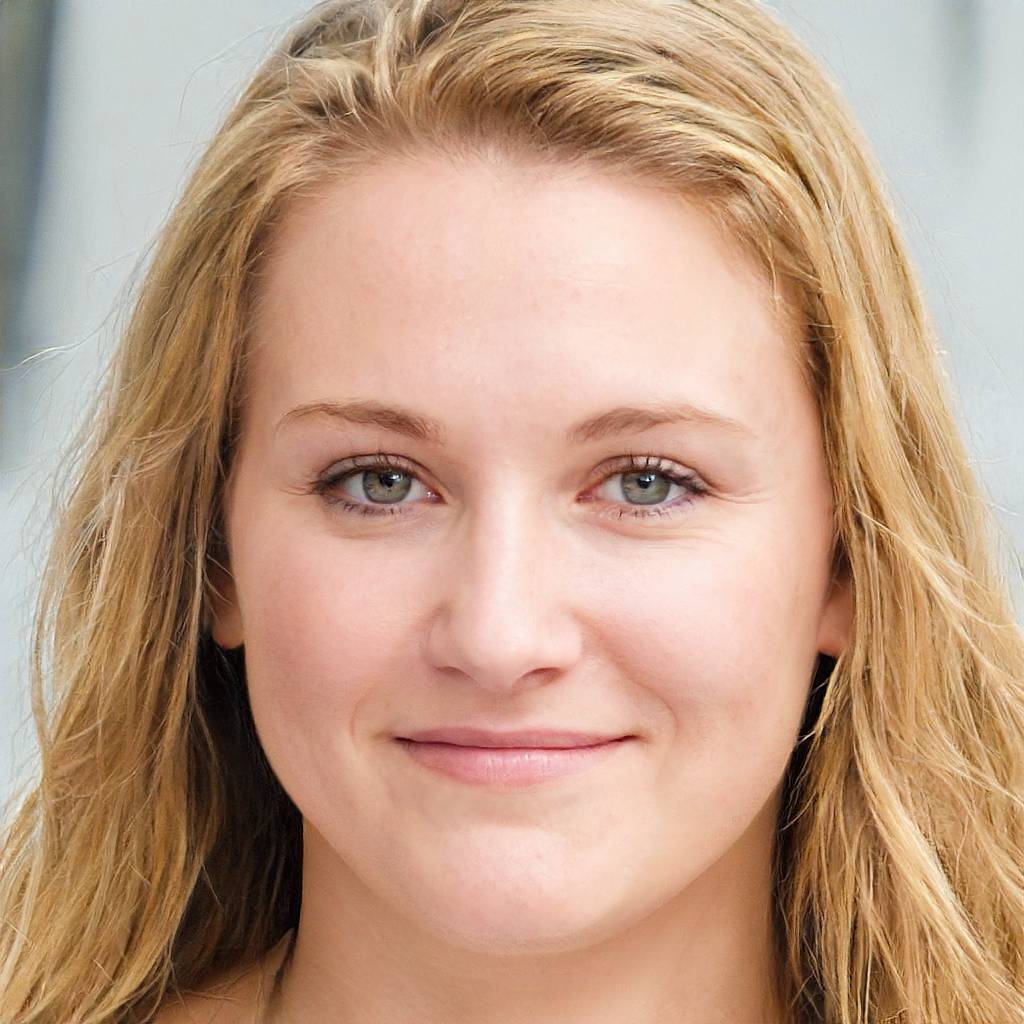 Sarah is the brains behind BootsNerd. Sarah Jaffe is a writer, editor, and boots lover based in Brooklyn, New York. She has done BA (Hons) in Footwear Design from De Montfort University, UK. She loves to write about boots and has a particular interest in vintage and sustainable fashion.