Last Updated on July 3, 2023 by Sarah Jaffe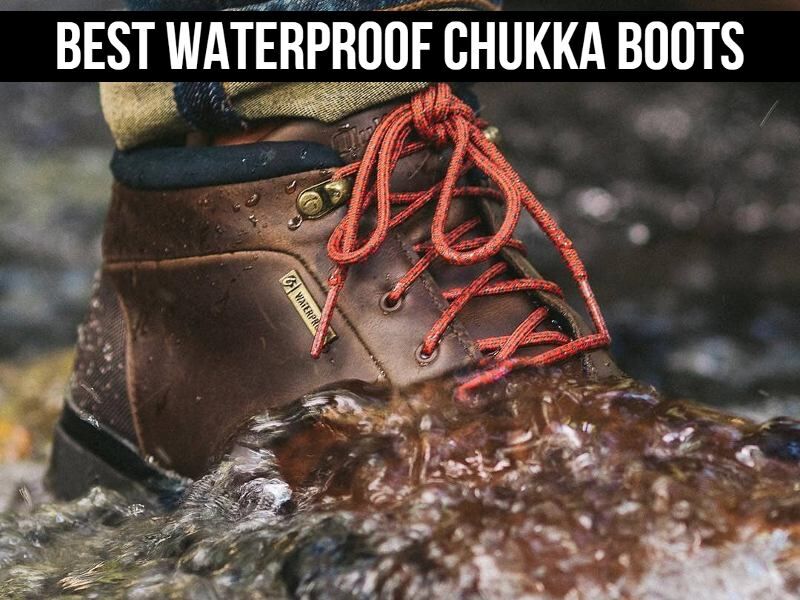 Chukka boots are a timeless fashion staple that never seems to go out of style. They look good with almost any outfit, whether it's a casual look or something more formal. Plus, they can be worn in a variety of weather conditions. But if you're looking for boots that will stand up to rain and mud, you'll need to find a pair of waterproof chukka boots.
Chukka Boots that are waterproof are made from water-resistant materials such as leather, suede, rubber, or synthetic materials. The stitching on the boots is also a key factor in making the boots watertight. The seams are sealed to prevent water from seeping through, and the lacing is designed to be tight enough to keep water out. Additionally, some chukka boots feature a moisture-wicking membrane lining, which helps keep your feet dry and comfortable.
Best Waterproof Chukka Boots – Reviewed by Expert!
If you're looking for a reliable pair of waterproof chukka boots, you're in the right place. In this section, we'll review the best waterproof chukka boots on the market, so you can make an informed decision when choosing your next pair. We'll discuss the features, benefits, and drawbacks of each boot, so you can find the perfect pair for your needs. So, let's get started!
1. Rockport chukka boots – Mens (Best in the Low Budget)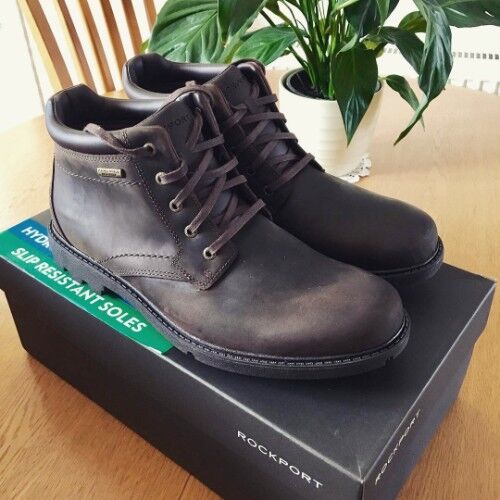 Key Specifications
Sole Material
Synthetic
Shaft Height
5 Inches
Construction
Hydro-Shield waterproof
Outsoles
Slip-resistant rubber
For a boot that looks ready for action from day one, the Rockport boots are a must-have. Crafted to last and designed with performance in mind, this boot will give you the confidence to take on any adventure, wearing something that feels broken in from the start.
We love that these boots are manufactured from TruTech technology that provides superior cushioning, support, and shock absorption. The cushioning helps to reduce fatigue and the shock absorption helps to protect the feet from the impact of walking on hard surfaces. The support also helps to keep the feet firmly in place, allowing for better stability and balance.
Moreover, these boots possess a secret weapon: an EVA heel cup! Not only does it provide a stabilizing grip, but it also helps to prevent weariness, even when standing or walking for extended periods. This heel cup also works to evenly distribute the weight of your foot, which can reduce the odds of a heel or ankle injury by giving you more assistance and softening.
Besides that, the footbed of this item can be removed and replaced with a new one to create a truly customized experience for the wearer. Too, having the ability to swap out the footbed can help ensure a longer life for the boots, as they can be given a fresh start if needed.
Rockport shoes are perfectly crafted to provide comfort and breathability with their Textile lining. This lining works to ensure your feet stay dry, warm, and comfy by wicking away any moisture and stopping sweat from accumulating. You don't have to worry about wet conditions, as it also helps keep water and dirt out.
2. Chooka chukka boots – Best For Womens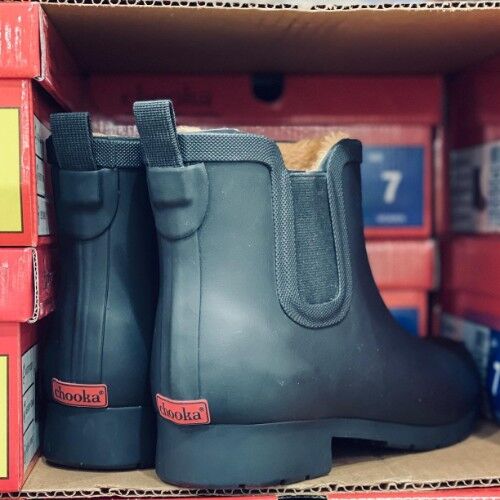 Key Specifications
Shaft Circumference
11.5 Inches
Lining
Moisture-absorbent plush
Outsole
Rubber outsole with traction
Height
Approx 5.5 inch
Chooka waterproof boots have a moisture-absorbent plush lining that helps to provide the perfect environment for your feet. This lining works to keep your feet dry, even in wet weather and offers superior cushioning and support for all-day comfort. It also helps to reduce the risk of slipping and blisters, so you can feel secure and safe even in the wettest and coldest conditions.
You will like its memory foam insoles that provide the ideal balance of support and flexibility. With their ability to absorb shock and reduce pressure points, you can look forward to minimized foot fatigue and pain. Plus, these insoles help keep feet cool and dry as they wick away moisture and regulate temperature.
Furthermore, these boots have a height of 5.5-inch which provides a number of benefits to the wearer. Firstly, the elevated height provides extra support and stability to the user's feet, helping to prevent injury or fatigue. Additionally, the added height also helps to keep the wearer's feet dry, as the top of the boot reaches higher and is more likely to keep the water out.
Chooka's arch support is like a protective muffle for your feet, delivering superior stability and balance throughout your daily activities. With the balanced pressure distribution, it helps to alleviate tension and reduce the risk of developing common foot issues. As a bonus, it also helps to improve your posture, reducing the chance of developing back pain and discomfort.
3. To Boot New York (Best Overall)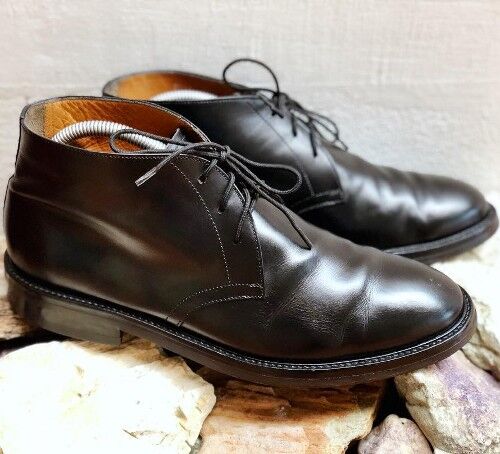 Key Specifications
| | |
| --- | --- |
| insole | Padded |
| Height | 7-inch Shaft |
| Heel counter | Reinforced |
Walker waterproof chukka boot from "To Boot New York" brings you footwear made with a smooth leather upper that's not only water-resistant but also helps to wick away moisture, so your feet can remain dry and pleasant throughout the day. This luxurious leather also provides enhanced durability and breathability, not to mention a timeless, stylish look that can be paired with any ensemble.
One of the best features of this unit is its non-slip midsole that delivers superior traction on slippery surfaces, helping to reduce the risk of slips and falls. The midsole also provides cushioning and shock absorption, making it more comfortable to walk in the boots. Plus it helps to maintain the shape of the boots, so they won't stretch out over time.
Another great thing about these shoes is that they are your ideal companion for any outdoor activity or wet weather occasion. With their lace-up vamp, you can make sure you have the perfect fit and ankle support, so your feet stay comfortable and secure. The adjustable laces allow you to get the exact fit you want and make sure the boots stay in place, no matter what you're up to.
To Boot New York offers extra-tractional peace of mind on wet and slippery surfaces through its rubber lug outsole. The lugs on the exterior provide increased grip and stability, while the rubber lug outsole adds an extra layer of cushioning to absorb shocks and reduce foot fatigue.
4. Timberland Men's Chukka Boots
Key Specifications
| | |
| --- | --- |
| Shaft Height | Ankle |
| Shaft Circumference | 12 |
| Better Leather | Waste management practices |
| Lining | ReBOTL fabric |
With a shaft circumference of 12, Timberland chukka boots give you a snug fit that keeps water out and feet dry. Not only that, but the secure fit provides extra support and stability, warding off any potential blisters or friction-related discomforts. Plus, the increased circumference gives the boots a secure and stylish appeal, providing a further boost of confidence.
We were absolutely astounded by the advanced OrthoLite footbed, which is crafted to contour to the shape of your foot for the highest level of comfort and stability. Plus, the moisture-wicking and antimicrobial elements will keep your feet cool, dry, and fresh during long days on your feet. Not only that, but this innovative technology also aids in reducing foot fatigue, shock absorption, and arch support, as well as deodorizing and promoting a healthier foot environment.
In addition to that, it has a Gripstick rubber outsole that gives a secure grip, so you can step out confidently whether the surface is wet or slick. With its flexible and cushioned design, you'll be able to walk farther and longer with less stress on your feet and ankles. And, you won't have to worry about dirt and mud sticking in the treads thanks to the self-cleaning lugs.
Timberland's L7 multi-directional lug outsole has been engineered to conquer even the most arduous of conditions. Its unique tread pattern ensures a dependable grip, so you can confidently tackle any terrain. Plus, its deep lugs are designed to help expel water and mud, keeping you sure-footed in wet and muddy conditions. Now, you can stay on your feet no matter the terrain.
5. ECCO Men's Chukka Boots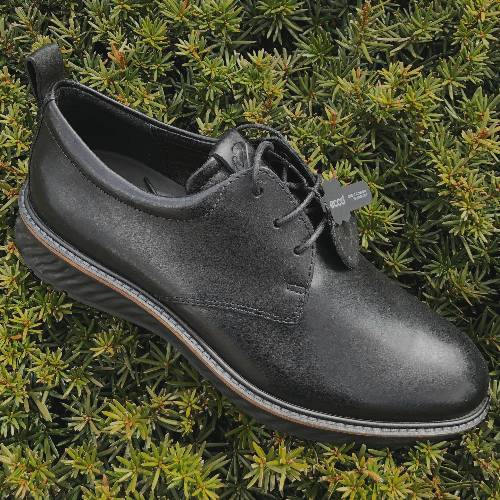 Key Specifications
| | |
| --- | --- |
| Shaft Circumference | 10 Inches |
| Midsole | Soft ECCO PHORENE |
| GORE-TEX | 100% waterproof technology |
| Leather insole | Luxe feel and breathability |
ECCO gore tex chukka boots stand out from the rest, with its revolutionary Phorene midsole. Light and breathable, you can wear it all day without worry. Plus, this shock-absorbing material reduces the impact of every step, safeguarding your joints. Not to mention, this midsole helps to evenly distribute your weight, offering greater stability and guarding you against injury.
Let us tell you more about Phorene. No matter the temperature, this substance is designed to provide superior comfort. Whether you're basking in the desert heat or braving a deep freeze, this substance is designed to deliver climate-blind performance and maintain its softness for step-in comfort. Proven by its extreme durability, it has been rigorously tested to last through temperatures of -40C, now that's true comfort.
This purchase is sure to please even the pickiest of customers. With its full-grain or nubuck leather construction, you can trust that it will stand up to wear and tear for years to come. Not only is it highly durable, but it offers natural weatherproofing to keep your feet dry and comfortable in all kinds of weather.
Furthermore, ECCO chukka boots offer a snug fit of 10 around the shaft, shutting out water and keeping your feet dry. The secure fit not only provides additional stability, but also guards against any potential blisters or irritation. And, not only do these boots keep your feet feeling safe and secure, but their increased circumference also adds a stylish edge that will give you a boost of confidence.
Guide For Buying Waterproof Chukka Boots
Are you tired of buying waterproof chukka boots that don't last? Are you looking for a pair that fits perfectly and stands the test of time? Look no further! Here are the key features to consider when picking out your perfect pair. Make sure you get the perfect fit and a pair that will stay waterproof for years to come.
Waterproofing
Whether you're out on the trail or in your backyard, the first step in ensuring comfort and dry feet is to look for the right pair of boots with a waterproof rating that meets or exceeds your needs. This rating is typically given in millimeters and indicates the level of protection against water penetration. For instance, if a pair of boots are rated for up to 20mm of pressure, then it is safe to assume that it can withstand up to 600g/m of water pressure.
Leather Type
When it comes to choosing the ideal leather for your waterproof chukka boots, you have three main options: full-grain, aniline, and oil-tanned leather. Full-grain is crafted from one continuous piece, making it extremely durable and aging nicely with time, as its natural oils can be replenished.
Aniline hides are dyed in the tanning process, retaining all their natural markings and with a very light coat applied for lovely coloration. Lastly, oil-tanned leathers are the most water-resistant as they have been treated with oils and natural fats that form a protective barrier. With these three options in mind, you can find the perfect material for your boots.
Outsole
When looking for a quality chukka boot, pay attention to the rubber outsole. It should be durable and slip-resistant and attached to the upper with Goodyear Welt construction or another type of high-quality stitching. Poorly-made shoes will often have uneven stitches or glue stains that can lead to water seepage.
For higher-end boots, those crafted by reliable manufacturers, consider those with Blake/Rapid construction. This method is 25% faster than traditional stitching, plus it offers more precise control over material thickness around the tongue and vamp.
Sizing
When it comes to size, it's essential to get it just right. Chukka boots come in a variety of widths, so you can find something that's perfect for your feet. To make sure you get the right size, try standing against a wall with a book placed between your longest toes. Measure from the top of the book to the floor along the inner edge of each toe, so that's your size.
Another way to measure your feet is to use a ruler, start at the heel and measure the length in either inches or centimeters. Whichever way you decide to go, always double-check the size before you buy as sizes can vary by brand and style.
Gusseted Tongue
Gusseted tongues are important to consider when buying waterproof chukka boots because they help to keep water from entering the boots. The gusseted tongue is a fabric panel that is connected to the tongue of the boot and is designed to cover the gap between the tongue and laces, which helps to keep water out.
They can also provide added comfort and support to the foot, as they help to evenly distribute pressure when the boots are tied or laced. Additionally, gusseted tongues can help to keep dirt and debris out of the boots, which can help to extend the life of the boots.
Final Verdict
Out of the boots we've reviewed, the To Boot New York Waterproof Chukka Boots are the best overall with their smooth leather upper and non-slip rubber sole. For a low-budget option, the Rockport Men's Rugged Bucks is the ideal choice for a waterproof and stylish boot. With any of the above options, you'll be able to enjoy your Chukka boots for a long time, even in wet weather.
A great pair of waterproof chukka boots can provide protection for your feet in any kind of weather and can last for years. We hope that this article has helped you to decide which the best waterproof chukka boots are for you. With the right pair of boots, you can keep your feet safe and dry, allowing you to enjoy your time outdoors no matter what Mother Nature throws at you.
Thank you for reading!
FAQs
How do I clean Waterproof chukka boots?
To clean waterproof chukka boots, first use a soft brush or damp cloth to gently brush away any dirt or debris that has collected on the surface of the boot. Then, apply a small amount of waterproofing product designed specifically for leather boots onto a clean cloth and wipe down the entire boot. Allow the product to dry and then apply a protective conditioner to the leather. Finally, use a clean cloth to buff the boots to a shine.
Can you wear waterproof chukka boots in summer?
Yes, you can wear waterproof chukka boots in summer. Chukka boots are usually lightweight and breathable, making them a great choice for summer wear. They also provide an extra layer of protection against moisture, which can be a problem during the summer months.
Are waterproof chukka boots good for working?
Waterproof chukka boots may be good for working depending on the type of work being done. If the job requires standing in water, then waterproof chukka boots would be ideal. However, if the work involves being active or requires the use of specific tools, then waterproof chukka boots may not be suitable. Waterproof chukka boots are designed to be lightweight, comfortable, and breathable, which makes them ideal for general outdoor activities, but not necessarily for active work.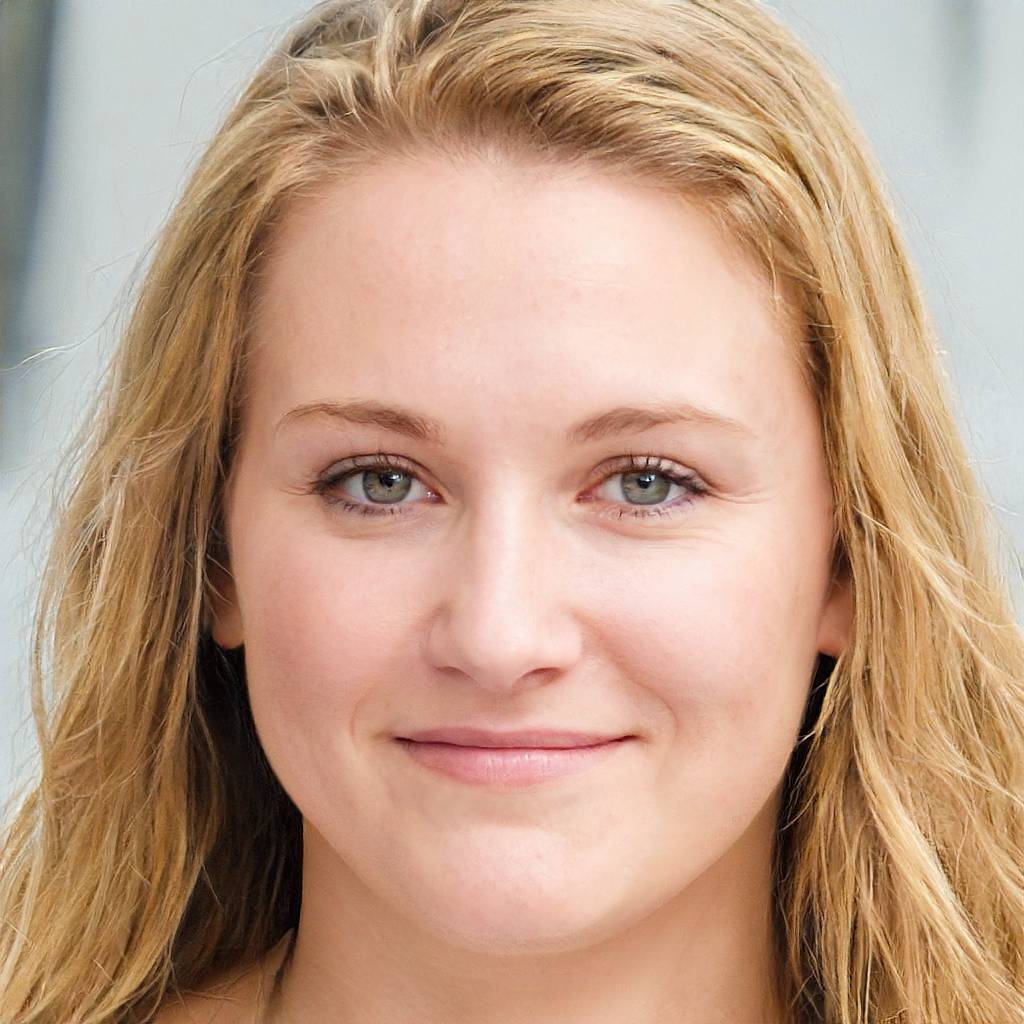 Sarah is the brains behind BootsNerd. Sarah Jaffe is a writer, editor, and boots lover based in Brooklyn, New York. She has done BA (Hons) in Footwear Design from De Montfort University, UK. She loves to write about boots and has a particular interest in vintage and sustainable fashion.