Last Updated on January 18, 2023 by Sarah Jaffe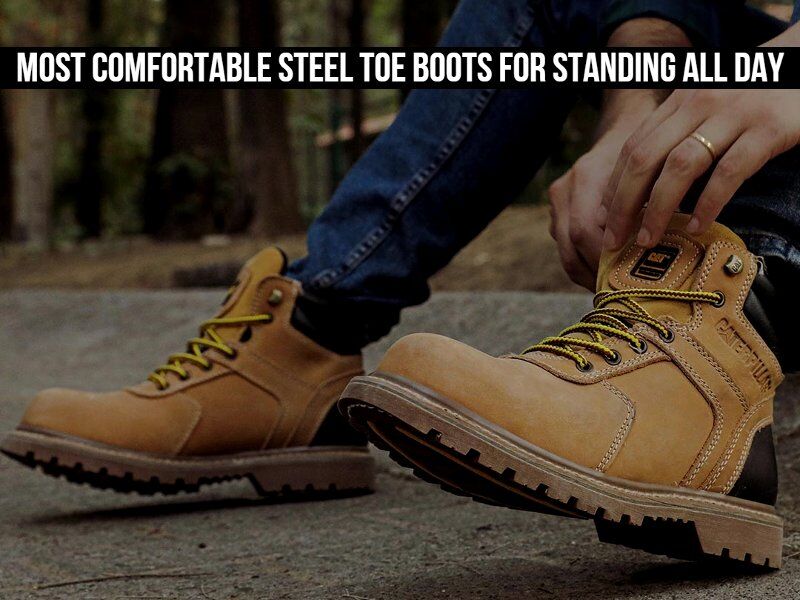 If you're looking for comfort on the job, you know that standing all day can be a real challenge. You're on your feet for hours at a time, and your feet take a beating. You need support and cushioning that keeps you comfortable throughout the day. What you need are the most comfortable steel-toe boots for standing all day.
Steel-toe boots are essential when it comes to protecting your feet from hard, heavy objects and hazardous materials. But not all steel-toe boots are created equal. You need a pair of boots that not only keep your feet safe but also provide the softening and shielding you need for long days on your feet. The best steel-toe boots for standing all day offer superior comfort, arch support, and shock absorption. They also have a lightweight design that won't weigh you down.
List of 5 Most Comfortable Steel Toe Boots for Standing All Day
Most Comfortable Steel Toe Boots for Standing All Day – Reviewed!
A pair of steel-toe boots provide the necessary protection from workplace hazards and can also be surprisingly comfortable, allowing you to stand for hours without feeling any foot pain or discomfort. But with so many steel-toe boots on the market, which ones are cozy and suitable for your needs? We've done the research, so you don't have to. Keep reading to find out the 5 most plush steel-toe boots for standing all day.
1. Caterpillar women's Mae Steel Toe Boots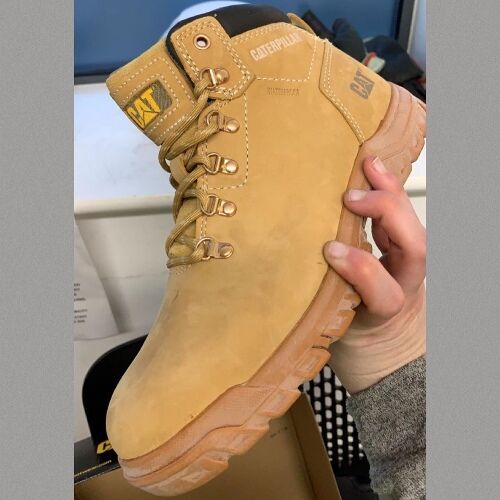 Key Specifications:
| | |
| --- | --- |
| Certified | ASTM F2413-18 |
| Protection | Electrical Hazards up to 600 volts |
| Lining and Sock Liner | Nylon Mesh |
| Outsole | T1260 Rubber |
Caterpillar women's Mae shoes employ steel Toe technology that provides an extra layer of armor for your feet so that you can stand tall in hazardous environments. This steel plate is added to the toe of the shoe, acting as a shield from physical impact and compression, helping to reduce discomfort and pain from long-standing. Too, the plate offers firm support and balance, keeping you stable and steady no matter the length of time on your feet.
You will be happy to know that these boots stand tall with a shaft height of 4.75 inches to lend superior ankle support to those on their feet for extended periods. Not only does the extra height of the boot keep the ankle in an upright position, but the cushioning provides shock absorption and improved foot health.
Furthermore, they boast a polyurethane midsole, ensuring a luxurious softness feeling with every step. This midsole, running the entire length of the shoe, absorbs shock and impact to help reduce fatigue and discomfort in the feet, legs, and back. It also provides optimum arch support for the maximum foot and ankle protection.
Caterpillar's EVA footbeds are designed to deliver extra sturdiness and support to your feet while standing. The footbeds help to spread out the pressure from the heel and toe areas, decreasing shock, fatigue, and discomfort. This contoured design supports your arches and enhances stability, so you can avoid slips even when standing for extended periods of time.
2. Caterpillar Men's Diagnostic Steel-Toe Work Boot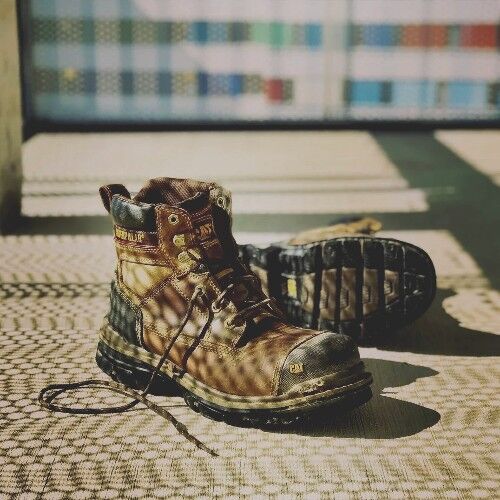 Key Specifications:
| | |
| --- | --- |
| Protective Rubber outsole | Guard against circuits of up to 600 volts |
| Waterproof leather uppers | Provide a protective barrier against oil and water |
| Contrasting Tones | Deflect impacts and abrasions |
| Height | 6 inches |
Go the extra mile with Caterpillar Men's Diagnostic Work Boots. Featuring a removable EVA foam insert with gel technology, these shoes are sure to keep you comfortable and supported. The foam insert will cushion and absorb shock, while the gel technology evenly distributes pressure, reducing fatigue and discomfort.
One of the best things about this item is that it put its foot forward when it comes to insulation. With 200g Thinsulate, you'll get the warmth and comfort of multiple layers of densely packed polyester fibers, trapping air for superior thermal insulation without adding any extra bulk or weight.
Moreover, this unit introduces a lightweight, breathable nylon mesh lining that allows air to flow through. This helps to keep feet cool and comfortable while working, while also blocking out any debris. Too, the abrasion-resistant fabric is tough enough to stand up to wear and tear, providing extra protection for feet.
Caterpillar Men's Diagnostic Work Boot comes with ASTM F2413-18 certified steel toe protection, ensuring you'll be guarded against compression and impact hazards. This steel toe meets the standard for compression resistance, able to withstand up to 75 lbs of force. So, you can be sure you're taking the necessary safety measures in even the toughest, most hazardous working environments.
3. Keen Men's Flint II Mid Work Boot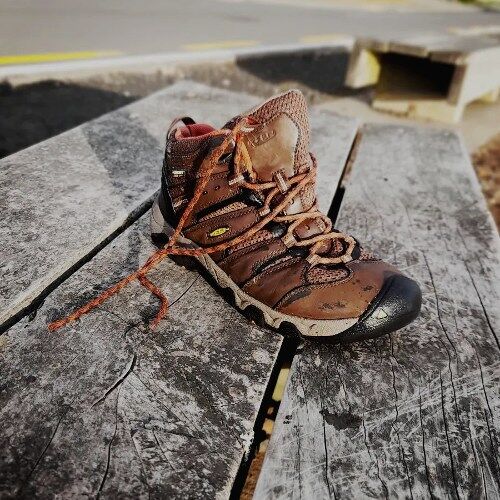 Key Specifications:
| | |
| --- | --- |
| Midsole | Lightweight EVA Compression-resisting |
| Footbed | Removable metatomical PU |
| Toes | Asymmetrical steel Offers comfort and safety. |
| Sole | Rubber Thick and puncture-resistant |
Keen Men's Flint II delivers an unparalleled level of comfort and energy return. The lightweight EVA midsole is compression-resisting, providing exceptional sturdiness and allowing for 50% more energy return than standard EVA foam. Put them on, and you won't have to worry about your feet getting tired as the day wears on.
You will like that the company has the safety of your feet in mind while manufacturing this footwear. The removable metatomical PU footbed is designed to give special attention to the first metatarsal joint, so your big toe gets the support it needs. With this boot, you don't have to worry about compressing your forefoot as you can stand and walk all day in comfort, and the fact that the insole can be removed ensures your feet stay comfortable for longer.
Besides that, the asymmetrical steel toes offer an unequaled level of comfort and safety. They provide extra space around the big toe without becoming too large. Plus, the safety toe is slightly wider than usual, making it even more comfortable. The boots meet ASTM F2412 and F2413 EH compression and impact safety standards, with the EH denoting Electrical hazards, making them both shock and electricity safe.
Keen Men's have got the protection you need. With a thick rubber sole and puncture-resistant design, you can be sure your feet will stay safe. This boot is also oil- and slip-resistant, meeting both the ASTM f1677-96 and F2913 safety standards for traction, so you can count on a secure grip. Also, the non-marking design makes these boots perfect for any warehouse environment.
4. Dr. Martens Men's Work Construction Boot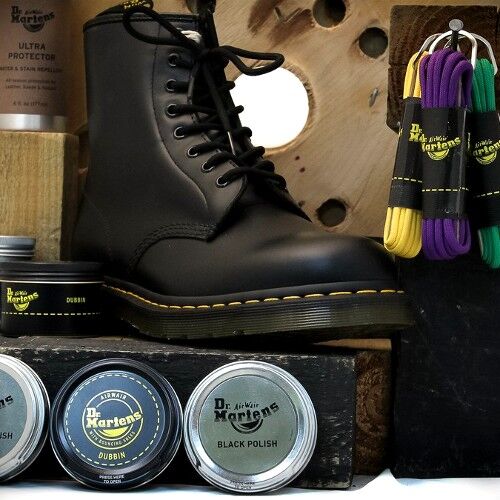 Key Specifications:
| | |
| --- | --- |
| Toecap | Steel safety regulations. |
| Soles | PVC air-cushioned |
| Seven eyelets | Designed to assist to dissipate moisture |
| Breathable padding | Permits air to keep feet from becoming too hot and sweaty. |
Dr. Martens's construction boot is designed to provide superior support for the arch and heel, making it the ideal choice for walkers who need an extra bit of assistance. Its sturdy construction prevents foot and ankle fatigue, and its ability to stabilize the ankle is especially beneficial for those who are on their feet all day and are prone to flat feet.
We love that this product has an ideal fit around the calf, thanks to its 13 inches shaft circumference. Not only does this make for a secure and comfortable match, but it also allows for increased mobility and stability when walking, running, and standing. In addition, this circumference is roomy enough to accommodate thicker socks or layers of clothing for those colder days.
Furthermore, each shoe features a rocker sole which not only helps to evenly distribute your weight when you stand but also enables a smoother transition from heel to toe when you walk. This makes walking on concrete surfaces much more comfortable on your feet and much easier on the joints. Too, the rocker sole technology reduces the amount of shock absorption on the feet, which helps to reduce stress and strain on joints, muscles, and the back.
Dr. Martens are crafted with Industrial Tumbled Leather, giving them an unmistakable look and feel. This leather is tanned with oils and waxes, giving it a unique texture and making it incredibly durable. The tumbling process adds an aged look, while also providing extra protection against scuffs and abrasions. It's also waterproof, so you won't have to worry about your feet getting wet in wet weather conditions.
5. WOLVERINE Men's Floorhand Wp Boot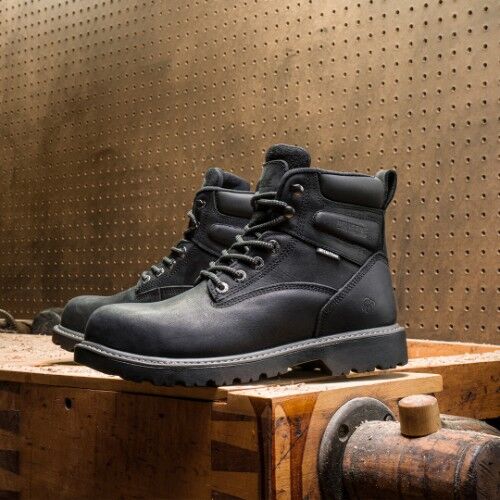 Key Specifications:
| | |
| --- | --- |
| Support | Arch Support helps to reduce the strain |
| Extra cushioning | Around the ankle collar eyelets |
| Lightweight | Weighing just 2 Pounds. |
| Waterproof | Full-grain leather construction. |
WOLVERINE Men's Floorhand Wp Boot's outfitted with Vibram outsoles are made for the job. Hard wearing and with great traction, they offer a soft, bouncy fit that won't let you down even on concrete. Plus, with lugs substantial enough to handle uneven terrain, you can rely on them to keep you comfortable in any work environment.
Most customers are attracted to this purchase because they not only provide an easy heel-to-toe transition but are also designed to make standing a breeze. The rocker sole in the front is specifically crafted to evenly distribute your weight, allowing you to stand for long periods of time with greater comfort and less fatigue. Don't just take our word for it though, try them for yourself and feel the difference.
Say goodbye to aching feet and sore legs with its full-cushioned anti-fatigue footbeds! These innovative footbeds use a special combination of cushioning and support layers, as well as a built-in arch support feature, to absorb and disperse any shock and impact caused by walking, running, and standing for long periods of time. The cushioning layers provide extra comfort while the support layers make sure your feet are in the correct position.
WOLVERINE Floorhand WP Boots are equipped with a superior rubber midsole, providing a soft cushioning that absorbs shocks to protect feet, ankles, knees, and lower back from any trauma caused by walking or running on a hard surface. The midsole also reduces foot fatigue with its softness and offers enhanced stability with its improved grip and traction.
Guide For Buying Steel Toe Boots For Long Day Work
This buying guide will provide you with all the information you need to purchase the most comfortable steel-toe boots that will keep you supported and cozy while on your feet all day.
Safety Toe Shape
When it comes to protection, most steel toes are pretty much the same. They are up to US safety standards and crafted using the same material – steel. However, the shape of the steel toe caps can make a difference.
Opting for an asymmetrical one is the way to go if you want the most comfortable fit. With more room in the big toe area and less in the pinkie area, it offers the ideal balance of wiggle room and lighter weight.
On the other hand, a wide symmetrical toe cap may give you more room to move around, but it will be much heavier. And that's why you need the extra space as it allows the soft materials to move and stretch with your feet, preventing blisters, and nail and bone injuries.
Foot support
Foot care is vital for those who spend all day on their feet, whether it be for work or leisure. Without proper support, you may suffer from foot issues, such as plantar fasciitis, heel spurs, and Achilles tendonitis. To ensure you are comfortable and safe, it is essential to select the proper type of foot support when choosing your steel-toe boots.
Arch support, heel cups, and cushioned insoles are all viable options for providing support and cushioning. Steel-toe boots often offer built-in footbeds and orthotic insoles for those who need an extra boost of comfort and support. Invest in the right type of foot support and you'll be sure to tackle your work or hobbies with ease!
Breathability and odor control
Breathability is important because it allows air to circulate throughout the boot, which helps keep your feet cool and dry. This also prevents your feet from becoming sweaty and uncomfortable, which can cause blisters, soreness, and other issues.
One type of breathable material is mesh, which is a lightweight and airy material that allows air to move through the material easily. Mesh can also be coated with waterproofing or a waterproof membrane to provide additional protection against moisture. Another type of breathable material is leather, which is lightweight and allows air to pass through, helping your feet stay cool and dry.
Uniform Sole
We all know that steel-toed high heels are not the most comfortable option. The same can be said for any other type of boot with an elevated or drop heel. Why not opt for a uniform sole instead? This way, you can enjoy a natural posture while standing or walking, avoiding any unnecessary stress on the joints.
It's not just the Achilles that can suffer when wearing an elevated heel as it also reduces the foot's ability to provide cushioning and support for the body. Have you ever heard anyone say high heels are comfortable? We didn't think so. That's why uniform soles are the way to go.
Comfortable Upper
It's important to consider the upper of the boot which wraps around the foot and ankle for support, protection, and comfort. With a variety of options, including leather, synthetics, canvas, and nylon available, you can find material and type that fits both your budget and your feet. Leather is the most durable and breathable of the materials, but is more expensive, while synthetics are not as breathable but more affordable.
Canvas is lightweight and often more affordable than leather, but is not as durable. Nylon is the least expensive of the materials, but also the least durable. Once you've found the perfect combination of material and type, you'll be standing strong with confidence all day.
Waterproofing
If you need to travel outdoors or work with liquids, you'll need a boot that can keep your feet dry. For the construction of these boots, the best method is stitched down, followed by storm welt, and then Goodyear welt. To ensure proper waterproofing, look for boots made of waterproof leather and mesh, with a waterproof membrane inside.
This membrane works similarly to a plastic bag placed over your sock prior to slipping on your shoe and is also equipped with tiny holes that allow air to escape, but no water to enter. This technology has been made much more accessible to us in the last decade, since the expiration of the Goretex patent.
Insulation
When it's chilly out, you can't rely on a simple plush collar to keep your feet toasty. It's time to up the insulation game by sporting shoes fitted with Thinsulate or something similar. Not only will this keep your feet warm, but it's a great way to maintain a lightweight, flexible shoe.
Electric Hazard Protection
If you're dealing with electricity, you need to make sure you have the right protection. See if your work shoe has the right safeguard to keep you safe – an 'EH' at the end of the ASTM number means it has electrical hazard protection.
Final Thoughts
As the world of work continues to evolve, the importance of having comfortable steel-toe boots for standing all day cannot be overstated. Not only do these shoes offer extra protection from potential workplace hazards, but they also help to reduce fatigue, meaning that you can stay on the job longer with fewer breaks.
This article has comprehensively reviewed some of the best quality products on the market, perfect for a variety of tasks and categories. Now, you can pick out the ideal option for each of your requirements with ease. Whether you're looking for something to tackle the toughest of jobs or just a basic product, this selection has something for everyone.
Thank you for reading!
FAQS
How much weight will steel-toe boots protect me from?
Steel-toe boots have been tested to ASTM 75-pound-foot compression resistance standards, meaning they can withstand an incredible 2,500 pounds or 1,133 kilograms of compression, that's more than one metric tonne of pressure.
Does wearing steel-toe boots hurt your toes?
The answer to this question largely depends on the fit and type of steel toe boot that the person is wearing. Generally speaking, if the steel-toe boots fit properly, they should not hurt the toes. Steel toe boots are designed to be comfortable and form-fitting, and should not put any additional pressure on the toes. However, if the steel-toe boots are too tight or too loose, they may cause discomfort or pain in the toes.
When is it appropriate to wear steel-toe boots?
Steel toe boots are commonly worn in industrial, construction, and manufacturing settings to protect the wearer's toes from potential hazards such as heavy falling objects. They may also be worn by individuals engaged in outdoor activities such as hunting or hiking where there is a risk of stubbing toes or slipping on rocks.
How long do steel-toe boots take to break in?
Steel-toe boots typically take anywhere from a few hours to a few weeks to break in, depending on the fit, the materials used and the type of activities you will be doing in them. Wearing them for short periods at a time and gradually increasing the amount of time you wear them is the best way to break them in.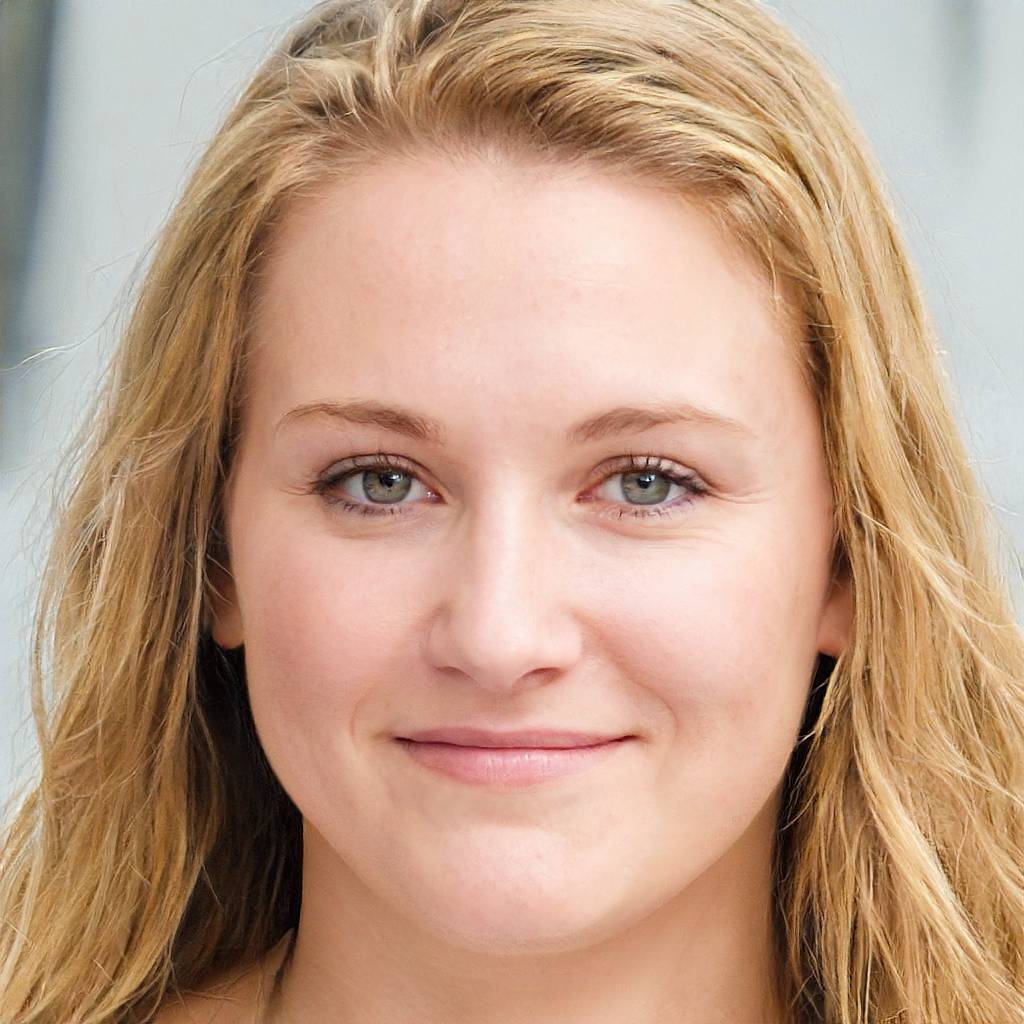 Sarah is the brains behind BootsNerd. Sarah Jaffe is a writer, editor, and boots lover based in Brooklyn, New York. She has done BA (Hons) in Footwear Design from De Montfort University, UK. She loves to write about boots and has a particular interest in vintage and sustainable fashion.