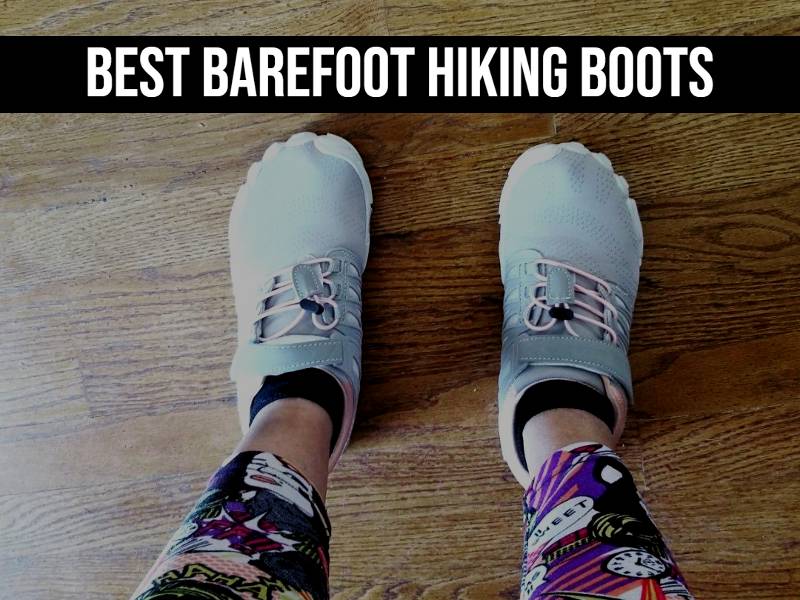 If you're someone who dislikes the feeling of heavy traditional hiking boots that weigh you down, we understand. Luckily, we've found a solution to make your hiking experience much more comfortable – the Best Barefoot Hiking Boots.
Research shows that zero-drop and wide-toe pick barefoot hiking boots to offer several benefits, including a more natural and comfortable walking experience, increased stability, and reduced risk of injuries. According to Dr. Emily Splichal (Podiatrist), zero-drop shoes can help promote proper walking mechanics and posture and keeps your toes and heel at the same level.
However, the quality of your footwear is paramount. The ill-fitting Barefoot shoe may leave you with blisters, hot spots, and other painful foot injuries. Without adequate protection, your feet could also be susceptible to cuts, scrapes, and even puncture wounds from the rugged terrain.
Therefore, it is crucial to make an informed decision when buying these boots.
List of the Best Barefoot Hiking Boots
1. Vivobarefoot Tracker Forest – Best Overall Barefoot Hiking Boots
2. Xero Xcursion Fusion – Zero drop women hiking boots
3. Joomra Minimalist Trail – Wide toe box zero drop hiking boots
4. WHITIN Men's Cross-Trainer – Best Budget Barefoot Hiking Boots
5. Weweya Men Minimalist – Best Running Barefoot Hiking Boots
Best Barefoot Hiking Boots – Our Top Picks!
In this section, we have researched and compiled a list of the best barefoot hiking boots that meet the criteria of zero-drop and wide-toe box designs. Our recommendations are based on our professional expertise and experience, as well as feedback from hikers and industry experts.
So, let's dive into our top picks!
1. Vivobarefoot Boots – Best Overall Barefoot Hiking Boots (Editor's Choice)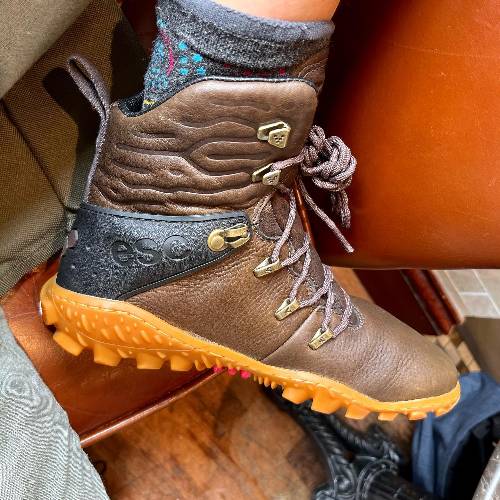 First off, let's talk about the sole of the boots. Vivobarefoot has a patented, Michelin ESC outsole that provides maximum flexibility and sensory feedback, allowing you to feel the ground beneath your feet as if you were walking barefoot. Plus, the sole is puncture-resistant and provides a great grip on both wet and dry surfaces, making it perfect for any terrain you might encounter on your hiking adventures.
You will like that it is crafted with a premium Wild Hide Leather upper that is derived from free-roaming cattle. This leather is renowned for its robustness and innate ability to resist water and abrasions, rendering it a top pick for outdoor enthusiasts. Additionally, the leather upper molds to the contours of your foot with usage, creating a bespoke fit that elevates the comfort level of these boots.
The lacing system on this product is also worth mentioning. It uses a traditional lace-up design but with a twist. The laces are made from a super-strong, lightweight material that won't wear out or break, and they're very quick and easy to adjust on the fly, so you can get a perfect fit every time.
2. Xero Xcursion Fusion Boot – Best For Women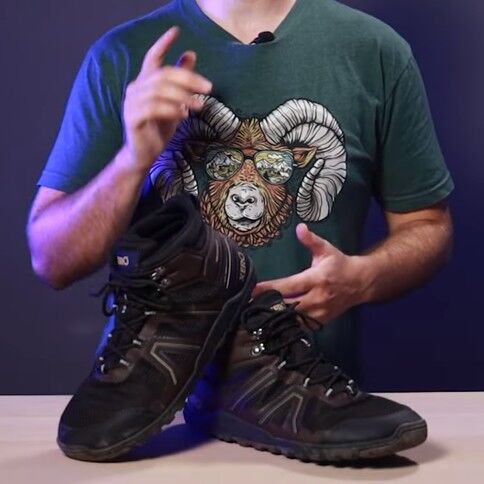 We will start by discussing the remarkable zero excursion aspect of the Xero Xcursion Fusion. This innovative feature offers a super flexible sole that effortlessly bends and flexes with your natural foot movements, creating a sensation of walking barefoot. With this footwear, you obtain the best of both worlds: the safety and protection of a shoe, combined with the liberating and flexible feeling of being barefoot.
Moreover, it boasts a FeelTrue rubber outsole that has a dual-chevron tread pattern to provide exceptional traction on any terrain, from muddy trails to slippery rocks. The rubber compound used is tough and abrasion-resistant, ensuring your boots will last longer than ever before.
Besides that, they have a wide toe box that gives plenty of wiggle room for your fingers to spread out and move as nature intended.
Not only does this allow your feet to maintain their natural shape and alignment, but it also promotes a sense of balance and stability while hiking.
Plus, it helps to reduce friction and pressure on your toes, greatly reducing the likelihood of blisters or other pesky foot injuries.
3. Joomra Minimalist – Best Zero Drop Hiking Boots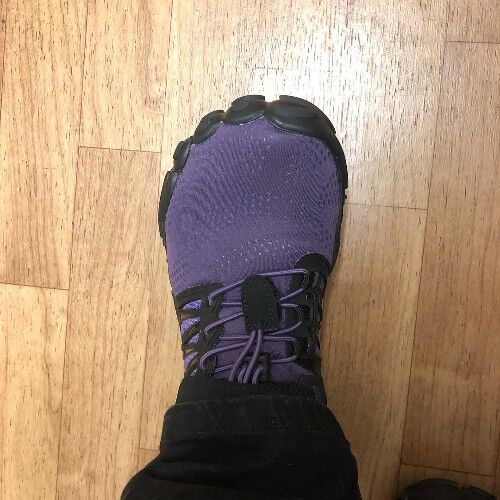 Joomra Minimalist Trail is equipped with a wide toe box that can provide extra space for the toes to splay naturally, permitting a more stable and balanced footing while walking or hiking. This can reduce the risk of injury and enhance the overall comfort of the boots.
Continuing that, a wider toe box can accommodate individuals with wider feet or those who prefer to wear thicker socks, without causing discomfort or constriction. This can make the boots more versatile and suitable for a wider range of foot shapes and sizes.
Furthermore, it is outfitted with rubber outsoles that boast circular lug patterns to deliver remarkable traction and grip. These patterns work together to evenly distribute weight and securely grip the ground, making them the perfect choice for navigating uneven terrain, scaling steep inclines, or traversing slippery surfaces.
Joomra Minimalist Trail has a thick topline that envelops the feet in sheer perfection to add an extra layer of comfort and support to the boot. This way, the shoes hug the feet snugly and prevent any irritating chafing or rubbing that may occur during lengthy wear.
In addition to that, when traversing uneven terrain or making sudden movements, ankles are particularly vulnerable to sprains and twists. That is where the thicker topline comes and it enhances another layer of protection during hiking and trekking endeavors.
4. WHITIN Men's Barefoot Hiking Boots (Best in the low budget)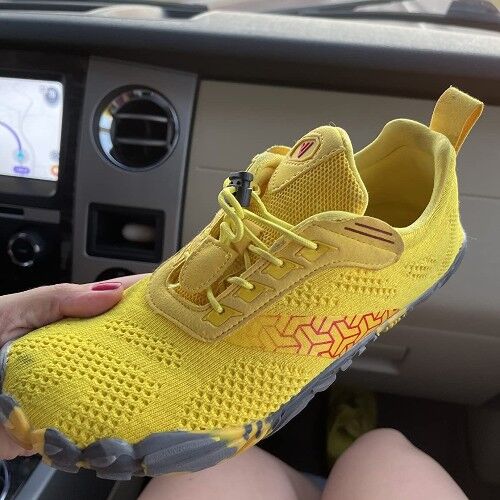 WHITIN Men's Cross-Trainer possesses a remarkable trait, an unparalleled toe box. And you know what's extraordinary about it? It has been crafted to be a tad wider than usual, enabling your toes to splay out effortlessly in sync with your strides. This trait is a boon for individuals who experience foot ailments, for it can potentially reduce the agony and unease that comes with it.
We love that it is equipped with an exceptional Rubber outsole that brings a plethora of advantages. The abrasion-resistant rubber material is a game-changer, providing unmatched protection against wear and tear that is common during hiking, especially on rugged terrain. This not only ensures that the boots last longer but also saves the wearer the hassle of purchasing a new pair frequently.
Moving on to the insole. Its removable sock liner or insole provides additional support and comfort to the wearer. The removable nature of the insole permits easy cleaning and maintenance of the boots, ensuring the longevity of the product.
Apart from that, the insole facilitates customization of the fit, as users can replace it with their own custom orthotics for a personalized fit. This thing is particularly useful for individuals with specific foot conditions or requirements, such as those suffering from plantar fasciitis or flat feet.
5. Weweya Running Barefoot Hiking Boots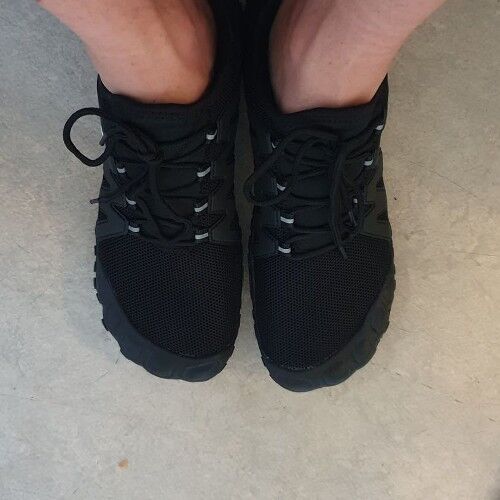 Weweya has a unique outsole that is crafted from premium rubber, so you can count on it to withstand the toughest of hikes. The sole is thin, providing an unparalleled sense of the earth's surface beneath you, making it easy to adapt to the slightest shift in the terrain. Whether you're navigating rocky trails or slippery slopes, it guarantees excellent traction, ensuring you remain stable and secure throughout your hike.
Now coming to its upper section. The upper is created from a mesh that bestows upon them an ethereal lightness and airy breathability. These attributes are paramount for ensuring your feet remain tranquil and at ease during those extended hikes. Plus, it is fashioned to be supple, enabling your feet to flex and contort organically as you trek.
Additionally, this unit allows you to adjust the tongue to fit your foot perfectly. Now you can say goodbye to slips and blisters as the adjustable tongue secures your foot in place. Not only that, but this characteristic also enhances ventilation, permitting air to flow freely, regulating temperature and moisture levels, and preventing overheating and unpleasant odors.
Things to Consider When Buying Barefoot Hiking Boots
When looking to buy the best barefoot hiking boots, there are several things to consider. Here are some of the most important factors:
Wide toe box
It is critical to ensure that the toe box is wide enough to allow your toes to spread out naturally, which is essential for maintaining balance and stability while hiking. A wide-toe box in barefoot hiking boots can assist to prevent common foot problems such as bunions, corns, and blisters.
However, if the toe box of the boots is too narrow, it can restrict the natural movement of the toes and limit the benefits of barefoot hiking.
So, how wide should the toe box be in barefoot hiking boots? The ideal width will vary depending on the individual's foot shape and size. Nevertheless, a general rule of thumb is that you should opt for a toe box that is at least half a size larger than your normal hiking shoe-toe box. This will provide your toes with ample room to spread out and move freely, without being constricted or cramped.
Zero Drop
Zero drop refers to the difference in height between the heel and the toe of the shoe, with zero drop indicating that there is no height difference between the two. It can help ensure that your feet are able to move and function as they were designed to, without any unnecessary strain or stress.
In addition to promoting natural foot movement, it can also significantly improve balance and stability on the trail. When our feet are able to land flat on the ground, we are better able to feel and respond to changes in terrain and elevation.
When it comes to exactly how much zero drop a barefoot hiking boot needs to have, there is no one-size-fits-all answer. Some people may prefer a slight drop, while others may want a more extreme zero drop. Generally, a zero drop of around 4-6mm is recommended for this footwear.
A grippy Outsole
A good outsole can make all the difference in providing the necessary grip and stability on various terrains. An outsole must be durable and able to withstand the rough terrain that hiking often involves. Moreover, it ought to be able to provide the right amount of traction to prevent slips and falls.
You can choose from several types of outsoles for these shoes, including;
1. Rubber Outsoles: Rubber is a popular outsole material that's known for its durability and traction. It's a common choice for hiking boots because it provides good control on both wet and dry surfaces.
2. TPU Outsoles: The synthetic material known as thermoplastic polyurethane (TPU) boasts superior durability and abrasion resistance. TPU outsoles are both lightweight and flexible, rendering them ideal for use in barefoot hiking boots. Additionally, they offer impressive grip and traction on a variety of terrains.
3. Vibram Outsoles: Vibram is a popular outsole material known for its durable and high-traction properties. Vibram outsoles are typically made of rubber and foam and feature a rugged design that provides excellent hold on wet and slippery areas.
Breathable Upper:
A breathable upper is essential for ensuring comfort and preventing foot issues. It lets air circulate around your foot, preventing moisture buildup and keeping your feet cool and dry. This is especially crucial during longer hikes, as excessive moisture can lead to blisters and other foot problems.
Additionally, sweat-wicking uppers serve to inhibit the growth of bacteria and fungi, which can cause unpleasant odors and infections.
Below are some of the upper materials that are appropriate for barefoot hiking boots.
1. Mesh Upper: Mesh is one of the most popular materials used for the upper of barefoot hiking boots. It ranks among the top choices due to its featherweight, porous and supple nature. With mesh in place, your feet can breathe, and the air circulates around them. Even in hot weather, your feet remain cool and dry.
2. Synthetic Upper: Another option is synthetic materials like nylon or polyester. These materials are durable, lightweight, and can be treated to be water-resistant or waterproof, which is useful for hiking in wet conditions.
3. Leather Upper: Leather is durable and can provide excellent protection from rocks, roots, and other hazards on the trail. Despite this, leather is not as breathable as mesh or synthetic materials, so it may be better suited for cooler weather hiking.
Final Words
To sum it up, our team has meticulously analyzed and compared various products to determine the ultimate barefoot hiking boot, and we have found that the Vivobarefoot Tracker Forest surpasses them all. With a Michelin ESC outsole, Wild Hide Leather upper, and waterproof lining, this footwear offers unparalleled protection and comfort during wet and wild adventures.
And for those seeking a more affordable option, the WHITIN Men's Minimalist Trail Cross-Trainer is the way to go. While it may not boast all the fancy features of its competitors, it still boasts a Wide Toe Box and Rubber outsole. Plus it has a removable insole that can be swapped out for your very own custom orthotics, ensuring a perfect fit tailored just for you.
FAQs
What are zero-drop boots?
Zero drop boots are a type of footwear that has no difference in height between the heel and the forefoot. This means that your foot is flat on the ground when you wear them, with no extra support or cushioning in the heel area. This type of boot is often preferred by those who are looking for a more natural, barefoot-like experience, as it allows for a more natural gait and promotes better alignment of the body. They are often used for hiking, running, and other outdoor activities, as well as for everyday wear.
Are Zero-Drop Shoes Good For Hiking?
Zero-drop shoes can be a good option for hiking, but it largely depends on your personal preferences and needs. They are designed with a flat sole that does not have a raised heel, which can help promote a more natural foot strike and improve balance. This can be beneficial for some hikers who prefer a minimalist shoes and want to feel more connected to the trail. However, they provide less cushioning and support than traditional hiking shoes, so they may not be suitable for those with certain foot conditions or those who require more support.
How long should I wear barefoot shoes?
The length of time you should wear barefoot shoes may vary depending on your individual needs and comfort level. It is recommended that you start by wearing them for short periods of time, such as 20 to 30 minutes a day, and gradually increase the duration over a few weeks. It is important to listen to your body and adjust accordingly if you experience any discomfort or pain.
Do barefoot shoes need socks?
Whether or not barefoot shoes need socks depends on the individual's personal preference and the specific type of barefoot shoes. Some people prefer to wear socks with their barefoot shoes for added warmth, and comfort, and to prevent blisters. However, others prefer to go sockless to experience the full benefits of the shoes, such as improved balance, proprioception, and stronger foot muscles. It is recommended to try both options and see what works best for you and your barefoot shoes.
Do zero-drop shoes make you faster?
Yes, zero-drop shoes can make you faster as they promote a more natural running gait, and encourage a midfoot or forefoot strike which can increase efficiency and reduce ground contact time. Additionally, they may help to strengthen foot and leg muscles, leading to improved overall performance. However, it is important to note that the benefits of this footwear may vary depending on individual factors such as running style, foot shape, and overall fitness level.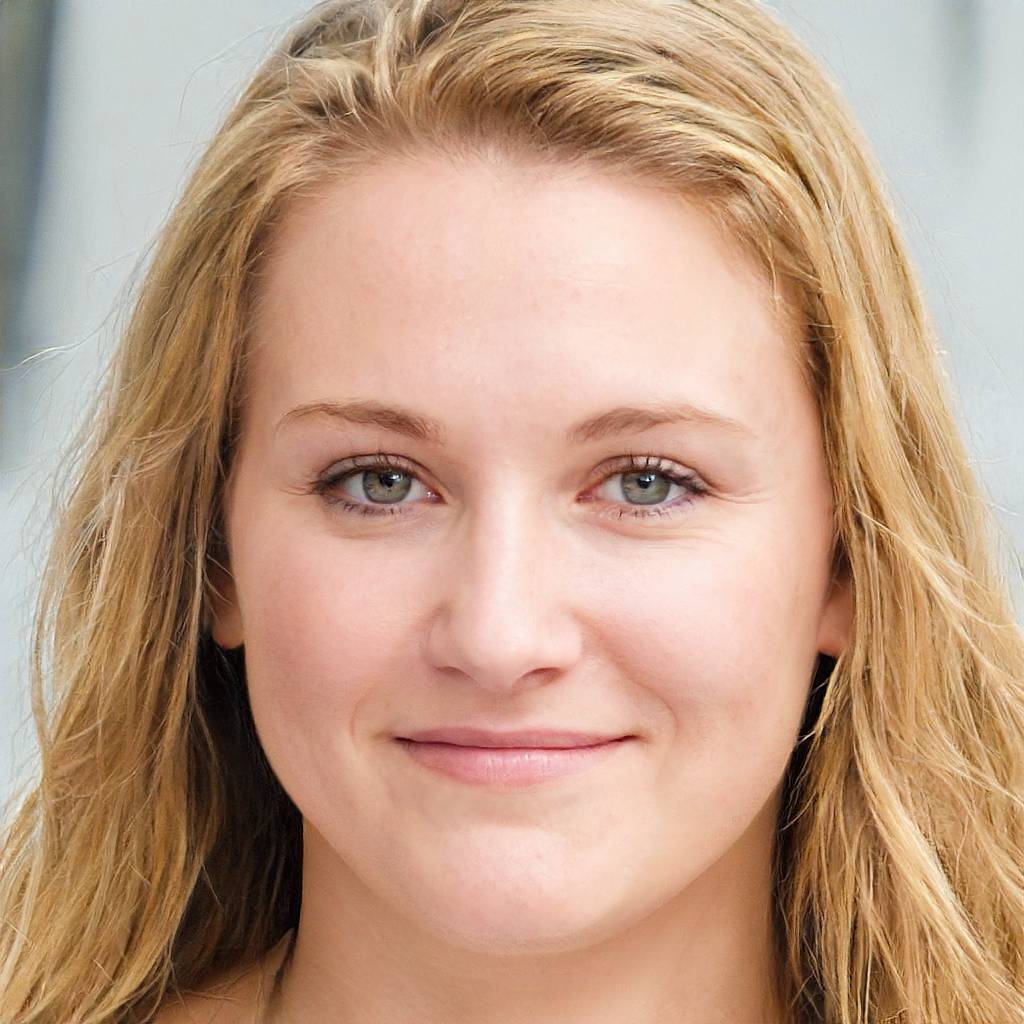 Sarah is the brains behind BootsNerd. Sarah Jaffe is a writer, editor, and boots lover based in Brooklyn, New York. She has done BA (Hons) in Footwear Design from De Montfort University, UK. She loves to write about boots and has a particular interest in vintage and sustainable fashion.